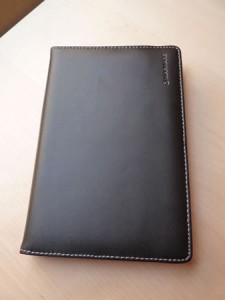 I was gifted a Kindle 2 from a very generous traveler friend for Christmas. I've traveled for years with a stack of books a mile high, and this has revolutionized the way I travel! E-readers are reducing not only backpack weight, but paper production as well, so many travelers are finding lots to love about these gadgets.
There's a mind-boggling array of Kindle cover options out there, but naturally I wanted to find one that was eco-friendly. The kind folks at Marware thought their Marware Eco-Vue Kindle 2 Cover
would fit the bill so they sent me one to try out.
The Eco-Vue Kindle 2 Cover arrived in a simple 100% recycled paper bag, printed with a message (in soy-base inks) explaining their sustainability philosophy and noting that Marware donates a minimum of 2% of its annual profits to community and environmental orgs. When I pulled out the slim and stylish cover, I could have mistaken it for leather on first view. But it's actually made of an "eco-fabric" which is made from cornstarch polymers and recycled PET, with recycled cardboard inserts. They use vegetable or soy-based dyes and somehow magically recreate the look and feel of leather.
It's quite handsome, but don't be fooled – this thing is burly too! Even with a slim profile, it offers a bear-hug of protection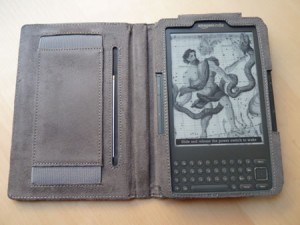 around my Kindle. Besides daily use when I'm at home, the Eco-Vue Cover has traveled with me and my Kindle on trips to Italy and Mexico, and it has performed like a super-champ! I've unwittingly run it through a few klutz tests; it has hit the deck a few times, and errant splashes of espresso and salsa have found it. The Eco-Vue case has done its job, proving eco-fashion doesn't override form.
I also like the simple but functional design. No extra buckles, snaps or ties here – just an elastic strap to keep it open or closed. A hand-strap on the back is a clever idea, though I found it a bit too constricting for my hand after awhile. It fits around the Kindle 2 like a glove, with access to all the buttons and outlets where you need them.
The Eco-Vue Kindle 2 Cover is available on Amazon
in black, brown, fuchsia, teal, purple or red.