Think fast: What holiday is celebrated on May 5th, also known as Cinco de Mayo?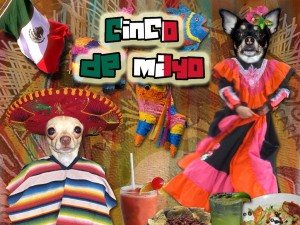 If you said "Mexican Independence Day", you're about 4 months off.
(That's recognized on September 16th.)
The Cinco de Mayo holiday actually ties in to France. You see, in the mid-1800s Mexico had come out of a series of wars and, as a result, was going through an economic crisis that makes today's troubled times look like an afternoon siesta. France, one of the nations they were in debt to, decided to come ashore to collect on the debt. Short of that, they figured, they could claim some more land for their empire. That's how Napoleon III and his French troops came to be in Puebla, Mexico on May 5, 1862 where they were defeated by General Ignacio Zaragosa and his indigenous soldiers, outnumbered though they were.
(Though they lost this time, the French returned about a year later and successfully overtook Mexico City, installing Maximilian of Hapsburg as ruler until he was shot a few years later. Now you can see his bullet-riddled death shirt in a Mexican museum. Ah, humans. How we love the gore.)
When this happened, Mexican immigrants in California heard the news and took to the streets in celebration – the first Cinco de Mayo party. So the holiday does have true Mexi-American roots. Yet it wasn't until the Chicano movement of the 40s and 50s that the holiday really took hold in the States.
But the drinking? In the motherland, where it's only celebrated in Puebla and a few other Mexican cities, its traditionally a dry holiday. That's right, you're not going to find nearly as many margarita-induced hangovers in Mexico on May 6th as you will in Minneapolis. The American tradition of boozing it up was born of the Corona and Budweiser fueled 80s; an obvious way to cash in on the merriment.
Don't get me wrong, here – I'm all in favor of a happy hour tequila-shot-and-taco fiesta at the local taqueria. And I didn't even know most of this history until my Latin-hearted brother brought it to my attention in an email yesterday. I'm just going to remember to toast the generations of Mexican immigrants in the US who have worked hard to make a better life for their family and their communities. And I won't be planning any Cinco de Mayo booze cruises in traditional Mexican villages anytime soon.