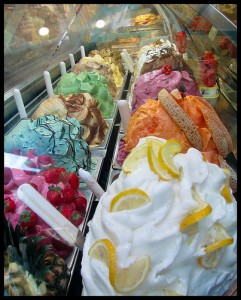 The gelato shops lining the main pedestrian thoroughfares of Florence are akin to the bordello windows of Amsterdam's red light district – bawdy, curvaceous mountains of ruddy chocolates and flushed berry hues, decorated like rococo bell towers with flirty berries and winking pansies. It's enough to give you a visual toothache.
These heathen heaps dazzled me on my first walk through Florence, but my sister (living in Italy as a student) steered me clear. "If you want real gelato," she said, "we have to go to Grom."
Just a few twisting side streets away, in the shadow of the Duomo, there it was – an unassuming little shop with a line snaking down the block. We queued up and considered our options: everything from Sicilian limone and Madagascar vanilla to Calabrian licorice and Syrian pistachio.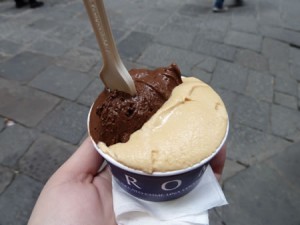 The combo that stole my heart? Ciccolata extranoir (Columbian Teyuna chocolate with chocolate chips) and Caramello with Himalayan pink salt. I'm drooling at this moment just thinking about it.
Grom does not have the big blingy show piles of gelato in the window. That's because theirs is the real deal. When you are in Firenze, head for Via del Campanile (angolo via dell Oche) and just look for the line. They're open late, but I suggest going early and going often. It's conveniently located in the center of the Renaissance world.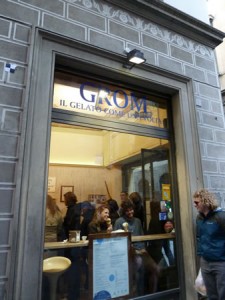 There's other Groms around Italy (and a couple international outposts) as well – check their website for shop locations, flavors of the month and to read about their farming philosophy.
Enjoy the more of today's virtual smorgasboard over at WanderFood Wednesday!
Blingy gelato photo by [email protected]