Local. Organic. Sustainable. Biodynamic. Fair Trade.
These are not just lofty concepts, this is the working language of the kitchen at Toronto's Fairmont Royal York Hotel.
During my stay at the Royal York last fall, I had the wonderful opportunity to pop out into a sunlit patch of nirvana at 14 stories high. The Royal York, you see, has a thriving roof top garden, hemmed in among the towering glass and steel pillars of downtown Toronto's financial district.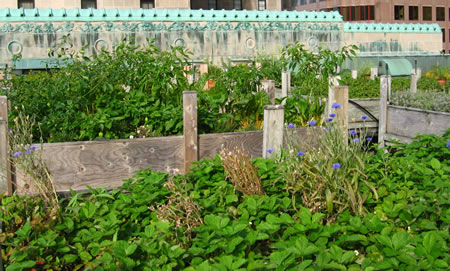 Perched high above the bustling street, I walked among planter boxes brimming with vibrant vegetables, ripe for the picking.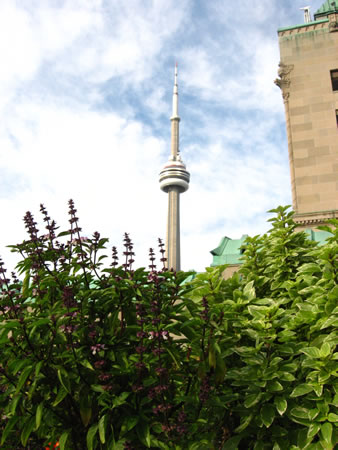 A variety of fresh herbs waited to be transformed into fresh vinaigrettes, and sweet, edible flowers were ready to pluck for crowning adornment on Executive Chef David Garcelon's delectable desserts.
The Royal York's established the rooftop garden about 14 years ago, and it's an integral part of the food service throughout the hotel.  As part of their philosophy to use organically grown and locally sourced products whenever possible, they've also built relationships with local Ontario farmers to source the things they aren't growing close to home, recognizing the impact that transportation emissions has on large scale food operations such as theirs.
After perusing the garden, my host Melanie Coates showed me a newer addition to the hotel's rooftop residency – a honeybee apiary. Added in 2008, the apiary is home to 6 flourishing hives, which are producing some award-winning honey to complement the hotel's elevated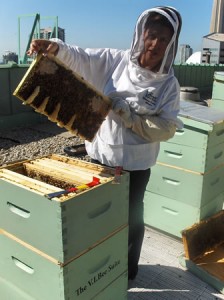 cuisine.
Talking with Melanie, who is the bees' proud keeper, I could sense her genuine excitement and enthusiasm for what they are doing. The bees are not only producing a wonderful natural sweetener to complement the hotel's fine fresh foods, they're also contributing to the city's biodiversity by delivering an eager corps of pollinators.
Chef Garcelon expected a yield of over 500 pounds of this delectable honey for the year, and with its steady success that is sure to continue. On my way down from the rooftop, Melanie tucked a little keepsake jar of honey into my hands from Toronto's most urban bee colony. I ate it by the petite teaspoon for days to come, bringing me back to that feeling of tranquility up on the rooftop perch, surrounded by growing things while the bustle of the city is far removed below, and the bees working steadily alongside the human hive, in their tall and stoic glass hives all around.
Photos of the honey harvest courtesy of Melanie Coates
Hungry for more? Head over to WanderFood Wednesday to continue the virtual feast!