International Women's Day holds a special meaning for me. I remember the first time I celebrated it
, in the sleepy Indochina outpost of Savannakhet, Laos. My partner and I had rolled into town and serendipitously, as these things happen in travel, connected with a bright and bubbly Lao gal named Jooky. Jooky invited us for meal at her family's new restaurant called Mama's Home, and promptly took us exactly there – to her Mama's Home, where she and her siblings also lived. Mama's Home quickly became our second home in Savannakhet for the week plus that we were there.
The restaurant occupied essentially the lower living room area of their traditional Lao home. Not once did it feel like hanging out in a public place (though there was a menu of completely delicious home-cooked food that we subsisted off of). We talked and laughed with Jooky and her sisters, while Mama always presided over the bamboo bar in the corner, a round, robust and smiling figure beaming sweetly over us.
On International Women's Day, Mama hosted a celebration at her place, and soon we found ourselves dancing barefoot on the blue tile floors with backpackers from England and Lao cousins from down the street. There was a special cake, and all the ladies were dressed up in their nicest pa siin, the traditional embroidered Lao skirt. This was a special holiday in Mama's house.

During the celebration, I sat down with Mama, who I'd only exchanged a few words with in Lao, and came to an exciting realization – she spoke French, having grown up in this region of Indochina at a time that the French influence was still waning. I dusted off my remedial French, and we started to talk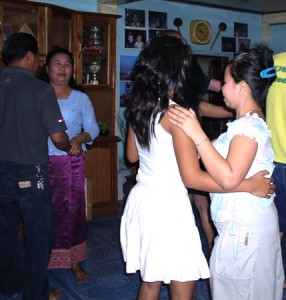 about her life. It was elating to finally have more than a "How are you" type of conversation with someone in this place that I was completely intrigued by.
In hushed French, Mama told me about her life. She was 49 years old and had 6 children. Her eldest son was a ladyboy (which is quite acceptable in this culture) and her daughters were all strong, intelligent and beautiful. She'd grown up right here in Savannakhet, just a handful of kilometers from the Ho Chi Minh Trail, and not much further from the bloodbath in Cambodia. Her husband left her when the kids were small for another wife and family in the capital, so she'd raised her family on her own. She spoke to me only briefly about her struggles, but I could see so much behind her teary eyes, and hear so much behind the pale whisper she'd drop to when she spoke about the corruption she'd seen. Mama had raised her kids, daughters especially, to be strong and independent, which is not the traditional way in her patriarchal culture. She worked hard so that they could have an education and, more importantly, raised them with progressive values of self-worth and accomplishment. All of this, and yet she was still so soft and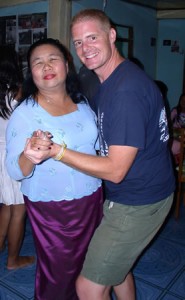 kind, quick to laugh with us, and even opened to tears when we did say goodbye later on.
I always think of Mama on International Women's Day, because she represents to me what this day is about. It's a day to celebrate the achievements of women around the world who have risen above their social norms and cultural restraints to achieve great things. And it's also a day to recognize the continuing struggle that women around the world face each day to take care of themselves, raise their children and in many cases, find equality and basic human rights.
Celebrate International Women's Day today!
Head over to the International Women's Day website to learn more about different organizations and events around the world marking the day, and how you can get involved. Mashable also has some additional resources and sites to check out.