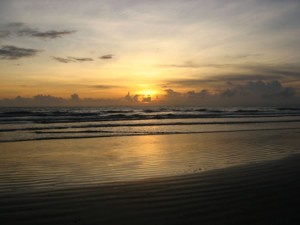 Sunday marks the six year anniversary of the devastating tsunami that swept through southeast Asia. It's a day that always sticks in my mind, as I was in southern Thailand when the tsunami occurred, and the ensuing mourning that took over the country is still palpable to me.
But Thais are resilient people, always looking forward, and they have picked up the pieces and worked together to rebuild their lives. Perhaps the best example of this positive growth that I have encountered is Andaman Discoveries, a community-based tourism organization that formed following the tsunami to
bring much-needed support and income to the region. As a staff member of partner org Crooked Trails, I've watched their track record of effectiveness – in fact, they've just won the 2010 Wild Asia Responsible Tourism Award!
When I was in Thailand earlier this year, I was able to do some site visits in the Andaman region, and got to check out the home stay and work project for Crooked Trails' international volunteer program. I was thoroughly impressed with what I saw!
The Homestay

The home stays in this area are particularly fascinating and rewarding. Staying at Jojo's home stay was a unique, memorable and surprisingly comfortable experience.  Jojo lives with her husband, son and mother in the village of Muang Kluang, an enclave of Muslim Thais – she's the powerhouse behind the community-based tourism project in her village. Jojo's house was quite comfortable, and her family (as well as the surrounding neighbors) had a certain ease, and a constant sense of genuine cheer. Like everyone I met in Thailand, they're not just OK with you being in their lives for a few days, they are genuinely excited about it!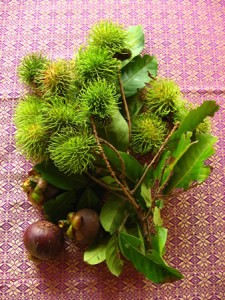 I settled into one of Jojo's guest bungalows and toured the grounds with her husband, who proudly showed me all the tropical fruits they were growing and mounded piles of rambutan, tamarind and mangosteen into my hands.
Dinner time was a joy at Jojo's house, not only because their "modest" meal was a true culinary delight, but because grandma invited me into the kitchen to help prepare it. She showed me how to prepare massive bean pods that grew in the tall trees outside, and fish from the sea just down the road. We dined together, casually reclining on the matted platform that serves as their table.
As we finished dinner, one of grandma's sons stopped by on his way home from the mosque where he'd just come from evening prayers. Grandma must have sensed my hidden curiosity at this religious tradition that I know so very little about, and she engaged us in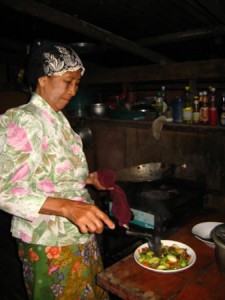 an open conversation about Islam via Tuey, my wonderful guide and interpreter. She was sincerely eager to share as much as she could about her tradition and what it meant to be a Muslim to her everyday life. The heart of the teachings of Islam, she explained to me, was to care for others and selflessly give. She talked passionately about the way her community looked out for each other, sharing food among their families, looking out for each other's children, even pooling money and resources for to support all members. Tolerance was a cornerstone of her beliefs, and she stressed that she would never limit her generosity and charity to Muslim families only. I was struck not only by her passion and commitment to the values of community, care and generosity that guided her life, but the vigor with which it obviously filled her. It wasn't just that she was strong in her beliefs, she was buoyed by them. The resilience and hope I saw in this community in the wake of the tsunami started to make more sense.
The Work Projects: Water Conservation Project, Ban Na
The primary project site I visited focuses on the village of Ban Na, where travelers will be working to build
a check dam system along one of the village's main waterways. The community of Ban Na is made up of mainly of Buddhist Thais who came from the Isaan region in northeast Thailand. As I understand it, they were tired of working poor soil and dealing with harsh growing conditions, so they relocated as a community to southern Thailand to take advantage of the fertile greenery of the Andaman coast.
I had a delightful day with the partner community in Ban Na. After driving away from the coastal highway off on a winding jungle road, we met with the crew and transferred by jeep up a dirt track to access the path to the project site. A short hike along a gurgling creek provided a look at the three sites where the community plans, with volunteer help, to build a series of check dams. This stream is an important part of the local watershed for the community, and the check dams will give them much greater control and access to this life-sustaining resource. The check dams allow the locals to trap and release water to relieve both
times of drought and flooding.  I'm sure I don't need to explain to you the importance of access to and control over a water source for a village! But you may be surprised to learn, as I was, that the village is on the ready and can complete the entire check dam project in just a handful of days with simple materials. They just need our group of volunteers to show up and work with them, and the project funds that will be provided as a part of CT travelers' participation fees.
My hosts in Ban Na hiked with me along the stream, helping me negotiate slippery rocks and excitedly pointing out a resting monitor lizard (they said it was the protector of the stream). Through my translator, they asked me excitedly when my crew of volunteers was coming to work with them. They can barely wait to get started, and with the help of just a handful of volunteers for a handful of days, along with the funding needed for the materials, this project is as good as done!
Burmese Learning Center, Kuraburi
I also spent an unforgettable day at a local school that has been set-up for the children of Burmese refugees. I wish I could share some photos with you of the beautiful children I met when I visited; however, out of respect for their own safety (the majority of their families are refugees in Thailand) I was asked not to post any of those publicly.
What I can tell you is this – kids are kids, all over the world. They all want the same things – to be loved, to have fun, to learn things, to have their basic necessities met. Burmese refugees pour over the border into Thailand because, even though they will likely live without the benefits of citizenship, they seek a standard of living that may be one step above what they can get in their junta-ruled homeland. Thailand and Burma have a long messy history that has never been friendly, and Burmese immigrants in Thailand really have to scrap their way through just to make it. The Burmese school provides more than just access to learning and maybe a simple daily meal. What I witnessed was a place where these kids, part of a marginalized group, were given a sense of self-worth and respect. This is by far the most important aspect of the school. But it's sadly in disrepair and is constantly flooding in the rainy season. One day visiting and working at the school, which is currently at the edge of a Burmese shanty town down near the Kuraburi Pier, is instantly rewarding as the potential for positive impact is apparent.
If you'd like an experience the Andaman region in this way and help them thrive, you can book a holiday as part of your travels in Thailand directly with Andaman Discoveries. Also, Crooked Trails is always organizing groups of volunteer travelers for their program. The next Crooked Trails Thailand program runs January 22 – February 2, 2011 – you can see the details and apply on their website.