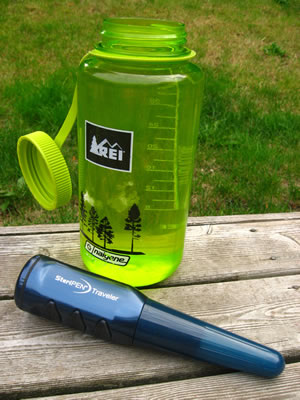 Once upon a time, I only treated my own drinking water when I was on multi-day backpacking trips like Canada's West Coast Trail. But then a true travel epiphany hit me when I joined Crooked Trails and learned that they encouraged all travelers to treat their drinking water as one of their basic responsible travel practices. Of course! The first time I traveled this way I felt like I had shaken off a huge burden. I felt free from the fear of not being sure where I'd find a bottle of water in the day's explorations and, more importantly, how safe that water would be to drink.
By the time the SteriPEN Traveler Handheld UV Water Purifier
came out a few years back, I had happily settled into the routine of using iodine to treat my water. It felt familiar and I was comfortable with it because it's a known quantity – I know how to use it and have the assurance of past experience to know that it works. So when the Steripen and I finally did meet, it was overdue.
While I've been taking my time arriving at the Steripen party, they have become quite popular – and with good reason! My new Steripen Traveler is simple to use. After making sure it's loaded correctly with fresh AA batteries (happily, my rechargeable NiMH batteries are what's recommended), I simply fill up a bottle with water to be treated, push the activation button till it lights up, dip it in and stir. The water sensing pins start to glow so you know it's working (bonus points for the cool sci-fi effect), and all I have to do is be sure to keep it immersed and continue stirring until the lights indicate that the treatment is complete.
So what's happening with that sci-fi light show? According to Steripen, it uses shortwave germicidal UV light to disinfect the water. The range of UV light that it emits disrupts the DNA of disease-carrying microbes in seconds, and without that DNA intact, the microbes can't reproduce to make you sick. This is what we call better living through science.
Although the Steripen is bigger to carry than my little iodine bottles, it's far quicker and easier to use. That said, the fact that it is an electronic gadget does mean that a technical malfunction can occur in the field (even if that just means running out of battery juice) so I'll still be bringing some iodine as a backup.
Win a Steripen!
The Steripen is now on my must-pack list, and it I think it should be on yours, too! I'm very happy to be able to share the love – one lucky reader will win their very own Steripen Traveler! All you have to do is leave a comment on this post by 11:59 p.m. PST on Tuesday, October 5th stating where you'd use the Steripen if you won it. (One entry per person, please, but do tell your friends!) The winner will be chosen randomly from all commenters on Wednesday, October 6th and notified via email, so be sure you include a valid email address in the comment form. Once contacted, the winner will have three days to respond. Sorry, but we can only ship the winning Steripen to an address in the United States or Canada.