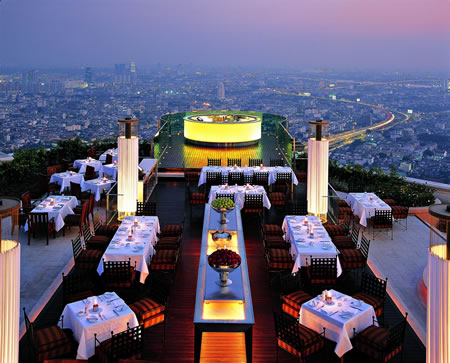 Bangkok is known as a great place for budget travel. Cheap delicious food stalls cram the sidewalks, and there's a glut of $5 guesthouses serving as crash pads for backpackers crisscrossing SE Asia.
But Bangkok is also a world-class destination, and by the same token, it's an affordable way to enjoy some splurges you might not be able to fork out for at home. As a guest of the Tourism Authority of Thailand this summer, I got to step into the luxe world for a little while. The nice thing about Thailand is that you don't have to be an oil baron to do so!
Entering the lebua at State Tower hotel, I found a chill, contemporary vibe that served as an antidote to the chaos swirling on the choked streets just outside its doors. My suite in the Tower Club on the 54th floor was beautifully appointed, with top-notch amenities like Bvlgari products in the bathroom, and thoughtful touches, like the fresh fruit and orchids that appeared on my table each day. It served as a cozy cocoon of quiet at the end of each busy day in Bangkok, and I made a ritual of stepping out and swooning over the view from the balcony every morning when I awoke, the essence of Thailand wafting up to me from the streets far below.
Big bonus points to free in-room wifi, kindly attentive staff, free mini-bar, and a super comfy king-sized bed. My only request would be slightly brighter lighting in the bathroom – moody, yes, but not great for putting on girly makeup for a fun night on the town.
Housekeeping left me a note that they wouldn't change the linens unless I asked, a conservation measure I was happy to see, but I would have loved to see some further environmental efforts such as in-room recycling.
Boasting seven restaurants within its walls, the lebua is also a culinary crossroads. Buffet breakfasts were enjoyed each morning at Café Mozu, which is decked out to look like a Moroccan palace poolside, and this mellow cool spot became my quick favorite. There was a mind-boggling array of food to work through: a made-to-order omelet station, delectable fresh fruits to complement the many granolas, huge buffet tables filled with steaming trays of sweet and savories from India, lots of Thai specialties, even sushi! Delicious coffee and fresh juice refills are brought constantly by, but otherwise this dream of a buffet spread is yours to explore.
Walking the lighted pathway at Breeze, another of lebua's hip outdoor terrace bars, I felt as though I'd stepped onto the VIP deck of the Enterprise. I chose a South East Asian Martini for cocktail hour and took in the sunset colors over Bangkok, pierced by fronds of heat lightning at the edges of the clouds. My drink echoed the view – sweet flavors of Asian fruits piqued by the playful bite of ginger.
But the piece de resistance was an unforgettable multi-course extravaganza at Sirocco, a sweet piece of vertigo perched high above the city on the 63rd floor. With Bangkok sprawled out in ribbons of light below, I participated in an opulent dining experience the likes of which I'd only seen on the finale of Top Chef. A prawn-topped potato leek soup set the stage, followed by a tender gnocci with fresh crab, then a sea bass afloat on heavenly potatoes, followed by a mango sorbet palate-cleanser and just when I thought I could eat no more, a sumptuous prawn dish that pushed me over the (figurative!) edge. The evening was paced slowly and punctuated by a fantastic live jazz band and conversation with my fellow travel bloggers about the next great adventure. This is the kind of meal that I'll rarely be able to partake in but will be telling my grandkids about.
With all the ways to be a budget traveler, I do like the idea of a splurge here and there along the way. Bangkok is a great place to get a glimpse into the good life and get your swank on, even if for just one night.
Photos of Scirocco and Breeze courtesy of the Lebua