There's hikes, and then there's HIKES. Hiking British Columbia's West Coast Trail is so Epic that everything feels like it should be capitalized. It has thick forests of old growth with totem poles sleeping inside of them, historic lighthouses standing sentinel over beautiful yet treacherous coastline, and a resident population of wildlife that far outnumbers the humanoids.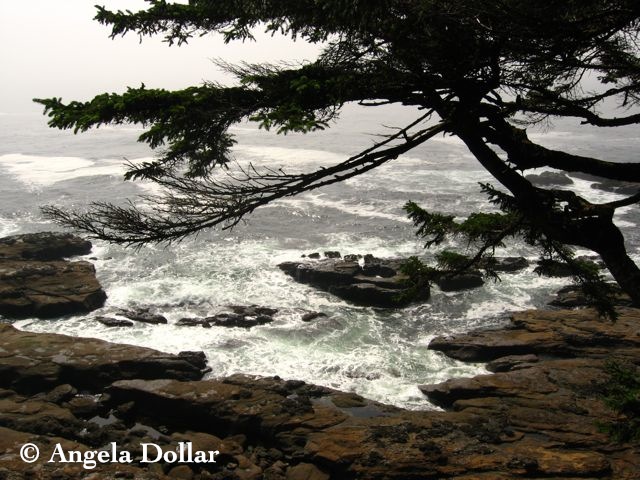 The trail was established along ancient footpaths in the 1800's to implement lighthouses and telegraph lines along this stretch of coastline frequented by trading ships. Nicknamed the "Graveyard of the Pacific", hundreds of ships ran aground in squalls and fog along these treacherous shores. Long before that, these lands were the traditional territory of the Nuu-chah-nulth, , whose descendants still live there today. Members of the Huu-ay-aht, Ditidaht and Pacheedaht First Nations are now the only human inhabitants within the land that the WCT traverses.
And then there's the Epic challenge that the hike itself presents. Most definitely not for everyone, it twists and turns you in ways you don't expect. A veritable obstacle course, the 75 km trail requires hikers to traverse streams via manual cable cars and suspension bridges, negotiate roots and mud pits, navigate beach sections accessible strictly during low tides, and scramble up and down large sections of ladder, all with a week's worth of supplies dangling from their backs. All these elements add up to an outdoor enthusiast's playground.
Of course, all this adventure doesn't come with out some risk. Nature reigns here and demands that you remain aware and respectful. Wildlife sightings abound (I'll never forget waking up in camp one morning to the sight of a bear ambling on the beach outside) and all hikers must lock up their food each night in the provided bear boxes or tie them securely in trees. Though considered a temperate rainforest, the weather can be quite unpredictable, and flooding and hypothermia can strike quickly. Many sections of the trail require some technical footwork, and the rain can quickly turn a dream walk into a slippery slog. Among the typical 100+ evacuations off the West Cost Trail each season, a large percent are due to injuries like twisted ankles and hypothermia.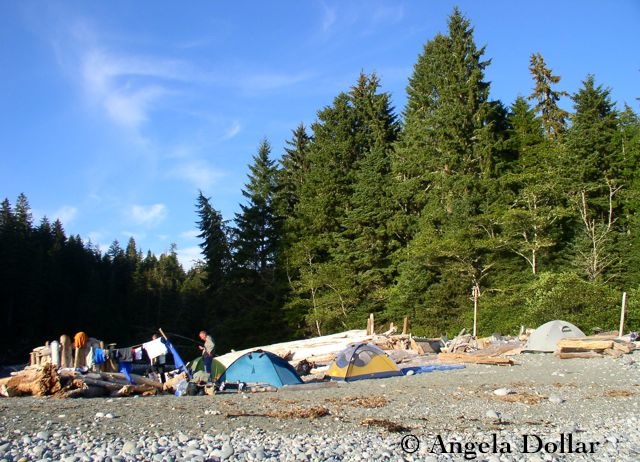 Parks Canada takes this trail seriously and requires every hiker to attend an hour and a half long orientation at the trail head before embarking on the hike. They cover what to do if you encounter a bear or cougar, talk about where to find your drinking water, using the composting toilets, and being a responsible hiker that leaves no trace. I'm impressed by how thoroughly they educate hikers and how well they maintain the trail and surrounding habitat. As a result, hikers on the WCT seem to have a heightened awareness of their impact – packing out all their trash, treating their own drinking water, packing light, and using biodegradable soap if/when they bathe.
[adsenseyu2]The hike is a point-to-point between Bamfield and Port Renfrew. It's open May 1 – Sept 30 each year, but during the peak season of June 15 – Sept 15 only 60 hikers are allowed on the trail per day (30 from each of the two embarkation points). Permits are first come-first served and are wildly poplar, so plan ahead and save your ducats. Getting out to Vancouver Island and to the trail head is a multi-staged affair in itself that usually requires an extra day or two in Victoria along the way. Start planning and learn more about the permit process via the Parks Canada website. Also check out westcoasttrailbc.com for more hikers' accounts and info.
My partner and I have done this hike twice – once in either
direction. Though we did it during the prime summer months, we had one week of glorious sunshine and dry trail and one week of non-stop deluge and a resulting hell of mud and wet. But it is all worth it – it's a truly amazing hike like nothing else I've ever done. Nightly bonfires at the campsites connected us with fellow hikers from all over the world. Parks Canada's care and protection makes this a specular, unique way to experience an unspoiled habitat. The physical challenge is empowering and the moments of spiritual solitude are unmatchable. Conquer this trail and you'll learn a new respect for the land and the people who have made it work for centuries, as well as the title of Bad Ass.
Happy Canada Day!