As a kid I used to dream of living in a tree house. Once I even got to spend the night in my friend Jonna's tree house – in a windstorm, no less – and I stayed awake for most of the night, contently swaying with the tree and watching the stars.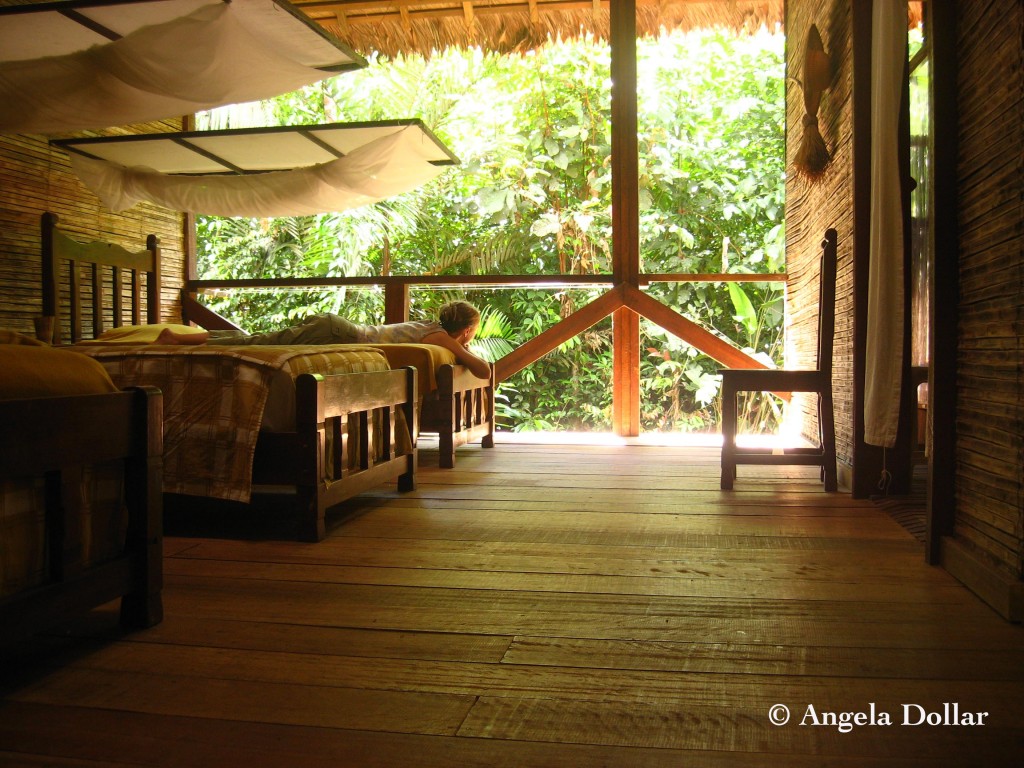 The lodges I stayed in with Peru's Rainforest Expeditions made my tree-house loving dreams come to life. Actually, pretty much everything about my experience with Rainforest Expeditions was dreamy.
Win/Win: Ecotourism and Community Sustainability
Rainforest Expeditions operates three award-winning eco lodges in the Tambopata region of the Peruvian Amazon. A combination of traditional native materials and modern day technology were used to create three beautiful, ecological lodges. The lodges operate entirely electricity-free, source much of their food from nearby farms, use exclusively natural soaps and cleaning products (and supply them to guests so that they may do the same) and have progressive recycling and composting programs. In a habitat where this is crucial, these guys really walk their talk.
Rainforest Expeditions also works with and supports local indigenous communities. The Posada Amazonas lodge is owned by the Infierno community and co-managed by RE. Community members are invited to participate on many levels, and RE strives to source the majority of their materials and much of their workforce locally. Guests have opportunities to buy traditional handicrafts and learn about the local way of living. Rainforest Expeditions has conducted extensive and ongoing surveying of the impacts the lodges have on the local communities, which is well-documented on their site, and I was impressed to find how connected the lodges were to the local community and how many beneficial partnerships had been forged between.
Welcome to the Jungle
The expedition begins in the jungle frontier town of Puerto Maldondo, which you must fly to from Cusco or Lima. Descending from the clouds, I saw the chocolate-colored Ri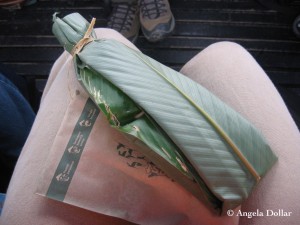 o Tambopata snaking its way through an endless canopy of green. The folks from Rainforest Expeditions were waiting for me just outside the little aeropuerto, and after a quick bus ride we arrived at their headquarters to check-in and leave the bulk of my gear behind in secure lockers. Next we boarded a beefy bus and bounded down a dirt track for about 45 minutes until we reached the river port. Then it's into the boats, where a boxed lunch is served (neatly folded into a banana leaf that you can toss into the river when you're done) and down the river you go. The scenery is already breathtaking and wildlife sightings can begin as soon as you shove off. My group saw a capybara at the opposite shore just a few minutes into our cruise. Posadas Amazonas lodge is a 45-minute cruise, Refugio Amazonas is another hour and forty-five minutes up the river, and Tambopata Research Station is four hours on from there.
At Home with the Ewoks
I was thrilled by the accommodations; it was like I had stepped into the Ewok village. The two lodges I stayed at, Refugio Amazonas and Posada Amazonas, are naturally-constructed electricity-free wonders right in the heart of the rainforest. The central common area is a gorgeous open structure with elevated boardwalks spinning off in all directions towards wings of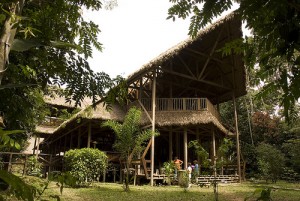 guestrooms. At night, kerosene lamps and candles light the walkways and rooms.
Private guestrooms hold two or three beds and have a private bath. There are 3 dividing walls in each room, but the side that faces the forest is totally open. Totally open. As in, I awoke one morning and saw monkeys in the treetops just meters away. This is one of the coolest ways I could ever imagine experiencing the rainforest. The sounds of the jungle are always around you, and it makes for magical nights and exhilarating revelries. One caveat, however: the dividing walls are built with cane, which is not soundproof by any means, so you definitely hear your neighbors. (I was lucky enough to be in a respectfully quiet wing, but can imagine the disruptions this could pose) The bathrooms are very nice but the showers have cold water only. Full mosquito nets tuck around you in a very comfortable bed at night (mosquitoes are not as prevalent in this part of the jungle) and the buildings themselves are raised high enough off the ground that critter intrusion never posed a problem.
The Guides
A guide is assigned to each group for the duration of their stay, and mine was there from the moment I emerged from the airport. I'm not sure that I'll ever be able to say enough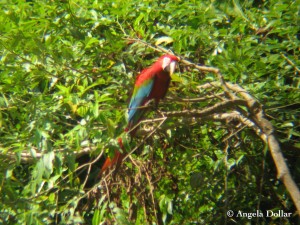 about my awesome guide, Sally. The Amazon is a vast and complex ecosystem, filled with a mind-boggling taxonomy of animals, birds, plants and insects. Sally had a fantastic grip on the sights and sounds of the jungle, but even more impressively, was intuitive in her guiding. She knew when to inform and when to be quiet; she scheduled my daily activities (they schedule so that there are no bottlenecks at any one site) but allowed me to make choices and retain flexibility within it. She let me pepper her with questions, kept her cool when a pack of wild pigs was approaching (she smelled them coming, how cool is that?) and calmly told me which tree I should climb if they should come charging through the bushes. I listened in on other guides here and there when I could, and there seemed to be a very high caliber of guiding going on across the boards. For what its worth, I can tell they all love their jobs, and that says a lot.
The Grub
Mealtime at the lodges reminded me a lot of summer camp. Three times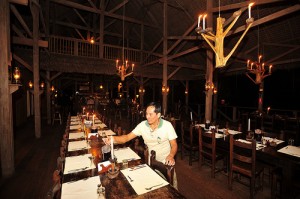 a day, the various groups would emerge from the surrounding jungle and fill the big open mess hall, shedding their muddy boots and chatting their way along the buffet line. For an Amazon outpost that has limited facilities and no power, the food was impressive. Meals were simple but offered plenty of options and tons of fresh produce came from the farm across the river (which I was able to enjoy a great visit to). Being a vegetarian, the kitchen was kind enough to cook up a special protein at every meal so I wouldn't miss out. At night, the crazy-looking candelabras made of gnarled and twisted Amazonian tree limbs would be lowered from the ceiling and lit, giving the whole place a Hogwart's feel. Groups are seated together with their guides, which adds to the Harry Potter and classmates feel, but also cuts down on fraternizing. All food is included, and they make sure you never go hungry. Between meals there's always fruit and drinks available, and the cute little jungle bar (alcohol costs extra, of course) is a fantastic place to unwind and relive the day's adventures.
Exploring the Amazon
I don't think I need to tell you that the Amazon is an amazing world to find yourself in. There is a constant cacophony of life around you; every sense is engaged and every moment my mouth was hanging open.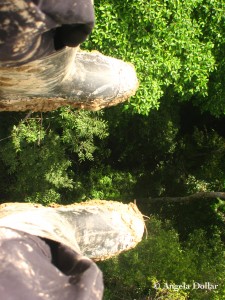 I was up early every morning and followed a packed schedule of activities that ran a good balance between getting out and doing it all without ever feeling rushed or pushed. The activities list is lengthy and action-packed, offering different ways to explore the forest.
Among my favorites were:
* trips up to the top of two canopy towers to view the sprawl of the rainforest from a 75 ft. platform while toucans and parrots fly by
* a night hike where an armadillo barreled by my feet and a tarantula peeked out from under a large leafy home
* watching colorful macaws roost at a natural clay lick from a hidden viewpoint
* an interpretive ethnobotanical tour of the local shaman's garden
Along the way on all these outings, I heard the low call of howler monkeys, saw kilometer-long lines of marching ants, learned about plants like the "walking tree" that literally moves itself towards light, and at one point was attacked by a huge brilliant blue butterfly who didn't like the color of my shirt.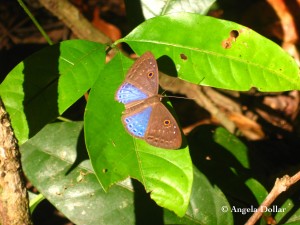 As you can imagine, Rainforest Expeditions is popular and tends to book up early, so plan ahead if you are headed to this magical place.
As a staffer at Crooked Trails, who partners with Rainforest Expeditions, this stay was comped. That said, my recommendations are completely genuine and I would not hesitate to return as a paying guest.
Lodge exterior and dining hall photos from RE's website