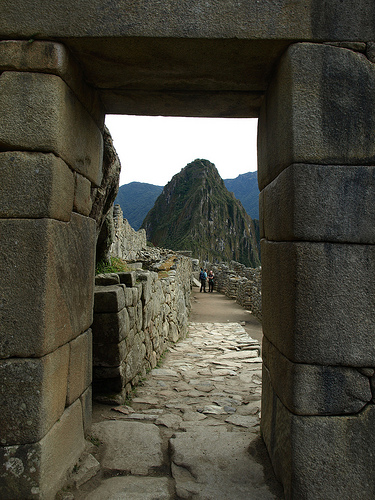 The recent flooding in Peru's Sacred Valley shut off access to the famous ruins of Machu Picchu and left some tourists stranded and scrambling. Machu Picchu is the mega-star of Peru, drawing more than half a million people a year to its precipitous cliffs, and at times perhaps outshining the myriad other wonders that Peru has to offer.
Articles and posts have been popping up like mushrooms after the rain, pointing out all the possible "alternatives" to visiting Machu Picchu. (The knkexplore blog's "Peru: Beyond Machu Picchu" is a good starting point). Even the national tourism agency has launched the "Meet Peru Now" campaign to promote alternative tourist destinations within the country.
While big tourist attractions are certainly part of the draw even for responsible tourists, it can become limiting and even frustrating when your itinerary revolves around them. That said, it's very easy to tweak your mindset and make your trip less attraction-oriented.
Avoid the laundry list. Your sketched-out trip itinerary should not read like a play-by-play out of a Frommers guide. Let go of the antiquated idea that a vacation is all about coming back with all the requisite photos, and a lengthy list of "been there's, done that's". Think in terms of experiences rather than places and things.
Back away from the guidebook. Leave some days in your itinerary for doing nothing but exploring, with no set plans. Unexpected encounters and fascinating places will present themselves, guaranteed. Linger at a local watering hole, or browse the stalls at local markets and take it all in. Or try weaving a few highlights you've read about ahead of time into a larger day of wandering and allowing things to unfold. Once you've eschewed the Tourist Checklist, your days will become organic spontaneous delights.
Find the local version of Machu Picchu. Every region or town has its own local pride, whether it be a historic site, a type of art, a culinary specialty or a craft museum, that they want to show off. Ask the locals what's not to be missed in their village or neighborhood. Better yet, ask them to bring you there and show you. As a traveler, showing interest in the micro-cultures and communities of a country is a crucial part of sustaining fading traditions.
Think about what you are trying to capture. As a young
woman on my first trip to Paris, I knew that I wanted to experience the literary, artistic and philosophical tradition of that storied city. A visit to the café Deux Magots, primary stomping grounds for Picasso, Hemmingway and others, did little to satisfy. The drinks were overpriced and the tables were packed like sardines with tourists, not scruffy writers scribbling in notepads.
It was in a non-descript (and non-historically significant) café around the corner from my budget hotel, however, that I looked up over a steaming bowl of onion soup one day and saw that I was surrounded by French people, talking and laughing and arguing and dreaming. A dog sat on it's owner's lap and drank from a porcelain bowl on the table. My waiter begrudgingly allowed my broken French when trying to ask for the bill. Lovers cuddled and old men huddled in heated conversation. That's what I had been looking to touch somehow.
Machu Picchu doorway photo by Latin America for Less
Teacup photo: *saxon*