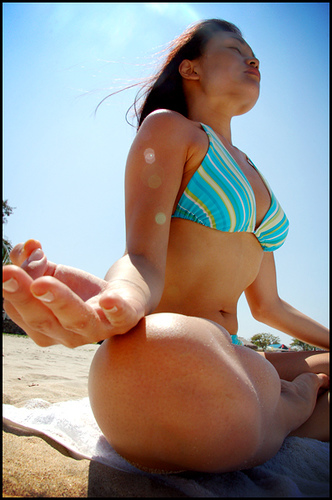 Breathe in.
Breathe out.
Many of us have developed a yoga practice as a part of our normal routines, but find it often lapses when traveling. It may seem like a stretch (pun intended), but I don't need to tell you that your commitment to yoga is not an ideal thing to leave at home!
The nice thing about taking yoga on the road is that it is something you can do almost anywhere, it does not require a lot of extra equipment, and best of all, it's the perfect antidote to the stresses that can arise during transit. Also, seeking out yoga classes or practices in the places you visit provides a great opportunity to connect with people within the local community who you already share something in common with.
Here's a few recommendations for staying in the flow:
Research
Before you go, check out the Yoga Journal Directory to locate teachers and studios, even internationally.
Want to take it a step further and have a yoga-focused trip? Gonomad has some recommendations for world yoga tours.
Pack
There's tons of places on the internet to purchase travel yoga mats; one good site is Barefoot Yoga Company, who offer a large array of mats made from sustainable, eco-friendly materials.
[adsenseyu2]Don't want to shlepp a mat? Check out Yoga Paws which essentially are mini mats you wear on your hands and feet! Made from ecologically friendly material free of chloride, latex and PVC, their built-in linings offer extra support while absorbing sweat and dirt from the floor.
Grab a book for yoga-on-the-go tips and poses, such as Travel Yoga: Stretches for Planes, Trains, Automobiles, and More!
If there's room in your luggage, Yoga Universe suggests you bring a couple of calming scents, such as candles and incense, as well as some of your favorite yoga practice music on your iPod, to help create a sacred space no matter where you are.
Practice
Check out Yogaxoga's recommendations for yoga stretches to do during and after your flight.
Catching some waves? Brave New Traveler has a simple yoga routine for the beach.
Beach yoga photo: Jaylara