Throughout the span of years that my sweetie and I called San Juan Island home, we lived in a menagerie of…um….structures: everything from one-room cabins with no running water to house-sitting gigs in multi-million dollar nests on the west side and even, at one point, a customized 70's panel van called Galactica.
As fun as it is to unzip your tent and have the splendor of Puget Sound unfurl before you, the Sig O and I were seeking out a bit more comfort in our San Juan stay a few weeks ago to celebrate my birthday. (And with the snowfall we'd had in Seattle just a few days prior, we weren't about to push our luck.)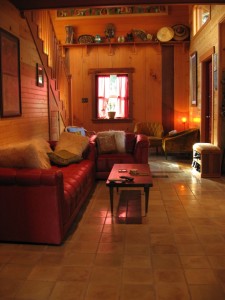 Lucky for us, there is Juniper Lane Guest House!
This unique hybrid hostel/inn was created by 5th-generation islander Juniper Maas, who spent much of her twenties wandering the world with a backpack, just as I did. A few years back, she had the opportunity to buy the property she'd been renting, and she began to build a remarkable guesthouse that mirrored the myriad places she had lodged in during her travels.
A member of the Green Hotels Association, Juniper Lane was built primarily of materials that were salvaged and recycled from the original century-old primary structure. With a team of local craftspeople, she painstakingly refurbished the original raw materials, adding to that new cedar from a locally-run mill specializing in selective harvest, windfall and beach combed lumber. Finished with customized craftsman touches throughout, warm woods and jewel-toned walls showcase Juniper's personal collection of arts and crafts reflecting her
own international travels. Juniper Lane uses only ecologically sound cleaning products and recycled paper products, and includes nice eco-touches such as fair trade tea and coffee for guests.
Nestled just beyond the edge of the town of Friday Harbor, staying at Juniper's provided us the perfect mix of comforts and fussless convenience. On the decadent side, our private room boasted a clawfoot tub to soak in, a supremely comfortable bed with plush cover and a dreamy pastoral views out the window. On the practical side, a fully-appointed kitchen for guest use meant we could cook our own meals and save a few bucks, and we appreciated the hands-off self service atmosphere which truly
encouraged us to make ourselves at home. For me, the inn embodies the spirit of commonality and warmth among travelers the world over.
The prices at Juniper's are quite affordable for an island weekend, and a group of friends or a family will find an even better deal by booking one of the dorm-style backpacker's bunk rooms. Check it out at www.juniperlaneguesthouse.com