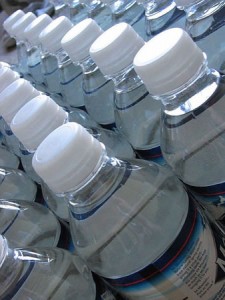 Consider this: in the U.S. alone, about 1.5 million barrels of oil are used each year to produce bottled water.
Now imagine that on a world scale, as travelers the world over reach for the "safety" of a bottle of water, often in countries with little or no recycling whatsoever.
And how safe is it? The U.S. requires stricter testing of its tap water than of bottled water. So here at home, it's probably bottled tap water at best. Now again, imagine what's in the bottle elsewhere around the world!
Treating your own water on the road is easier than you may think. Just bring along a reusable water bottle, such as a nalgene
, and consider one of the following options:
Potable Aqua Tablets are cheap, easy and effective. Many people don't like the taste so be sure to get the purifier pills that make it taste good again – these simply add vitamin C. If you are pregnant or are traveling for more than two months, the iodine in these may pose a health hazard – talk to your doctor.
A filter like the MSR Waterworks EX filter
. This baby eliminates over 99.9999% of all waterborne bacteria and 99.9% of common protozoan parasites! Long-lasting and fully field-maintainable, it features a durable ceramic element that delivers years of protection, as well as a second-stage PES membrane for extra filtering power. It can pump a liter of water in one minute and its carbon core removes unpleasant tastes and odors. Its clear housing makes for interesting viewing while the filter is in action, too.
A purifier such as the First Need Deluxe filter
. This unit's proprietary "structured matrix" design is "electrically charged" and uses sieving and adsorption to produce its purified output. You can use this unit's stuff sack to convert it into a drip filter when you're in camp. Over time, clogging can be a problem with this non-cleanable device.
Katadyn Exstream Squeeze Bottles were the first in this product line to satisfy the EPA protocol. As a purifier, it produces a somewhat thin flow, but so what? At last, a dependable device that allows you to safely dip and sip at midday without taking the time to break out your filter.
Bottled water photo by shrff14 via creative commons