We have a winner!
Carlo Lumontad's
"Philippine Balut –  boiled, fertilized duck egg"
got the most points amongst our judges.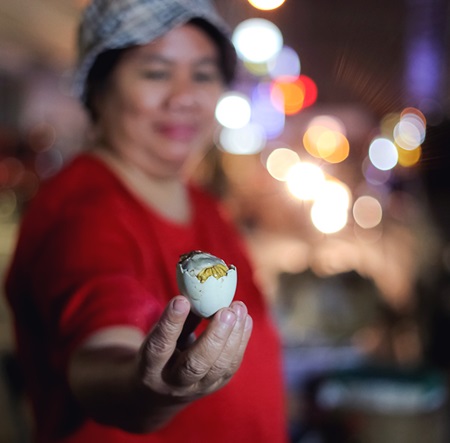 Yay for Carlo – he wins a $140 gift certificate to design his own camera bag from Porteen Gear!
Check out our November Travel Photo Contest.
Please join us in October by submitting your photos with the theme: Foodie Finds.
That's right, show us your best exotic food photos!
In short, you'll submit your favorite travel images which fall under this month's theme. As they come in, we'll post them below.
See full details on how to submit your images for this monthly travel photo contest and see last month's entries and who won here.

Then, check back to see what the competition looks like.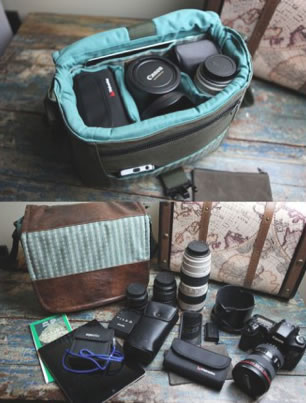 October's winner will receive a $140 gift certificate to design their own camera bag from Porteen Gear.  These folks make the most beautiful leather camera bags. See photo at right to see just how much you can fit into one of these stylish bags. And check out the Porteen Gear website for their options.
Thanks to the folks at Porteen Gear for supplying this month's prize!
Now, go find those exotic food photos from your travels so we can fill this page with delectable images!

Here are the entries for this month's contest
(updated every few days):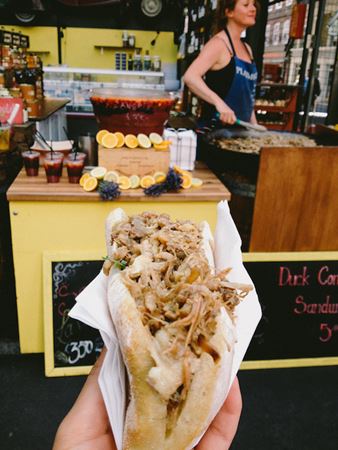 Jessica Hernandez' Duck Confit Sandwich at Borough Market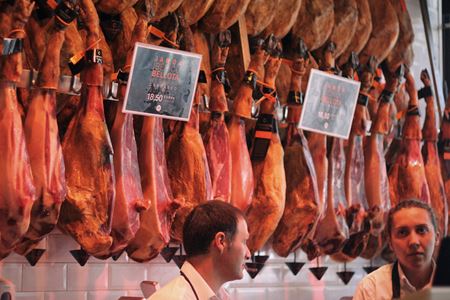 Jessica Hernandez' Museo de Jamon in Madrid

Jessica Johnson's Fried fish lunch in Long Island, Bahamas

Jessica Johnson's Fresh guinea pig in Lima, Peru
Christine Rochelle's Vietnamese Pancake
Susan Notaro's Cheese Stack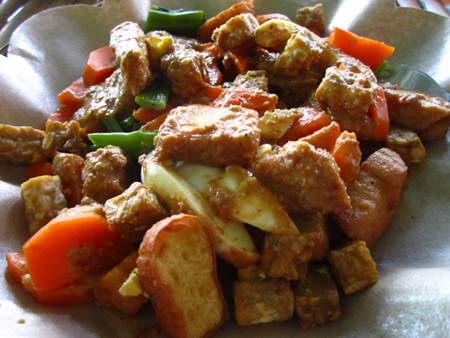 Asia Nichols' Gado-gado (salad with peanut sauce) in Lombok, Indonesia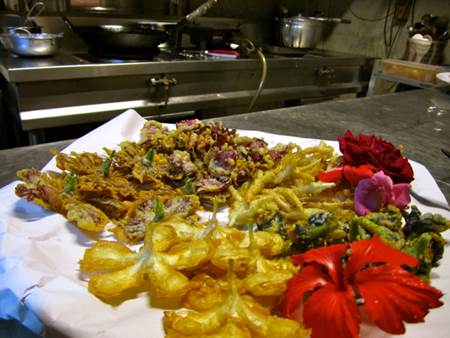 Asia Nichols' Floral Dinner of crepe-fried roses and hibiscus in Chiang Mai,Thailand
Kelly Lamb's Shaslik pit, Naryn, Kyrgyzstan
Kelly Lamb's Local cooking Shaslik in a pit in the ground in the backyard of an abandoned building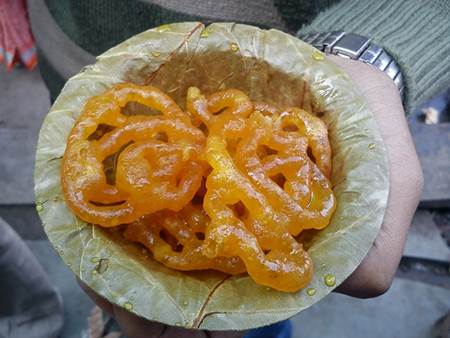 Arti Shah's Jalebis at Chaura Raasta, Jaipur, India

Arti Shah's Vegetable Sushi in Tokyo, Japan
Susan Notaro's Beijing Dumplings
Michelle Luce's Traditional Dutch Mint Tea, Amsterdam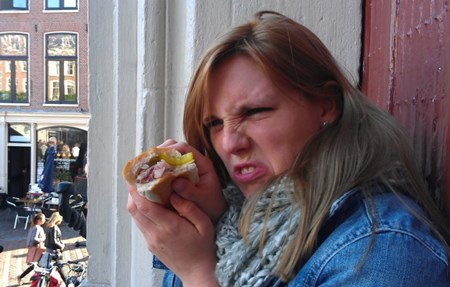 Michelle Luce's Pickled Herring equals pickled face!
Andreja Jernejčič's Marrakech Market
Andreja Jernejčič's Zanzibar Seafood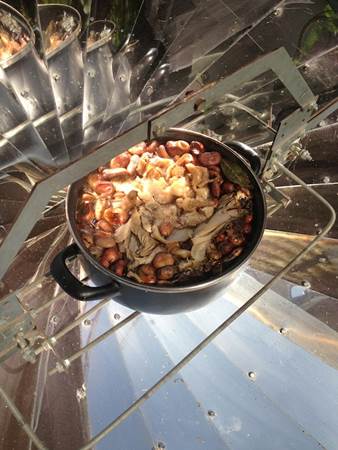 Amanda Oliver's All vegan meal cooked by solar oven in Balaguer, Spain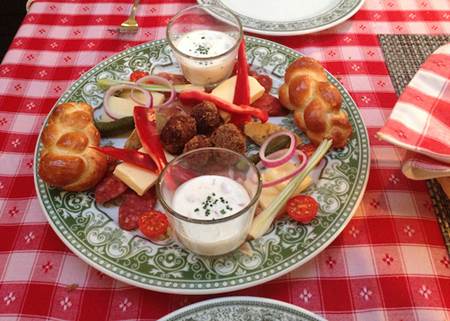 Amanda Oliver's Traditional Hungarian spread in Budapest

Katie Baldwin's Fried Scorpions, Wangfujing Snack Street Market, Beijing, China
Cailin O'Neil's Snake Fruit sold by old lady in Java, Indonesia 
Diane Bowe's Danish Lunch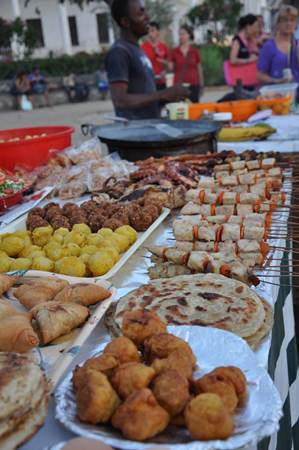 Diane Bowe's Zanzibar Buffet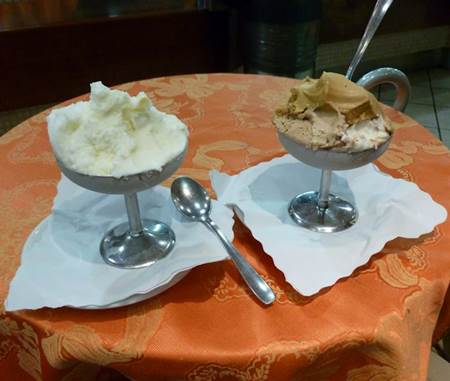 Heather Sinclair's Italian Gelato
Heather Sinclair's Moroccan Tagine
Julie Tulba's Perfect Poutine at Montreal's La Banquise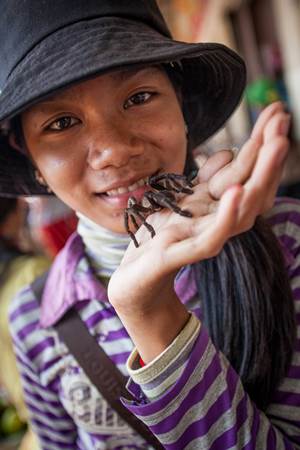 Lisa Merrill's Tarantula snack in Cambodia
Lisa Merrill's Tlacoyos in Guanajuato, Mexico
Melinda Nelson's Hilltop tea in Doi Mae Salong, Thailand
Melinda Nelson's Seafood dinner in Krabi, Thailand
Molly Gleason's Fresh Fallen Mangoes, Dominican Republic
Molly Gleason's Mofongo Mocano, Dominican Republic
Mirella Santana's Rick and Dinner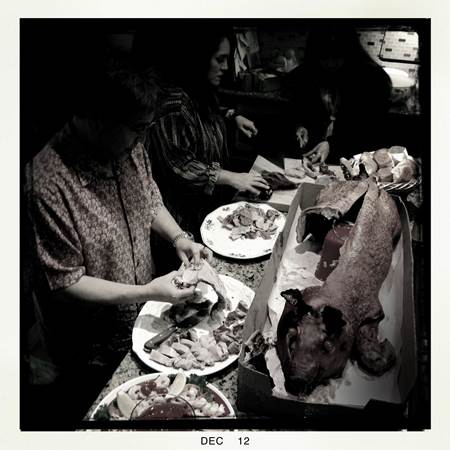 Mirella Santana's Christmas Dinner
Cinthya Sopaheluwakan's Chicken Feet for the Soul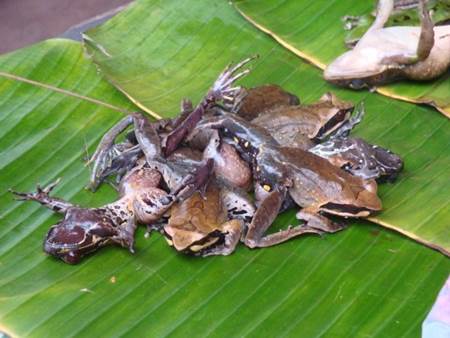 Alexis Margolin's Snack time along the Mekong in Laos

Alexis Margolin's Grasscutter in Ghana's Volta Region

Taryn Rimland's Morocco Street Meat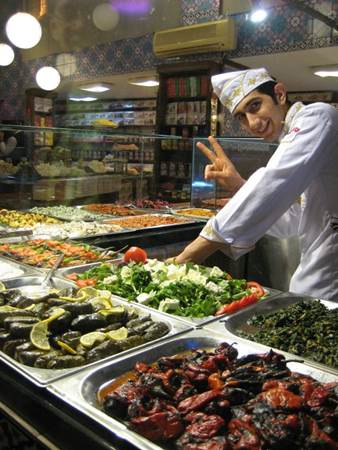 Taryn Rimland's Turkish Delights

Margaret Ghielmetti's Singapore Gourds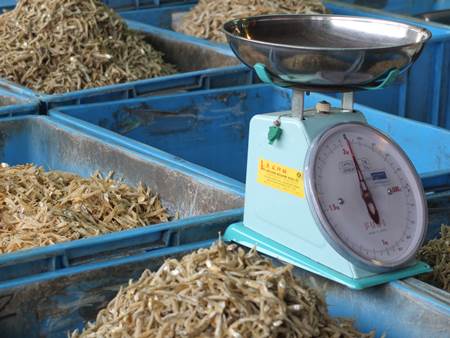 Margaret Ghielmetti's Singapore Fish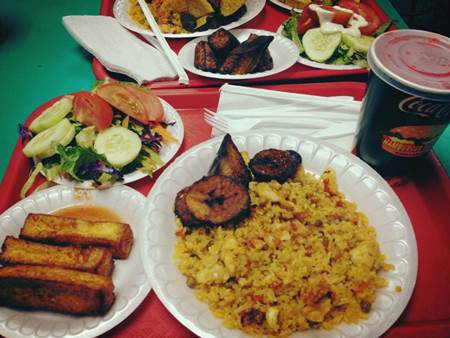 Eileen Cho's Costa Rica meal – fried cheese, arroz con pollo, and salad
Eileen Cho's Elephant Fish wrapped in Rice Paper, Saigon, Vietnam
Kathy Waits' Lunch at the Fischerei St. Bartholoma on Lake Konigssee, Germany
Katie Baldwin's Pears, Versailles Farmers Market, France