Lighting earthen lamps is an essential part of the festival
Diwali (also known in South India as Deepavali) is the Festival of Lights, symbolizing the victory of good over evil. My childhood memories of this grand festival involve getting up in the wee hours of dawn when all was quiet and pitch dark outside, massaging oil into my hair, arms and legs and hopping around under a scalding hot shower to get ready for the festive occasion. This was followed by donning fresh new clothes, a puja at home, partaking of prashadh (offering of a sweet), a visit to the temple with my entire family, followed by a breakfast feast, where we would indulge in a variety of delicacies prepared by my mother, especially for the festival.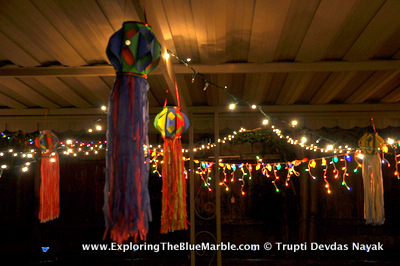 Strings of lights and paper lanterns decorate people's homes
Diwali or Deepavali is made of two words, deepa meaning lamp and vali meaning row. So Deepavali means rows of lamps. This Hindu festival spans 5 days, usually occurring in November. The festival includes pujas and celebrations to welcome Goddess Lakshmi (signifying prosperity) into our homes. Diwali is celebrated all over India and in many countries around the world, like Singapore, Sri Lanka, Malaysia, Thailand, Canada, UK, USA and more.
Diyas (lamps), flowers and rangoli
The lamps lit during Diwali (Deepavali) represent the warm welcome given by the people of Ayodhya to Lord Ram when he returned after 14 years of exile in the forest. Lamps are also lit to welcome Goddess Lakshmi (of prosperity) into people's homes. Traditionally, earthen lamps are filled with ghee and lit with a handmade cotton wick, but one can also use other types of lamps. Rangoli (hand drawn paintings) are laid out at the threshold of homes and filled in with a rainbow of intricate colorful designs.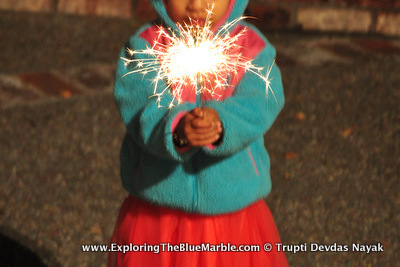 Lighting sparklers
Lighting small hand-held firecrackers or fireworks (sparklers) has always been a huge part of the festival. Firecrackers provide as much joy to kids as to the kids-at-heart. These days, people are more conscious about celebrating the festival in an eco-friendly manner, and they do their best to keep the noise and smoke pollution down. In India, one cannot escape the thundering sound of rows and rows of firecrackers bursting one after another as neighborhoods compete with each other to see whose firecrackers will go on for the longest amount of time. For those preferring less noisy but equally bright fireworks, there are handheld sparklers, chakras (wheels of fire) that one can light on the ground and watch mesmerized as they go round and round, or triangular shaped fountains that burst forth in a shower of golden rays.
Handheld sparklers during Diwali
Diwali is a time for celebration of life and new beginnings. Family and friends gather at each others homes, exchanging gifts of sweets and clothes, showering love, well wishes and smiles on all. Most people buy new clothes to wear during the festival to mark this special occasion and to signify a new beginning.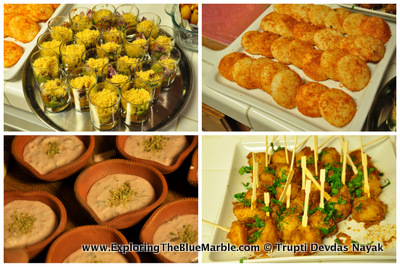 A feast for all the senses
A variety of delicacies are prepared weeks in advance for the festival. These include savory items like chakli and kodabale (rings of spicy fried dough), and sweets like besan and rava laddoos (made with flour, ghee, sugar, raisins and cashews) as well as kadubus (steamed or fried dumplings filled with dessicated or fresh coconut, cardamom and jaggery) and jalebis (golden fried dough dripping with sugar syrup).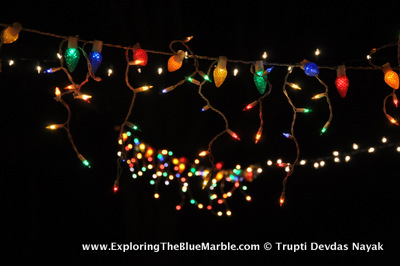 Colorful lights for Diwali (Deepavali)
Diwali is one of the biggest festivals celebrated in India and cherished by people all around the world. Wherever you live, did you get together with friends and family to celebrate Diwali this year? What was your favorite part about the festival? Let us know in the comments!
Happy Travels!
~ Trupti
Follow Trupti on Instagram and Twitter and like Trailbound on Facebook so that you never miss an update, a photo or a post!