Ask anybody about top things to do in Acadia National Park, and invariably they will mention sunrise on Cadillac Mountain as a must-do. We've seen sunrise and sunset from scenic viewing points in many national parks, but what makes sunrise on Cadillac Mountain in Acadia National Park special is being the first person in the entire United States to see the sun rise! This is possible because the sun hits the summit of Cadillac Mountain on the eastern seaboard first before lighting up everything else. What a unique and extraordinary experience!
Of course, there are lots of people who want to experience this. Waking up at 3:30AM is a given. Go to bed early or don't sleep at all, do whatever it takes to be driving on that road climbing up to the summit of Cadillac Mountain at 4AM. There is plenty of parking available at the top if you arrive early enough.
For those desiring to snag a good spot like this blue and green jacket couple who were in front of us, you probably should head out a bit earlier and try to be at the summit before 4AM. If you are staying the night in nearby Bar Harbor, the drive to the summit of Cadillac Mountain takes approximately 15-20 mins. It might be more if cars are backed up and driving slowly up the winding road, especially in the dark. So plan ahead and prepare to get there at a time convenient for you.
We saw lots of folks with tripods and cameras, ready to capture the beautiful sunrise on Cadillac Mountain overlooking Acadia National Park's Frenchmen's Bay and Porcupine Islands. The skies had just started to turn a reddish-orange from deep-inky-blue when we arrived. We grabbed whatever we needed from the car and hiked a short distance to a good viewing point (there's a trail to the right of the parking lot). There is a ledge in the parking lot itself, where people were gathered around and settling down comfortably. But it is better to get away from the crowds and find your own spot along the hiking trails. No spot will be secluded since there are so many people around, but atleast you will get to enjoy the sunrise in relative quiet compared to seeing it from a busy parking lot.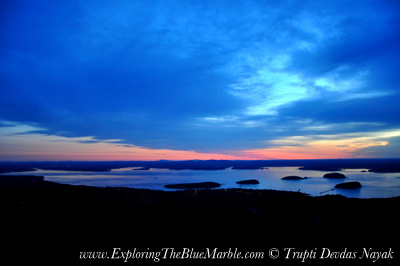 As the dark inky blue sky started to get tinged with reddish-orange-golden streaks of light, we stayed warm with hot coffee from a flask, and several fleece comforters that we had brought with us. It is quite cold and chilly in the morning, so make sure to dress warmly in layers, bring a woolen cap and scarf, a couple additional quilts/blankets/comforters and something hot to drink. It does get a bit windy at the summit since you're exposed to the elements, so it might be a good idea to check on the weather beforehand and pack a rain jacket if needed.
The Porcupine Islands look breathtaking during sunrise. They add a wistful dreaminess to the landscape. The golden glow of sunrise on Cadillac Mountain reflects off picturesque Frenchmen's Bay, as Burnt Porcupine Island, Bald Porcupine Island and Sheep Porcupine Island bask in the glow of the rising sun.
As you stand there admiring the views and a gorgeous sunrise, don't forget that you are the first person in the entire country touched by the rays of the sun. Cadillac Mountain is not too tall at 1,529 feet (466 m), but it is the highest on the eastern starboard. This unique experience, combined with breathtaking views of Frenchmen's Bay and the lovely scattered Porcupine Islands make getting up early to see the sunrise on Cadillac Mountain totally worth it!
After sunrise, as people start to make their way back to their cars and warm beds at their hotels, you would be wise to head straight to Jordan Pond. Being up and about already, you might as well make the most of this early peaceful time of the day to take in some more sights before they are mobbed by summer crowds.
A 20 minute drive down the mountain, past Eagle Lake, is Jordan Pond. Here you can witness quintessential Acadia, with clear water, smoothed rocks and pebbles, adorning the shore while Acadia's famous Bubbles rule the backdrop. The Bubbles are the two mountains with smooth rounded tops, which look exactly like bubbles. They are called the North and South Bubbles and are prominent features seen while driving through Acadia National Park.
A trail runs all around Jordan Pond and is a great hike to whet your appetite before breakfast. There was practically nobody when we got there after sunrise and we had the pond all to ourselves. The water was still, the rocks were half-submerged and beautiful, the sun was lighting up the trees one by one and we strolled around leisurely, enjoying the silence and solitude. Eagle Lake is a great place for kayaking and boating, and we caught sight of folks out this early in the morning on the lake!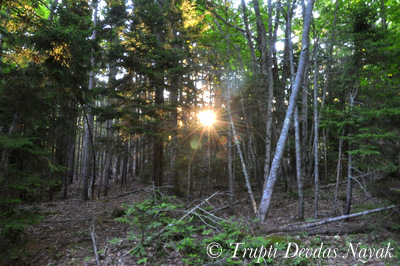 On our way back from Jordan Lake, we caught sight of the rising sun through these trees, which presented a fabulous starburst photo opportunity. We were thrilled that we got to see a fabulous sunrise, but we were also sleepy from having been up since 3AM. It was time to head back to our hotel room and catch a few winks before breakfast.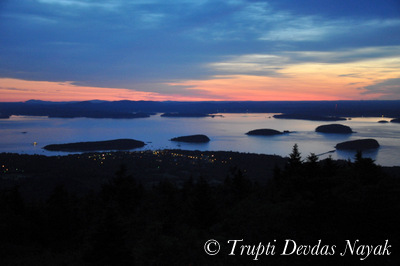 Sunrise on Cadillac Mountain in Acadia National Park is a must-do when visiting! It is worth the early wake-up call. Just make sure to drive there early to secure a good spot with a view. Carry a hot drink and dress in warm layers. Don't forget to also carry a headlamp or a flashlight to see your way in the dark. Make sure you visit Eagle Pond and Jordan Pond, to admire Acadia National Park's pristine clear lakes and the prominent Bubbles mountains. And Oh, don't forget to boast to your friends and family that you were the first person to see the sun rise on that day!
Happy Trails!
~ Trupti