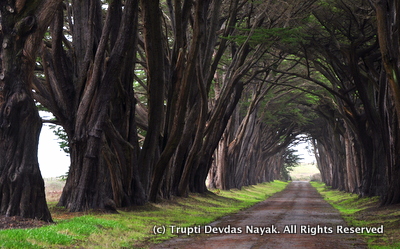 Vistas when driving through Point Reyes National Seashore
"The woods are lovely, dark and deep. But I have promises to keep. And miles to go before I sleep. And miles to go before I sleep". Thus wrote Robert Frost in his famous poem "Stopping by woods on a snowy evening". But you don't have to go miles before finding a place to sleep. Thanks to Hostelling International, a number of great accommodation options are available worldwide for the wise traveler who seeks comfort and company, but does not want to break the bank.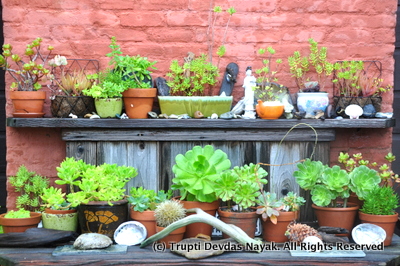 Hostelling International Point Reyes
Tucked away into the lush endless landscape of Point Reyes National Seashore, Hostelling International's HI Point Reyes is a home away from home. Built with sturdy wooden exteriors and adorned inside with lush leather and wood, this place is not what you might be expecting from a hostel. Yes, there are common areas and a shared kitchen and dining rooms. Yes, there are dorm beds and shared bathrooms. But there is also a friendly camaraderie that comes from meeting and interacting with fellow travelers.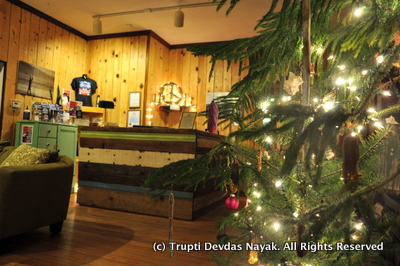 Front desk at HI Point Reyes
Enter the main building and step inside towards the front desk and you know what I mean when I say the entire place exudes warmth and happiness. Kept spic and span, the hostel interiors are as cozy as they are impressive. One of the friendliest people I've ever met is Nancy Reynolds who manages the hostel at HI Point Reyes. She checked us in at the front desk and enthusiastically answered all our questions about things to see and do in the area. Her love for Point Reyes, the hostel, traveling and everything in general was infectious! We had booked bunk beds for the night in the Co-Ed dorm room and were looking forward to our first Hostelling International experience. HI Point Reyes also offers private rooms with gender-specific shared bathrooms which are great for large groups or for those seeking a bit more solitude and privacy.
Dorm room with bunk beds at HI Point Reyes
After being checked in, we headed straight to our dorm room to check out our digs for the night. I must say, we were impressed with how neat and tidy everything was! Bunk beds were arranged artfully at right angles to allow privacy and a sense of homeyness. There were a few fellow travelers who had already unpacked and settled in, we chose two lower adjacent beds for ourselves. We even had extra comforters, blankets, pillows and bedsheets stacked high on wall shelves for us to use. Bathrooms were just a few steps away and although shared, they were kept immaculately clean and well stocked.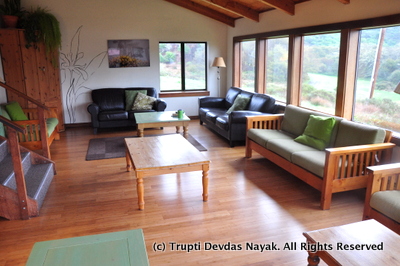 Common lounge area at HI Point Reyes
The common areas connected to the dorm rooms were superb. Comfortable couches, cozy seating, huge floor-to-ceiling glass windows that let in a ton of natural light, hardwood flooring, lush vistas outside. HI Point Reyes felt less like a hostel and more like a private luxury cabin hidden away amongst the woods.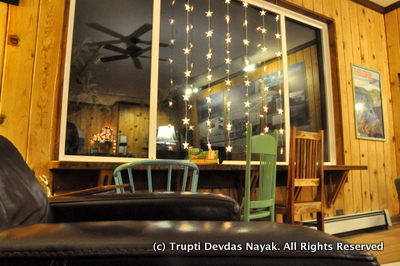 Cozy common area next to the kitchen
Most of the folks were in the common kitchen / dining area, so we headed there to prepare our dinner and connect with fellow travelers. Christmas lights adorned windows and added a festive cheer to the place. Groups of friends were laughing and talking while cooking pasta and chopping vegetables. We introduced ourselves and were soon exchanging tidbits and stories. We met one lady who was a regular visitor to HI Point Reyes. She loved Point Reyes since it was a great retreat for the weekend. She always looked forward to staying for a few nights at the hostel, resting, relaxing and catch up on reading. We nodded in agreement. That is exactly what we were here for too!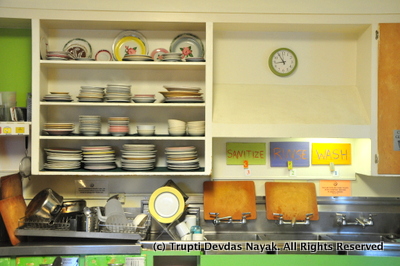 Kitchen at HI Point Reyes, superbly organized, neat and tidy!
Everywhere I looked at HI Point Reyes, I was struck by how organized, neat and tidy everything was. It shows that as the hostel keeper, Nancy took utmost pride in her day-to-day work and responsibilities. The kitchen was equipped with all the facilities and amenities one could think of. Dishes, cups, cooking utensils, cutting boards, a set of washing sinks to wash, scrub and sanitize. Every thing was labeled cleanly and self-explanatory for somebody like us who was staying at HI Point Reyes for the first time.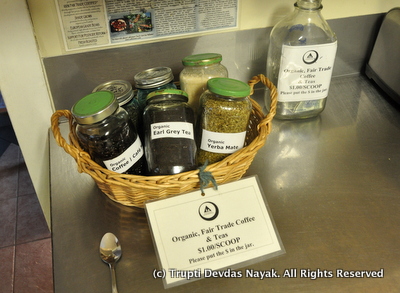 Organic Fair Trade coffee and tea, anyone? Fabulous!
Thoughtful touches like organic fair trade coffee and tea, kept tidily in a basket made me smile with joy. Following the honor system, one just has to use a scoop or two of tea or coffee as they needed, and put in $1 for every scoop. Love it. Thank you Nancy! We had a lot of fun cooking our dinner and sharing use of the kitchen facilities with all the other hostelers. We sat down in the communal dining area and enjoyed our meal together. Later that evening, we even made ourselves a cup of hot chocolate and settled into the cozy couch in the common lounge area.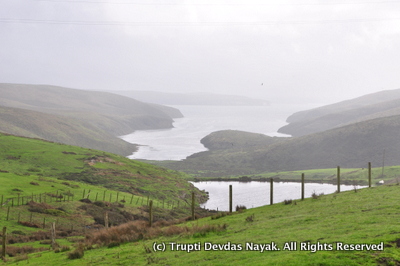 Early morning in Point Reyes
Soon it was time for bed and we headed over to the dorm room building which is a short walk from the main building that houses the front desk. We tucked in for the night and were glad there were extra comforters and bedsheets to use in case we needed it. The beds even had personal bed lights to use for reading. How wonderful to discover these thoughtful touches, that too in a hostel! The next morning, having slept quite well, we felt energized and were looking forward to a day of exploring Point Reyes. Checkout was painless and we profusely thanked Nancy for making our visit such a pleasure. We were fascinated to hear that Nancy divides her time between San Francisco Bay Area and Spain where she is a guide for travelers wanting to walk the Camino de Santiago. Learn more about Nancy at her website Walk Your Way.
Admiring colorful mushrooms on a hike at Point Reyes
After spending the morning and afternoon hiking around and soaking up Point Reyes' many spectacular sights, it was time to head home. We're so lucky that natural wonders like Point Reyes are just a 1.5 hour drive from the Bay Area. Point Reyes National Seashore makes a great weekend getaway. Staying for a night or two at HI Point Reyes makes the experience even more special. It is noteworthy that HI Point Reyes is the only accommodation available inside the park. Book well in advance as this is a very popular hostel and rightly so. Hostelling International has several other hostels in California, like Sausalito, Monterey, San Francisco, Santa Cruz, Montara etc. The hostel at Pigeon Point Lighthouse in Pescadero even has a hot tub with a view of the ocean!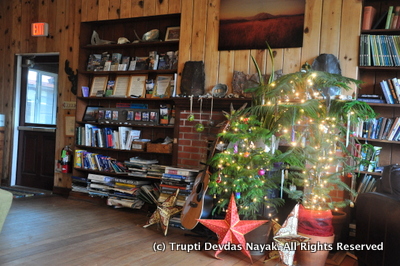 HI Point Reyes library shelf with cards, notes and comments left by previous visitors
Have you stayed with Hostelling International before? Which hostel did you stay at and how did you like it? Let us know in the comments!
Happy Trails,
~ Trupti
Disclosure: Hostelling International provided for my stay at HI Point Reyes in exchange for writing about my experience. Regardless, everything I have said in this post reflects my honest observations and opinions.