Dog sledding in Yellowknife, Canada
I'd barely grasped the handle of the dog sled before the huskies took off like bullets at top speed. I held on for dear life as the dog sled moved forward, pulled enthusiastically by 4 well built dogs. The crisp cold wind cut even more intensely through my face as the dog sled picked up pace. Raw wilderness was all around me, cloaked in white snow, evergreen trees framing a picture perfect winter. Earlier, the dogs had been barking nonstop as they impatiently waited their turn to be harnessed to the sled. But now, they were quiet without as much as a peep. They pulled the sled comfortably and sped along on well groomed and familiar trails. There was no other sound except for the sled on the snow covered trail and our own ragged breathing.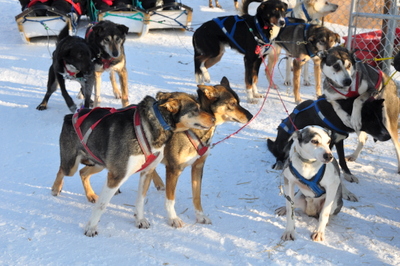 Huskies taking a break from dog sledding in Yellowknife at Beck's Kennels
As a child, I'd read The Call of the Wild by Jack London and it has always remained one of my favorite books. In the book, the main character is a husky named Buck who ends up pulling sleds in the Yukon due to a series of unfortunate circumstances. Narrated from a dog's point of view, the book is a fascinating glimpse into the lives of husky dogs who were irreplaceable as modes of transport and a man's best friend in the arctic wilderness. Modern transportation has now reduced dog sledding into a recreational activity, but back in those days, you needed strong, healthy dogs capable of pulling loads many times their weight in order to survive life in below freezing temperatures.
Thrilled to be driving my own dog sled thanks to Beck's Kennels in Yellowknife, Canada
Yellowknife, Canada is one of the world's top destinations for viewing the Northern lights, also known as the Aurora Borealis. Located in the Northwest Territories, adjacent to Yukon and just 200 miles south of the Arctic Circle, people in the know flock to Yellowknife during winter to catch a glimpse of nature's surreal light show. The Northern Lights can be seen only at night when the skies are dark and prime viewing times are 1AM and 3AM. The Aurora activity levels depend on the solar flares and weather conditions. We were visiting Yellowknife during February's below freezing temperatures to see the Northern Lights. But that left us with a lot of free time during the day.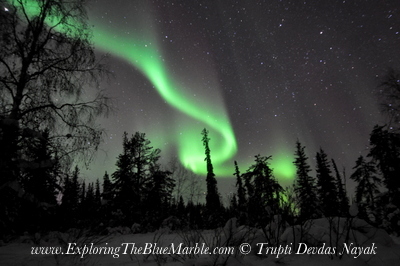 Watching the Northern Lights in Yellowknife, Canada
So what is one to do in the day time? Yellowknife offers a host of adrenalin pumping activities when it's bright and sunny outside. Dog sledding in Yellowknife, Canada of course, is top of the list for anybody who's ever wanted to experience this unique and rare activity. Beck's Kennels in Yellowknife, Canada is one of the oldest outfits that provide dog sledding and many other experiences that one can do. For example, you can participate in an Aboriginal Ice Fishing Demonstration and cook the fish you caught for lunch, go City Sightseeing, Bison / Buffalo viewing, or take a Snowmobile Guided Tour or hit the nature trails on your own equipped with some sturdy snowshoes.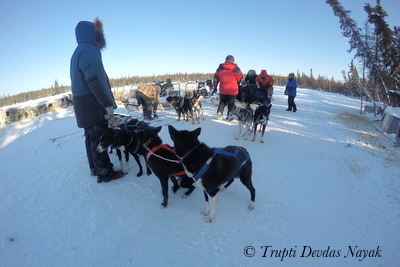 Huskies waiting eagerly to be hitched to their sleds
Our pick of course was the dog sledding! We called ahead to reserve the Northern Outdoor Adventure Tour. This tour includes being able to drive your own dog sled, on an exciting trail on a frozen lake, heading to the traditional trappers tent. After warming up by a wood stove and indulging in some hot drinks and snacks, it is time to ride back our own dog sled along the trails in the wintry wilderness to back where we started. Each of us wanted to experience driving our own dog sled, so the NOAT was a great option.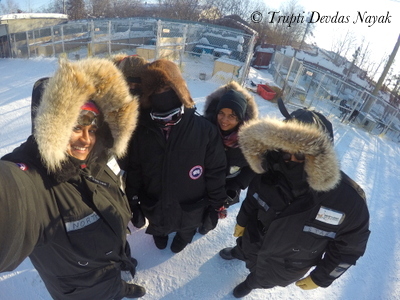 Ready for driving our own dog sled!
We were thrilled to be driving our own dog team! We were helped by friendly folks for our check-in and registration at the front desk at Beck's Kennels. Then we waited outside for our guides and the dog sledding crew to get our sleds ready. Our voices were drowned out by the growling, yelping and barking of dozens of Huskies who seemed very eager to get hitched to the dog sled for their afternoon run. Huskies are born to run and being set free on snowy trails is their dream come true! Our dog sleds were harnessed and ready to go. The huskies were so eager to get started that they were barely being held back by the crew who were straining to keep the sleds in place.
Seated in the toboggan as we drive our dog sled along Yellowknife's snowy trails
It was two people to a sled, so one gets to sit in a comfortable toboggan while the other gets to stand behind and drive the sled. There are a pair of skis poking out under the dog sled, which allows smooth travel on snowy surfaces. The person standing behind is in control of the dog sled since the one who is sitting in the toboggan can hardly do anything if the sled were going too fast or off course. Thankfully our sleds didn't overturn at any point, but I did come close to going overboard a couple times when the huskies pulled the sled into soft banks of snow which shouldered the trails. When driving the sleds, we were told to step off the skis and push the sled ahead with our strength to help the dogs carry over the sled over small inclines and any uneven snowy surfaces. We did this a few times and it was quite fun to help push the dog sled and make it go faster with our own effort.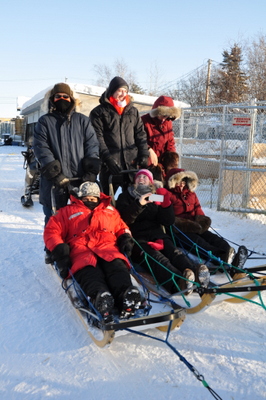 Starting formation with the dog sleds at Beck's Kennels
Each couple in the pic above have their own dog sled, this is the formation in which we start out. This allows the dogs to set a steady pace along the trail and soon the trail narrows to just a few feet where only one dog sled can pass. Then the sleds all separate out and each one goes according to the speed of their dogs. The person who's standing is in full control of the sled and is "driving" the dog sled. To slow down the dogs, you have to step your foot onto a bar underneath the sled which effectively "brakes" and slows down the dogs. It's important to always stand with feet firmly on the skis and hands firmly on the handle bar. The dogs are usually going at such a frenzied pace that it's easy to take one's hands off the handle bars and find yourself left behind on the trail while the dog sled has taken off with your companion in the toboggan! Now try explaining how that happened to your companion when you meet them again further down the trail.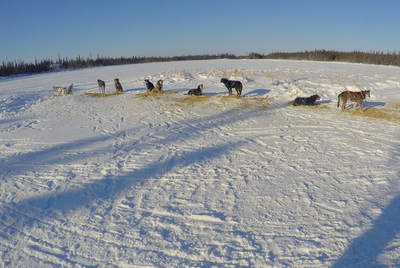 Huskies getting a break at the Trappers Tent, Beck's Kennels
The dog sledding crew at Beck's Kennels did a fantastic job and were with us all along the trails. They followed us on snowmobiles from a distance making sure our sleds were going at a comfortable speed and if anything were to happen, they were right there to help out. The dogs already knew the trails really well. None was tempted to go off course. They just followed their heart and ran like the wind. Driving the dog sled on the frozen lake towards the trappers tent was the most memorable part of the experience. After a few minutes of controlling the sled, one learns how to move and balance oneself on the sled to work with the dogs who're pulling our weight. Once you are comfortable with driving the dog sled, it's time to look around and take in the magical experience. Quiet and solitude surrounded us. All we could hear was the crunch of snow underneath the dog's feet as the sled moved along on the trails. The huskies themselves were quiet as they focused on enjoying their run and breathing in crisp fresh air.
Inside the Trappers Tent, warming up with hot chocolate and cookies
After around 30-40 mins of driving our dog sled on the frozen lake trails, we reached the trappers tent where the huskies got a break. We got a break too and warmed ourselves in a cozy wooden cabin, where we were treated to hot chocolate and warm delicious cookies. Everybody at the table was flushed with excitement and thrilled to have driven their own dog sled. For many, this was their first experience doing something like this. After around 15 mins at the trappers tent, we were ready to drive our sleds back to the starting point. This time we switched roles so that whoever had been sitting in the toboggan earlier was now doing the driving. The freezing wind whips out more intensely at whoever is standing and driving, so it's important to make sure you are completely wrapped up in a cap, muffler, scarf, fleece balaclava etc.
Enjoying dog sledding in Yellowknife, Canada with Beck's Kennels!
Back at Beck's Kennels, we were on an adrenalin high after our experience. Riding our own dog sled in the -30 degree Fahrenheit snowy wilderness of Yellowknife was a dream come true. We had some unexpected adventures, like when a friend let go of the handle bar for just a second and her sled took off with the dogs. Thankfully there was nobody sitting in the toboggan. So she had to get onto a crew member's snowmobile to catch up with her runaway sled. Or when my toboggan went crashing into a snow bank and almost toppled over but we hit the brakes just in time. Or how about when we realized we were actually racing with another couple who were driving their own dog sled ahead of us but their dogs were slower. After a lot of "mushing" and "go go go!" encouragement, our huskies overtook theirs on the narrow trail and we whooped with joy!
We had a wonderful experience dog sledding in Yellowknife, Canada thanks to Beck's Kennels! To book your own experience and learn more about Beck's Kennels, go here. The NOAT (Northern Outdoor Adventure Tour) costs $120 per person and includes driving your own dog sled and hot beverages and refreshments at the trappers tent. Beck's Kennels offers several alternative dog-sledding options, including a Traditional Group Dog Sled ride, Drive your own Dog Team, Dog Sled Racing and even Dog Sled Expeditions!
Happy Trails,
~ Trupti
Disclosure: Beck's Kennels provided for my Northern Outdoor Adventure Tour in exchange for writing about my experience. Regardless, everything I have said in this post reflects my honest observations and opinions.