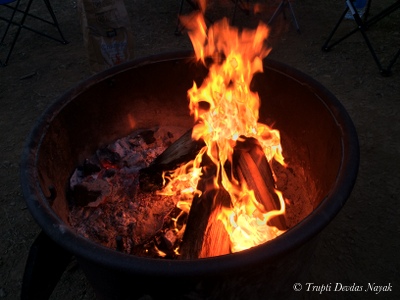 Campfire at Henry Coe State Park
We recently went camping at Henry Coe State Park which is about an hour's drive from the Bay Area. Located in the lush green hills of Morgan Hill, Henry Coe State Park boasts a lofty campground that overlooks picturesque and remote ridges and canyons. The campground is on top of one of the mountain ridges at 2,600 feet and one can drive up directly to the campsite.
Sunset at Henry Coe State Park
Being able to throw everything you need for the weekend into the trunk of your car and taking off is one of life's simple pleasures. We arrived at our campsite in Henry Coe State Park on a fine sunny Saturday afternoon. As our car made its way up narrow mountain roads, we caught sight of Anderson Lake and its namesake Anderson Lake County Park where people were boating and having picnics.
Setting up camp at Henry Coe State Park
We had reserved two campsites adjacent to each other for our group. As we drove through the campground, we noticed that some campsites had a premier location towards one end of the mountain ridge, with spectacular unobstructed views of endless mountains and valleys. Unfortunately both our campsites (#17 and #15) were at the opposite end of the loop, closer to the Visitor Center. But one of the perks was we did have restrooms close by!
The evening sun!
Some campsites even had a wooden structure that offered shade and respite from the harsh sun, since most of the campsites are on an exposed mountain ridge and get direct sunlight. A few well-prepared campers had brought their hammocks to hook up to the wooden structure and were lazing about happily. Setting up camp was easy, there was plenty of space for parking our cars and finding a comfortable flat spot to pitch our tent.
Campfire and camp chairs, what more does one need on a beautiful Friday evening?
One of the best things about camping is that there's no agenda. There's no to-do list. There's no need to do anything, be anywhere, other than exactly where we already are. So we set out our comfortable camp chairs, started up a camp fire and just sat around. Relaxed. As we watched the moon rise, we marveled at the breathtaking views of the sun setting over the mountains. One advantage of being at campsite #17 was that it was higher up on the slope of the ridge and we had clear views out to the horizon.
Who wants s'more?
A roaring campfire means it's time for some s'mores! Delicious and decadent, this has to be one of the most popular campfire desserts that everybody craves for. We were soon roasting our marshmallows and squealing in delight as they caught fire. Biting into one of these delicately prepared sandwiches (dark chocolate and a hot marshmallow sandwiched between honey graham crackers) was pure bliss.
Grilling hot dogs on the camp fire!
But one cannot live on chocolate alone. So it was time to bring out some real food. Vegan sausages from Whole Foods were a big hit! Have you tried these Field Roast sausages? The Mexican Chipotle and Smoked Apple Sage are beyond delicious! Grilling them on the campfire and making ourselves a yummy hotdog, with all the fixings (sauerkraut, ketchup and mustard flavored with stout) was a ton of fun. Camping is such a delight, especially with friends!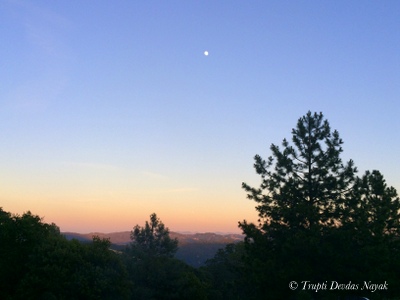 Moonrise and sunset at Henry Coe State Park
As expected, mosquitoes came out in droves at dusk, but my trusty ExOfficio BugsAway DamselFly Jacket kept the bug bites away! The temperatures remained surprisingly pleasant throughout the night and we slept very comfortably. The next morning, we treated ourselves to a scrumptious breakfast and broke camp. It was time to get some hiking done before heading back home.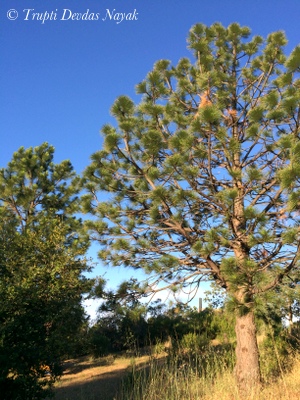 A brilliant new day dawns
We stopped at the Visitor Center to get recommendations for nearby hiking trails. An unexpected highlight of that was spotting a baby rattlesnake right outside the Visitor Center! One of the rangers came with a tall plastic bucket and a long stick to gently coax the rattlesnake into the bucket. We heard the spine-chilling tell-tale rattling sound go off dangerously as the snake raised it's diamondback head and its forked tongue flicked in and out of its mouth. Soon the rattlesnake was in the bucket and the ranger said he planned to drive to a remote area away from the campground and release the snake there. When hiking in rattlesnake country, always look where you hike, keep an eye and ear out for the tell-tale rattle sound, and wear sturdy ankle-length boots and thick long hiking pants.
With all the excitement of seeing a rattlesnake and wrapping up a great camping trip, we were thrilled to have kicked off this summer with Henry Coe State Park. To make reservations for campsites at Henry Coe State Park, go here. Which local parks are you planning to explore this season?
Happy Trails,
~ Trupti