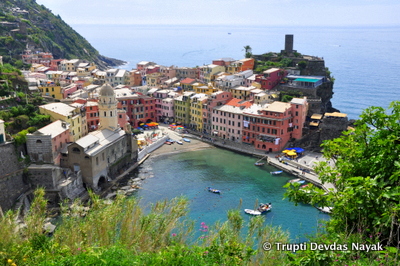 Hiking in the Cinque Terre, Northern Italy
Glorious summer is upon us and it's time to hit those trails. Italy is known for its world famous art, architecture, museums, painters, sculptures, writers and gelato, but you might not know that Northern Italy is home to a magnificent National Park named the Cinque Terre. This nature preserve consists of 5 quaint villages which are connected to each other via stunning coastal hiking trails.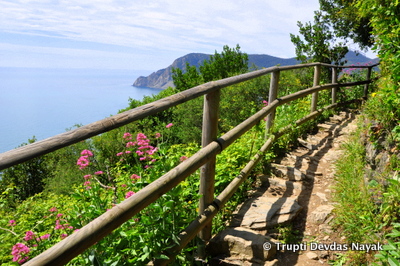 Gorgeous Mediterranean trails along the Cinque Terre, flush with wildflowers and the sounds of spring
Cool mornings are usually the best time of the day to hike the Cinque Terre National Park as are late afternoons. Twilight brings out mosquitoes and bugs in hordes, particularly during spring and summer. I'm always up for using insect repellent to keep the bugs away, but am not too fond of sticky lotions, smelly sprays or creams that need to be directly applied on the skin. We hiked the trails from Vernazza to Corniglia in the late afternoon and Vernazza to Monterosso in the early part of the day. Some trails between a couple of the Cinque Terre towns were closed due to recent rains and inoperability, but we were able to hike to all the towns using alternative routes and clocked a solid number of miles.
ExOfficio BugsAway DamselFly Jacket with InsectShield protection
When I heard that ExOfficio has an amazing line of apparel embedded with InsectShield technology, I was thrilled to try out their BugsAway Damselfly Jacket. I got the opportunity to try these out when hiking in the Cinque Terre and was very impressed with this feature-packed yet comfortable and light-weight jacket. The BugsAway DamselFly Jacket is a one of a kind which promises the wearer complete protection from mosquitoes, ticks, ants, flies, chiggers and midges.
Wearing my ExOfficio BugsAway DamselFly Jacket with Monterosso in the background, Cinque Terre
ExOfficio had the brilliant idea to directly bake-in the insect protection into gear like the BugsAway DamselFly Jacket. They even make pants with their InsectShield technology! ExOfficio uses Permethrin insect repellent which is tightly bonded to the fabric of the jacket and stays embedded in the clothes through several dozens of washes (as long as you don't dry-clean it). They even have a page dedicated to answering everything you want to know about BugsAway technology – it makes for fascinating reading.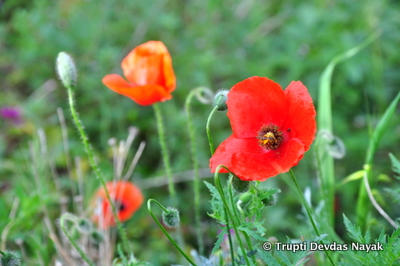 Colorful red poppies dot the trails in the Cinque Terre, Northern Italy
The ExOfficio BugsAway DamselFly Jacket is super light weight and compact to pack. It stuffs into its own security zip pocket, making it the ideal insect protection to carry along on any trip. On my trip to Italy, I took the jacket along so I could use it when hiking the Cinque Terre. It's important to stay protected from mosquitoes, bugs, ants, ticks and flies no matter where you go. I got my BugsAway Damselfly Jacket in a pleasing Opaline/Botanic color that complements regular hiking clothes really well.
Some features that I loved about the jacket are –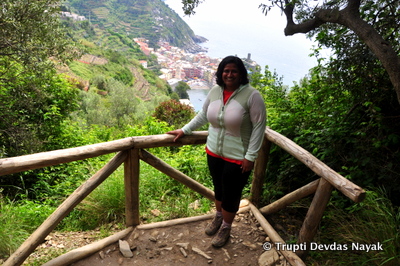 Hiking from Vernazza to Monterosso along the Blue Coastal Trail in Cinque Terre, Northern Italy
Comfort and Fit – The ExOfficio BugsAway DamselFly Jacket fits true-to-size and is very comfortable to wear over a couple layers of clothing for hiking. I wore mine over a hiking shirt and never even felt like I was wearing a bulky jacket. Made of stretchy material, the jacket offers Women's sizes in Slim, Natural and Relaxed fits (XS – XL).
Ventilation – Hiking in warm weather means sweat and a top priority for a jacket that needs to be worn during hiking is that it should help to cool off quickly. The ExOfficio BugsAway DamselFly Jacket provides excellent ventilation through its mesh surface and has wicking capability to ensure a no sweat policy.
ExOfficio BugsAway DamselFly Jacket Hood and Back
Hood – I loved the well-thought-out hood on the jacket which completely covered my ears and head, with added protection around the face to keep bugs away. The hood did not obstruct my view and was easily adjustable.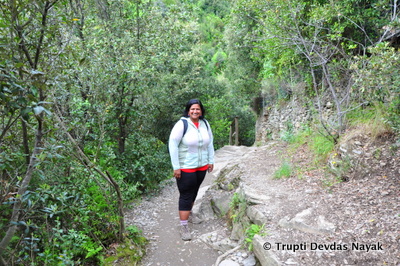 Wearing my ExOfficio BugsAway DamselFly Jacket on the Cinque Terre trail
Color options – The ExOfficio BugsAway DamselFly Jacket is available in three colors that are sure to please everyone. Opaline/Botanic comes in mellow pastels while Chlorine/Aquatic is cheerful and bright. For a quintessential classic, there's the White/Oyster color choice which is great to stay cool while hiking on a hot sunny day.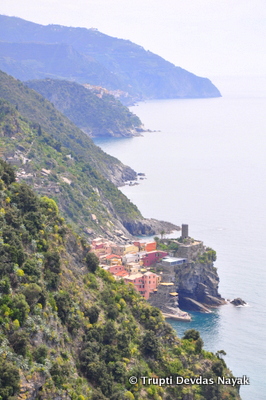 View of the towns Vernazza and Corniglia along the Cinque Terre, Northern Italy
Having worn this jacket on several trails while hiking in the Cinque Terre National Park, I can safely vouch that I'm yet to become bug-food. While keeping me safe from mosquitoes, ticks, ants, chiggers and mites, the ExOfficio BugsAway DamselFly Jacket also makes me look good on the trail! The ExOfficio BugsAway DamselFly jacket is a boon for those of us who've always been the target of mosquito and bug bites while some of our friends don't feel even a sting! Now, I can't wait to take the jacket with me on camping trips, outdoor hikes and anywhere that I might encounter bugs.
Get geared up for summer and get your own ExOfficio BugsAway DamselFly Jacket! It retails for $63.99 – $80.00, check out more details on this neat must-have jacket here. Don't let the bugs bite and welcome summer hiking whether it be in a tropical jungle or atop an icy glacier with a smile!
Happy Trails!
~ Trupti