One of the most fun and memorable aspects of camping is eating meals at the campsite! After a long day of hiking, all we want to do is to dig into tasty, comforting food that is quick and easy to make. Under the starry night, embraced by the warmth of a crackling campfire and in the company of loved ones, everything always tastes extra delicious. Wondering what to pack for your next camping getaway? Here's a handy list of Top 10 camping foods which have proven to be winners!
Top 10 Camping Foods
1. Eggs and Omelettes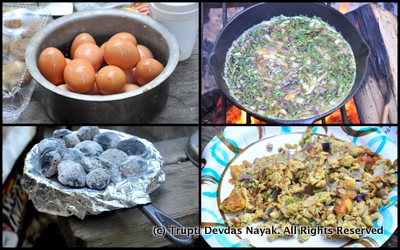 Hearty omelettes made with farm-fresh eggs
Fresh eggs might not always be easy to procure, but if you're camping within driving distance of a grocery store, then voila! If car camping or driving up to your campsite in the car, keeping a carton of fresh eggs in the cooler is an idea you will never regret. Scrambled eggs being made over a campfire is one of the best aromas in the world to wake up to! Don't forget to carry some packets of seasoning (salt, pepper, paprika, oil) and a cast iron skillet pan.
2. Coffee and Oatmeal
Hot cuppa Joe and comforting oatmeal
Another popular breakfast item that is easy to pack and carry is oatmeal! We always keep sachets of coffee power and oatmeal in our backpacks. Just boil water and add to both, and a fabulous breakfast of wake-me-up coffee and hearty oatmeal is ready in a jiffy. This is one of the quickest and tastiest breakfasts to make at camp, so it's no wonder that both these items are at the very top of our Top 10 camping foods list. Quaker Oatmeal comes in a variety of flavors and handy packs, so does Starbucks VIA Ready Brew coffee.
3. Soups and stews
Hot and delicious soup bubbling away on the stove
In the evenings, after a full day out hiking and exploring, one of the dishes that always hit the spot is a bowl of hot soup. We've tried Knorr soups in the past and loved their variety of flavors and ease of use. Just add boiling water and stir, soon a bubbling pot of thick soup is ready in no time. Knorr soups come in several flavors, from Tomato to Gourmet Mushroom to Chinese-Style Hot and Sour Vegetable Soup.
4.  Grilled cheese sandwiches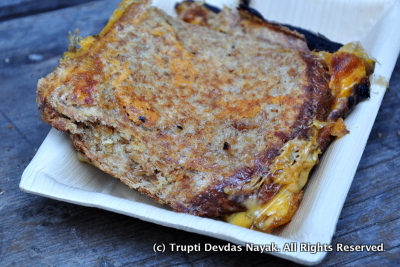 Grilled to perfection!
For those times when you're craving something hearty to sink your teeth into, try grilled cheese sandwiches! Nobody can say no to melty cheese between two toasted slices of bread! Grab this Wisconsin Variety Cheese Pack and everybody will find a flavor they dig, from Onion-Garlic to Tomato-Basil! Bread and cheese are perishables, so either consume them soon on the first night itself, or stick them into the cooler to last longer.
5. S'mores! 
Toasty dessert made with gooey marshmallow, chocolate and crisp graham cracker
The quintessential camp food – s'mores! – are a must-do anytime there's a campfire. Take along a s'mores kit like this Hershey's S'mores set or pack all the ingredients (marshmallows, graham crackers and chocolate) to create a finger-licking memorable dessert under the stars.
6. Indian ready-to-eat food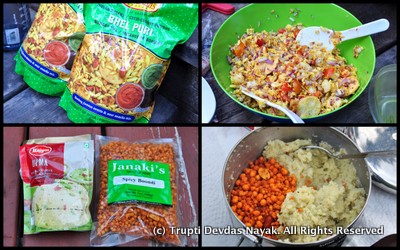 Freshly mixed bhelpuri (top) and Upma with spicy boondi (bottom)
Having grown up on some of these Indian food items, we're quite partial to them. But we've also found these dishes to be indispensable on camping trips! Indian foods, especially the dry mixes, are both lightweight and easy to pack for camping as well as quick to prepare. From seasoned cream of wheat (MTR's Upma mix) to Haldiram's Bhelpuri mix, these tongue-tickling dishes are guaranteed to delight the tastebuds with their mélange of savory, spicy, sweet and tangy flavors.
7. Nutella, Biscuits, Cream Cheese, Banana, Blue Berries
The sky is the limit for your creative combinations!
If there was just one camping staple that one shouldn't forget to pack, Nutella spread would win the vote! Combine a delicious Nutella hazelnut-chocolate spread with Kirkland's Ancient Grains crackers, top off with sliced ripe bananas or a handful of blueberries, and a power-packed snack is ready to go.
8.  Roasted Corn on the Cob
Tastes best when roasted directly on a roaring campfire
One of our favorite meals at camp is roasted corn-on-the-cob drizzled with lemon and butter, sprinkled with a dash of salt, pepper and paprika. Corn on the cob tastes best when grilled over an open campfire and the process is not as messy as one might think. With one of these handy Stainless steel corn grilling baskets, roasted corn will soon be a regular favorite on your campfire meal menus.
9. Maggi Noodles (Spicy version of Ramen)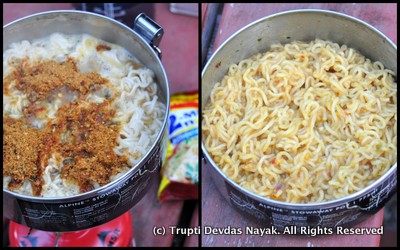 Noodles whether Ramen or Maggi or any other brand are a must have on any camping list. Just the happy thought of a bowl of steaming hot spicy noodles at the end of a long day out on the trail, is enough to justify carrying these packets of awesomeness everywhere you go. At the very top of our Top 10 camping foods list is our favorite Maggi Noodles that come in every flavor from Masala, Tomato to Curry and Schezwan and more. The supremely easy 3-step process to cook these involves boiling water, popping in the noodles, sprinkling the seasoning and stirring everything for a few minutes until cooked. Now, get ready to dig in!
10. Jerky!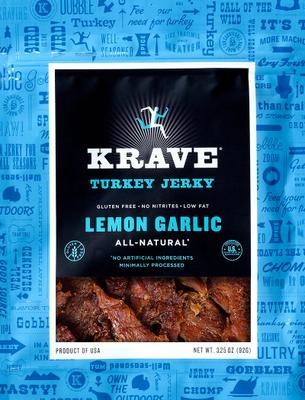 A great source of protein and tastes delicious to boot! KRAVE-worthy 
KRAVE is a well-known brand that offers gourmet jerky in fabulous flavors like lemon-garlic and basil-citrus to chilli-lime and garlic-pepper. Our favorite is the Lemon-garlic Turkey Jerky by KRAVE which is not only a great source of protein but absolutely krave-worthy as well.
What is your favorite food to eat when camping? Did it make it in our list of top 10 camping foods? Let us know in the comments!
Happy Trails,
~ Trupti