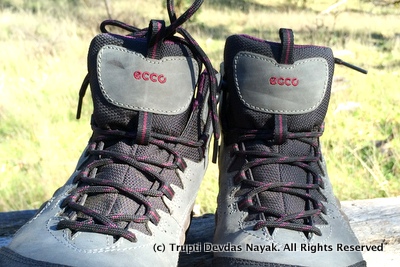 ECCO Womens Ulterra Mid GTX Hiking Boots
Weekends are perfect for exploring trails in local parks and soaking up nature. I've been wanting to take my new ECCO Ulterra Mid GTX Hiking Boots for a spin and I was happy to finally hike in these awesome hiking boots along one of Bay Area's most scenic trails at Castle Rock State Park.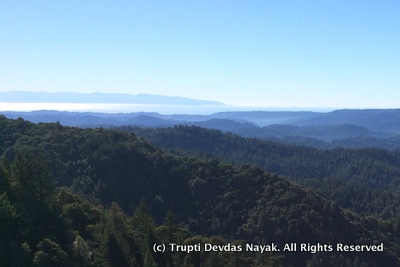 Stunning views along Ridge Trail in Castle Rock State Park
Castle Rock State Park is located in the heart of the Santa Cruz Mountains and boasts hiking trails with stunning views and endless vistas of misty blue mountain peaks. The rocky trails in the park are littered with huge boulders and fallen trees, so sturdy hiking boots are a must. That's where ECCO comes in!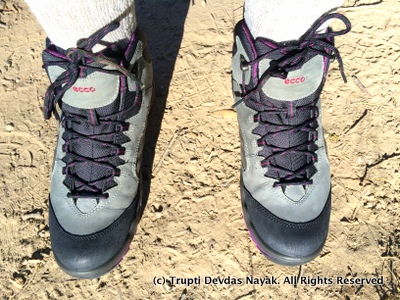 These shoes make hiking on tough trails so much easier!
Scandinavian in origin, ECCO was founded in the 1960's in Denmark and today has a widespread global reach. Well known for their innovative technology and emphasis on natural design and comfort, ECCO's collection of shoes, boots and outdoor accessories are elegant in design and supreme in comfort.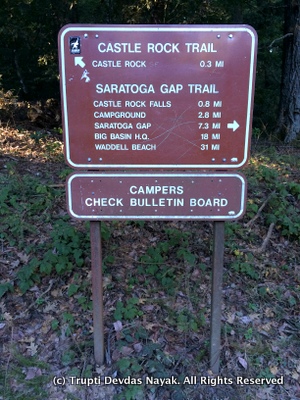 The 7.3 mile round trip Saratoga Gap Trail is a popular half-day hike in the park. The trailhead starts from the parking lot and the trail itself starts off downhill amongst groves of Redwood and Douglas-Fir trees. There are several side trails which criss-cross the main path, like the 0.3 mile hike uphill to Castle Rock viewpoint, or the 0.5 mile trail leading off towards Castle Rock Falls.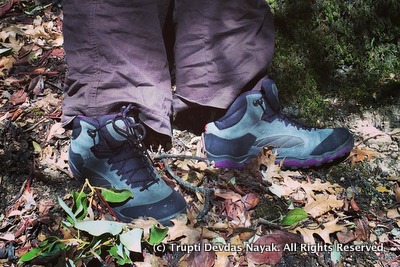 Action shot of me wearing my new ECCO Hiking Boots on the trail
Continuing on the main hiking trail (Ridge Trail) towards Goat Rock, spectacular views of Santa Cruz mountains are visible along the hike almost immediately. There's a good amount of scrambling over boulders and rocks involved while hiking on Ridge Trail and I was delighted to find that my ECCO Hiking Boots held up reassuringly.
Enjoying the view at the top of Goat Rock
The ECCO Ulterra Mid GTX Hiking Boots boasts a number of impressive features which are a boon on the trail. With their unique RECEPTOR® Technology for stability and GORE-TEX® covering for water resistance, these ECCO Hiking boots combine form and function into one amazing pair of shoes.
Hiking in Castle Rock State Park with my ECCO Hiking Boots
Another unique feature of ECCO hiking boots which caught my attention was that the upper covering on the shoe is made of yak nubuck leather! Yak leather has been proven to be more supple and 3X stronger than regular leather. With its rugged yet stylish appearance, my ECCO Ulterra Mid GTX Hiking Boots sure got everybody's attention on the trail!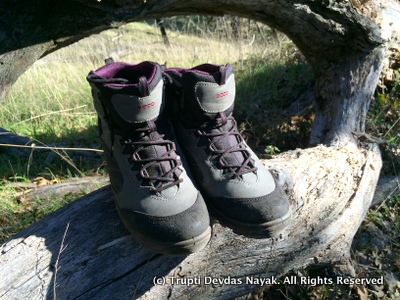 ECCO Hiking Boots
When I first tried on these boots, they moulded my feet comfortably, without feeling heavy or unwieldy. Walking on the trail, these shoes felt featherlight and I was actually able to hike faster than usual. I absolutely adore the two-colored rubber sole in purple and black which adds a cheerful zing to my hiking outfit without resorting to eye-catching neon colors.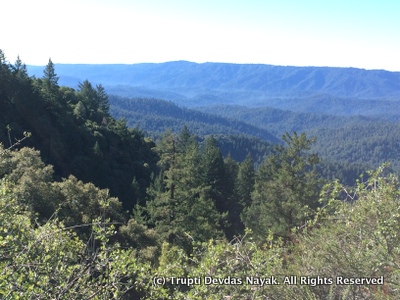 Views along the Ridge Trail while hiking in Castle Rock State Park
I love the quick-lace hooks that allow me to lace up comfortably and quickly, while also enabling me to widen the shoe as much as needed when getting them on / off my feet. With extended ankle-support, these shoes are made to be used anywhere, especially rocky, stony, uneven uphill paths. I can't wait to explore more trails with my ECCO Ulterra Mid GTX Hiking Boots! Have you tried ECCO Hiking boots? Let us know in the comments.
ECCO shoes in action! 
Read more about the technology used in ECCO Hiking Boots here.
To Browse ECCO's vast collection of men's and women's hiking shoes, go here.
To buy the ECCO Ulterra Women's Mid GTX Hiking Boots for yourself, go here.
Happy Trails!
~ Trupti
Disclosure: ECCO provided for my Ulterra Hiking Boots in exchange for writing about my experience. Regardless, everything I have said in this post reflects my honest observations and opinions.