Big Island, Hawaii is a top destination for visitors from North America and Canada looking to get away to a warm, tropical place during cold winters. With recent volcanic activity in the news, the Big Island has become even more popular than usual. Hawaii's biggest island is truly big, much more so when compared to all the other islands. With a sunny Kona side blessed with gorgeous beaches and a rainy Hilo side blessed with lush rainforest, the island is also home to some of the world's most active volcanoes. With such varied ecosystems and a plethora of activities to do on the island, most people plan for a minimum 2 week stay. But if you are pressed for time and want to focus on just the top sights and best activities, don't miss out on the following Top 5 things to do on Big Island Hawaii!
Top 5 things to do on Big Island Hawaii
1. Helicopter Tour over lava flow and volcanoes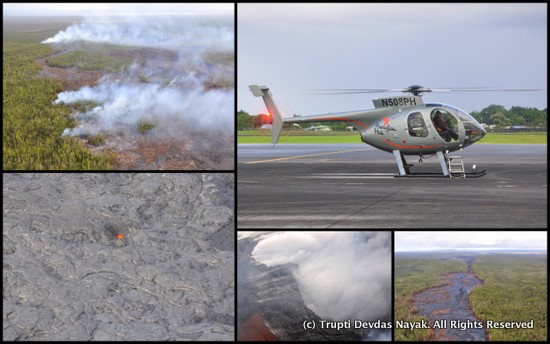 Lava flows and volcano eruptions are highly unpredictable. They change by the day, often by the hour and even by the minute. It is difficult to predict exactly where the lava flow will be when you visit, or whether it will be visible to the public at all. When we visited the Big Island earlier this year, the lava flow had stalled for a bit, and then restarted again. But the lava flow was headed towards Pahoa / Puna area, all of which is on private property and not accessible to the public. In previous years, the lava flows were on National Park property and some flows went directly into the ocean, so people could gather and watch the sizzling lava flow into the sea from a safe distance. When we visited, the only way we could see lava was by going on a helicopter tour.
We went with Paradise Helicopters and highly recommend them. We did the doors-off tour, and although it is expensive at $282 per person, we felt our experience was totally worth it. Helicopter tours out of Hilo are best because you get to spend more time flying over the lava flows and volcano crater. We got to see lava flows and areas of the forest that had been consumed by the lava. We saw the smoking Pu`u o`o crater which is where the lava has been flowing these past several months. We saw a lava skylight glowing brilliant orange and we could feel the heat from the lava tube underneath us and smell the smoke from the forest wildfires. The lava conditions are very unpredictable and change every day, so it's hard to know which is a good day to fly. Given that Hilo gets a lot of rain and helicopter tours are frequently getting cancelled and rescheduled (most companies offer fully refundable tours), we booked our flight for our first day in Hilo. It got cancelled the first time due to weather, but we were able to reschedule and fly the next day which was great. Fly early in the morning (we went up at 7:30AM) since the weather appears to be most calm and clear then. Big Island Video News is a great source which is updated daily with news about the latest lava flows.
2. Snorkeling at Puʻuhonua o Hōnaunau National Historical Park and Kealakekua Bay (Captain Cook Monument)
Big Island has some of the
best snorkeling in the world
! The 
Kona side is amazing for snorkeling and diving
! If you are planning on going snorkeling, two places that can't be missed on the 
Big
Island
 are 
Place of Refuge – Puuhonua o Honaunau
 and
Captain Cook Monument (Kealakekua bay)
. We've snorkeled on a lot of islands and oceans and in comparison, these two places on the 
Big
Island
 had some of the most spectacular snorkeling we've experienced.
Clear water with superb visibility
, tons of
fishes
and
sea turtles
, shallow
coral reefs
and breathtaking underwater
marine life
.
There are many companies that offer
day trips to snorkeling
sites
, complete with lunch, drinks and gear. We went with
Sea Quest Rafting and Snorkeling adventures
and had a fabulous experience. The crew and guide took really great care of us. It was a
small group
 and our trip included snacks, juices, a deli lunch, snorkel gear and we
snorkeled at 3 great sites,
including the must-see
Place of Refuge
and
Captain Cook Monument
. The trip
lasted 5 hours
, they also have 3 hour trips that might be better for families and children. We took 
Dramamine
 which is a must if you're prone to
sea sickness
. Always take the 
non-drowsy one
 else you'll wonder why on earth you're yawning in the middle of an adrenalin-pumping activity!
3. Biking Kilauea Volcano
Most people visit Big Island's most active volcano – Kilauea by car and explore the park by hiking. A unique way to experience the varied ecosystems on the volcano and explore the trails is by biking! Viator offers an exciting bike tour inside the national park which was a fantastic introduction to Kilauea Volcano. We were a small group of 10 people (including a family of 5 with kids), and our two guides were excellent. We booked the tour through Viator and the local operator was Bike Volcano who come very highly recommended. The activity was from 8am – 4pm, so it was an all day activity biking inside the national park. We got to see all the main sights via bike (instead of driving a car around).
Biking through the park gives a refreshing perspective on the same sights that one would otherwise see by driving around. Feeling the cool breeze on our faces, with the wind whipping through our hair as we zoomed by on gravelly trails and open roads was an eye-opening experience. We hiked through a lava tube, gaped awestruck at smoking volcano craters, watched a lava lake glow orange at Halema'uma'u crater near the Jaggar Museum and all in all had a fabulous day out. Our tour included lunch, drinks, snacks, superior comfortable bikes adjusted to each of our heights and weights, all other biking gear like rain jackets, helmets and gloves.  The two amazing guides made sure our comfort and enjoyment was paramount!
4. Swimming, snorkeling and diving with Manta Rays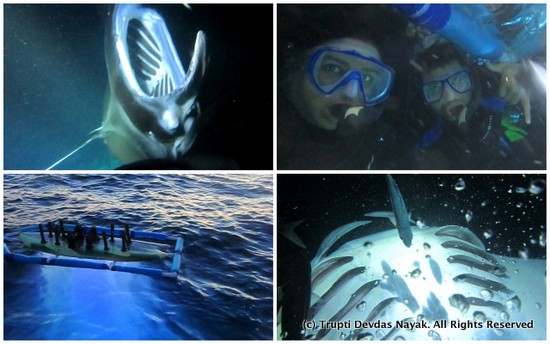 Swimming with Manta Rays is a unique and exciting activity that is completely safe to do on the Big Island. The added excitement comes from this being a night time activity (don't worry, it is fully guided). We went with Coral Reef Snorkel adventures who ensured an memorable experience and we highly recommend them. They took us out at night to one of the best spots for seeing Manta Rays (a site near the Kona airport). We were a small group of only 6 people along with the captain and a guide.
Manta Rays are filter feeders and feed mainly on zooplankton with their wide open mouths, expelling the water through their gills while channeling plankton and krill into their tiny mouth. These gentle giants of the sea can grow to be wider than 18 feet! In the 70's, it was discovered that Manta Rays are typically found feeding near bright lights of resorts along the coastline, since the lights attract large quantities of zooplankton – a Manta Ray's favorite food. For our snorkeling adventure, we were out on the ocean at night, near sites frequented by Manta Rays for feeding.
A surf board with attached lights was floated out onto the sea and within minutes, we spotted several Manta Rays swimming around underneath the board! We gently got into the water and held onto the floating board, keeping ourselves horizontal and out of the way of the Manta Rays. Soon over a dozen Manta Rays started doing their graceful barrel roll right underneath us, opening their mouths wide and scooping up the plankton and krill. Hordes of fishes were also around in a feeding frenzy, but the Manta Rays were the most fascinating to watch. Unafraid of humans, the Manta's came eye-to-eye with us, sometimes even brushing against our arms and chest. We all wore full-body wet suits to protect the Mantas from contact with our skin. Watching these enormous gentle giants swimming and feeding was an awe-inspiring and unforgettable experience. Snorkeling and diving with Manta Rays on the Kona Coast is one of the top 5 things to do on Big Island Hawaii! 
5. Watching the sunset from 13,800 feet at Mauna Kea
The 
Mauna Kea summit
 is a
must visit when in Hilo
. However Mauna Kea is at an
altitude of 13,800+ feet
, and 
children under 16
years of age are
not allowed
to go all the way up to the summit. But you can drive up to the 
visitor center
which is at a
lower altitude
. To go from the visitor center up to the Mauna Kea summit,
you need a 4WD
. We rented a Jeep on the island and it worked out great when exploring rugged roads and getting to the top of Mauna Kea.
Mauna Kea visitor center
has
free escorted summit tours
on Saturdays and Sundays. We did the
summit tour from 12pm – 4pm
during our visit on a Saturday. Then we 
watched the sunset
(must do!)
from the summit till 6pm and came down to the visitor center at 6:30pm for their 
Stargazing program
 which they organize every evening. Your mileage may vary with the Stargazing program at the Mauna Kea Visitor Center
depending on how crowded it is
and
how bright the moon
is. When we were there, the moon was quite bright in the sky and tons of people were milling around. There were
4-6 telescopes set up
, but we mainly saw the moon through them, along with a
couple fuzzy galaxies
and
constellations
. The
stargazing program is from 6pm – 10pm
, so a lot of families come for this in the evenings.
Both Hawaii Volcanoes National Park and Mauna Kea are freezing cold at night, so make sure to bundle up really warm when visiting (take thermals, fleece jackets, layers, woolen cap, gloves, muffler – yep, all the works). Mauna Kea Visitor Center has educational movies going on that are great to watch, the small store also sells instant noodles, hot chocolate and other goodies which are perfect to indulge in when star gazing.
What are some of your favorite must-do sights and activities on the Big Island? Let us know in the comments!
Aloha and a Happy New Year!
~ Trupti