Blue Osa Yoga Retreat and Spa 
Imagine stepping into this serene scene after spending a week hiking through the rugged jungles of Costa Rica's Osa Peninsula. I thought I'd arrived in paradise! Blue Osa Yoga Retreat and Spa is set in the heart of Costa Rica's Osa Peninsula and is a wonderful destination to truly get away from the hustle bustle of daily life.
Yogi Aaron teaching yoga
Yogi Aaron is co-founder and Master Yoga teacher at Blue Osa. Having taught yoga since the 1990's, Aaron has always wanted to share the ancient art of healing body and mind through yoga. While on a visit to Costa Rica with Adam, they discovered a beachside paradise in Osa which turned out to be the perfect place to start a yoga retreat. The Osa Peninsula provided a rejuvenating blend of nature, tranquility and remoteness for a retreat focused on learning and teaching yoga to students. Aaron's goal is to nurture and nourish both body and soul through yoga courses designed for everybody from beginners to experts.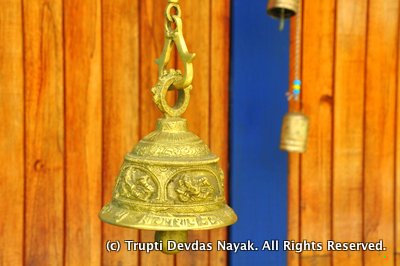 Bronze bells throughout Blue Osa
The grounds at Blue Osa Yoga Retreat have been thoughtfully adorned with beautiful art and decor from all around the world. Authentic bronze bells are everywhere, each decorated with relief carvings of reclining Ganeshas and other gods and goddesses. They add a touch of zen to the surroundings, especially when the wind sways the bells and they emit rich ringing tones, reminiscent of temples in Asia.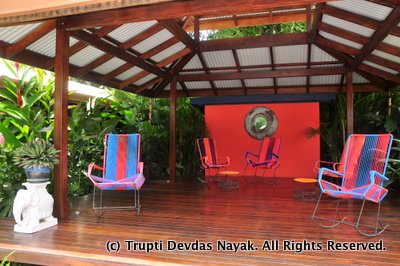 Lounge area to relax at Blue Osa
Every aspect of the aesthetic beauty of Blue Osa is overseen by Adam Dolle who is co-founder and co-owner of Blue Osa Yoga Retreat. Adam brings years of experience as an interior designer and his eye for great design is evident in the unique decor seen all around the retreat. Bright vibrant colors, superb sculptures and decor are an organic and essential part of the living spaces. They embrace the traveler, refreshing the spirit and awakening creativity.
Lord Ganesha
Travelers come to Blue Osa to find answers, even if they aren't sure what the questions are. Lord Ganesha is considered the remover of obstacles in Hindu culture. Gorgeously carved, large seated sculptures of Ganesha oversee the Yoga studio, while smaller equally intricately carved statues adorn the bedrooms.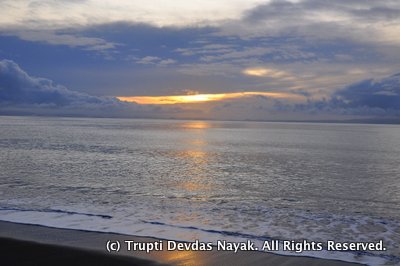 Sunrise at the beach
A typical day at Blue Osa Yoga Retreat and Spa begins with views of a stunning sunrise right on the beach. Steps away from the Yoga studio, endless stretches of sand beckon the early riser to explore. Watching the golden orb rise gently over the horizon was one of my favorite things to do during my stay.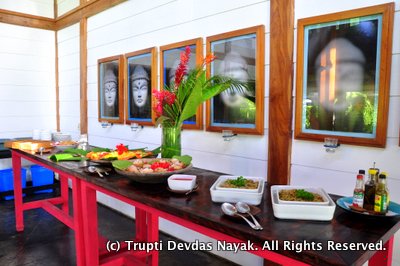 Breakfast is served!
Blue Osa aims to nourish both mind and body. Every meal at Blue Osa reminds one of the delightful joys of good food. Every dish is prepared fresh, using locally sourced organic ingredients, many of which are grown in the gardens of Blue Osa by volunteers. The kitchen of Blue Osa deserves its own dedicated post! Chef Marie's dishes are not only healthy, but supremely delicious and sprinkled with loads of love.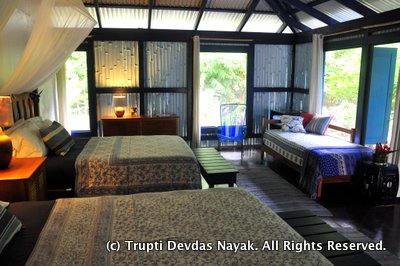 Spacious, airy bedrooms
Just because Blue Osa is in the heart of Costa Rica's rugged Osa Peninsula does not mean travelers need to sleep in a tent or sacrifice comfort and luxury. The bedrooms and amenities at Blue Osa are some of the most comfortable I've experienced when traveling in Costa Rica! Blue Osa is a true eco-resort, built with green design and self-sustenance in mind.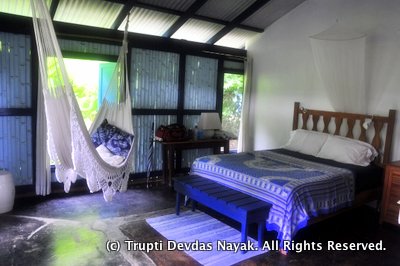 A hammock inside the bedroom!
Thoughtful touches abound in the rooms, like mosquito nets, personal lights and fans attached to the headboards, hammocks inside the bedrooms and ceiling to floor glass windows let in natural sunlight. All these loving touches make Blue Osa feel like a home away from home!
Everything you might need in a bathroom is in here!
Bedrooms have attached spacious bathrooms equipped with modern amenities. It is a unique and memorable experience to brush your teeth while listening to the jungle sounds at dawn – squawking macaws and howler monkeys.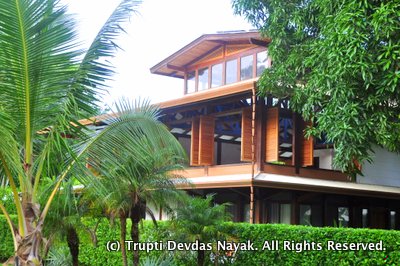 Oceanfront Yoga Studio with a spectacular view
Mornings and afternoons are spent in tranquility inside the 2nd floor Yoga Studio, which directly overlooks the ocean and beach! There couldn't be a more perfect setting to practice and learn Yoga from Yogi Aaron. Listening to the soothing sounds of the sea, as each and every muscle in your body stretches and relaxes, finding your center and becoming more mindful of every breath, every sense and every thing around and within.
Outdoor seating for relaxing between yoga, activities and meals
Comfortable and colorful seating on the outdoor patio provide the perfect place to relax between yoga classes, activities and meals. Catch up on reading, writing in your journal, meditating, practicing silence or playing with Blue Osa's adorable resident dogs – Steve, Pete and Rama!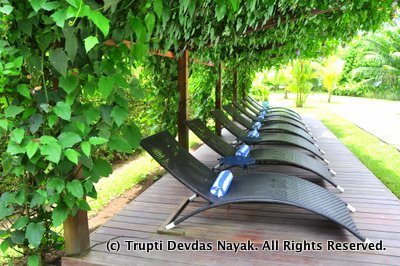 Lounge chairs at the pool area
There are many places to savor solitude at Blue Osa, including comfortable lounge chairs and a gorgeous blue lap pool. The lap pool in particular was a favorite spot for me. The pool is open to the sky and surrounded by lush tall palm trees which capuchin monkeys frequent to feast on dates. In the evenings, macaws fly overhead, squawking and making a ruckus.
Visit Blue Osa to refresh your mind and body!
Staying a week or even just a few days at Blue Osa Yoga Retreat is enough to silence the noise and awaken serenity. There are many packages to choose from for stays at Blue Osa, from personalized individual packages to group packages. Blue Osa also offers a one-month immersion Yoga Teacher training program! Take a look at upcoming retreats here.
Tranquility comes in shades of blue
Whenever I close my eyes and imagine Blue Osa, I see brilliant shades of turquoise blue. Whenever I think of my stay at Blue Osa, I feel a deep sense of gratitude and joy for having been lucky to experience such an wonderful place. The people I met at Blue Osa were some of the nicest, most genuinely warm people I have come across in my travels. I hope to return to Blue Osa Yoga Retreat someday for a longer retreat. For now, I will close my eyes and rejoice in my memories that are a shade of strikingly happy blue.
Have you been to Blue Osa for a yoga retreat? Share your experience in the comments!
Happy Travels,
~ Trupti
Disclosure: I visited Blue Osa Yoga Retreat as part of a press trip and Blue Osa provided for my stay in exchange for writing about my experience. Regardless, everything I have said in this post reflects my honest observations and opinions.