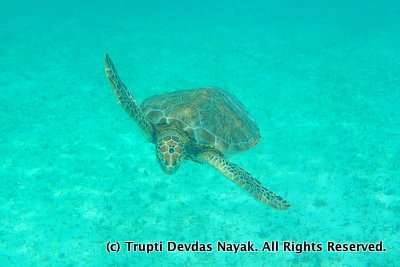 Swimming and snorkeling with sea turtles in Akumal, Mexico
Swimming with wild sea turtles has long been on my life list and I finally got to do this earlier last month in Akumal, Mexico! I was in Cancun attending the amazing TBEX conference and had an entire day to myself. I was visiting in September and learnt that it was the season for sea turtles. Akumal means "place of the turtles" in the Mayan language and the name couldn't be more apt!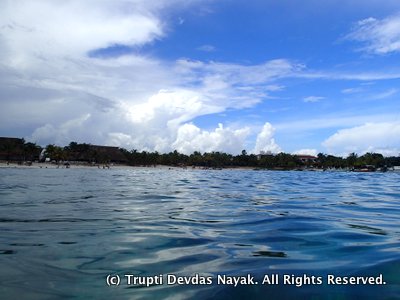 Akumal Bay is a great place to visit for snorkeling
Akumal Bay is rich in one thing that sea turtles love, namely sea grass! The sandy floor of the bay is covered in thick dense grass, a sea turtle's choice delicacy. Sea turtles visit Akumal beach between April through October, where they lay eggs during the nesting season and swim in the bay while feeding on sea grass during the day. You might even be lucky to see baby sea turtles hatching between June through November!
Swimming with sea turtles in Akumal, Mexico
Most travelers are usually based in Cancun or Playa Del Carmen when visiting the Yucatan Peninsula in Mexico. You don't have to sign up for an expensive tour to swim with wild sea turtles in Mexico. You can do this for FREE! The best way to get to Akumal from anywhere in the Yucatan Peninsula is to take the local Mayab buses or the collectivo (smaller shared vans), both of which run regularly along the main highway.
The ocean floor is covered with sea grass, a sea turtle's favorite food!
Once you get off at Akumal, the public beach access is a short walk from the bus stop. Enroute, you will spot the Akumal Dive Shop which is a great place to rent snorkeling gear for reasonable prices. If you prefer a guided tour, snorkeling boat tours are offered at the dive shop, complete with guide, equipment, showers and lockers for 40 USD.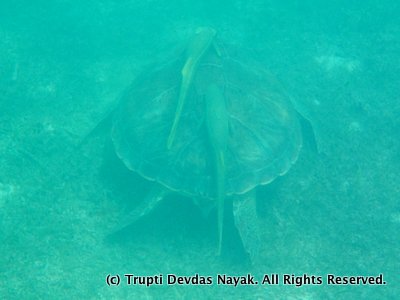 Sea turtles are magnificent prehistoric creatures, as old as the dinosaurs
If you are a confident snorkeler, you won't need a guide to spot sea turtles. The best part about going to Akumal to swim and snorkel with the sea turtles is that you will literally be 50 steps from the beach when you encounter these magnificent creatures! I was not sure what to expect when I walked into the ocean from the shallow beach, but my first sight of a sea turtle is one I'll never forget. It was a gargantuan creature, so huge that it had three fishes sitting on its shell, just hanging around.
Feeding on sea grass in Akumal Bay
Sea turtles are truly prehistoric creatures. They have been around for hundreds of millions of years, since the age of the dinosaurs. Sea turtles live incredibly long lives too, ranging from 80-100 years or more. Swimming and snorkeling with these splendid creatures in the wild is truly a once-in-a-lifetime experience.
Selfie with a sea turtle in Akumal, Mexico
The bay was teeming with sea turtles and within minutes I had spotted half a dozen different individuals, all munching on sea grass oblivious to the gawking humans floating above them. It is important to maintain a safe distance when swimming with sea turtles. The turtles frequently surface to breathe air, and it is best to give them a wide berth so that they can swim around freely.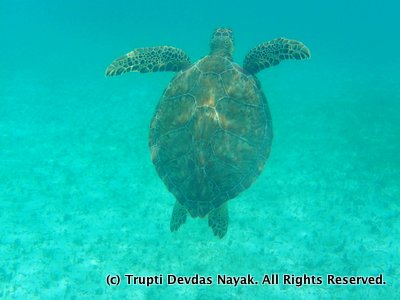 Sea turtle surfacing for air in Akumal, Mexico
The water clarity was quite good, especially when the sun came out and highlighted the marine life and brought out the gorgeous blues of the ocean. As I snorkeled, I kept my eyes peeled for more sea turtles. I did not have to look too hard. What initially seemed like a big hunk of rock would start moving around revealing itself to be a massive sea turtle! Within an hour, I'd seen at least a dozen sea turtles, if not more. Most of them either ignored us humans or they were used to our presence, which makes it even more important to respect their wild habitat and maintain distance.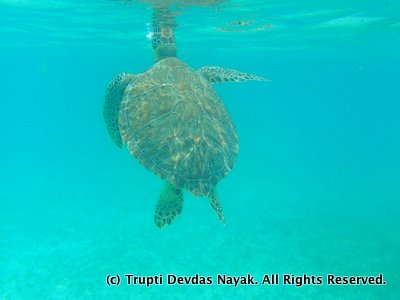 Poking its head out for a breath of fresh air
In addition to sea turtles, Akumal Bay is home to a number of colorful fish and marine life like barracudas and sting rays. Although there are no brilliant coral reefs directly accessible from the beach, there may be other ways to go to nearby reefs by boat or with a guide.
At the end of the day, my dream of swimming and snorkeling with wild sea turtles had come true and it was more magnificent than I'd imagined. Have you been snorkeling in Akumal or along Mexico's beaches? Have you swum with sea turtles in the wild? Let us know in the comments!
Happy Snorkeling!
~ Trupti