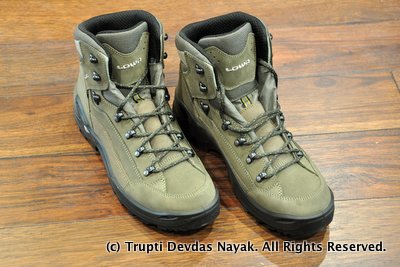 LOWA Renegade GTX Mid Hiking Boots in Stone color
I've had my current pair of hiking boots for several years now and absolutely love them. So when the time came to buy new hiking shoes, I was contemplating getting a new version of the same brand/type. Then I got the opportunity to try out LOWA's Renegade GTX Mid Hiking boots and I must say I'm floored at how lightweight and comfortable these boots are!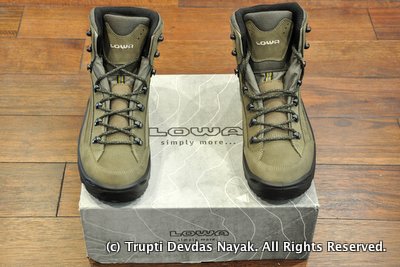 LOWA Renegade GTX Mid Hiking Boots – simply more …
The LOWA Renegade has converted me into its namesake when it comes to hiking boot loyalty – I can no longer go back to my old hiking boots. The Renegade is LOWA's bestselling hiking boot and for good reason. The hiking boots are supremely lightweight and comfortable. The shoes are wearable right out of the box and there's no "break-in" period needed. When was the last time you bought a pair of hiking boots and did not wince when thinking about blisters and breaking-in? Thanks to LOWA's Renegade hiking boots, wince no more!
Wanna feel like a adventurer? Get LOWA Renegade GTX Mid hiking boots and go own those mountain trails! 
LOWA's Renegade hiking boots have a protective covering made of soft Nubuk leather and are lined with waterproof, breathable GORE-TEX. These shoes can be worn when hiking across streams or fording rivers. I wish I had these on me when I hiked recently in Costa Rica's Corcovado National Park. These shoes would have been perfect for the rugged rainforest trails in Costa Rica's Osa Peninsula.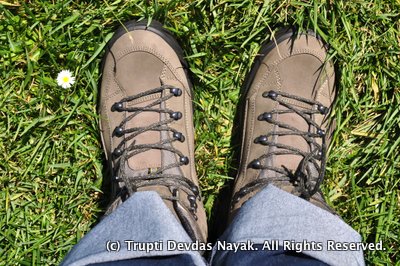 Action shot of me wearing LOWA Renegade GTX Mid Hiking Boots on a hike
I did a few local hikes wearing LOWA's Renegade hiking boots and am blown away by how good my feet feel in them. With ample ankle support, these shoes hug my feet snugly. They run true to size. I got the "wide" version knowing that my feet and toes would appreciate some wiggle room.
Another action shot of me wearing LOWA Renegade GTX Mid Hiking boots on a hiking trail
LOWA's Renegade hiking boots boast a footbed with perforations allowing breathability and the shoes comes with climate control! Wearing these shoes makes me feel like my feet have wings! I've tried my fair share of hiking boots with ankle support and found them to be clunky and on the heavier side. Not so with the LOWA Renegade!
Enjoying the feel of featherlight LOWA Renegade GTX Mid hiking boots on my feet
LOWA's patented midsole construction enables these shoes to remain featherlight while still maintaining stability on rugged trails. Add in a Vibram outsole and LOWA's Renegade turns out to be a hikers dream boot. No wonder this is one of LOWA's bestselling boots!
Love the lacing design on the LOWA Renegade GTX Mid Hiking Boots!  
I love the lacing design on LOWA's Renegade, mainly because the crisscrossing allows me to tighten or loosen the shoe fit as desired. For anybody with not-so-narrow ankles (like me), this is a very comfortable design, as you don't need to squeeze in your ankles into narrow constricting boots.
A gaggle of geese on the hiking trail
While out on a hike, I came across a gaggle of geese who took to the skies as soon as they spied me. Perhaps they saw me in my LOWA Renegade GTX Mid hiking boots and felt envious that I had such incredibly lightweight, comfortable boots on and wanted to show off their own featherlight flying skills!
Taking to the skies
Do you own a pair or two of LOWA hiking boots? Let us know how you like them in the comments.
In September 2014, you can win your own pair of LOWA boots! Click here for how to enter our contest.
Happy Hiking!
~ Trupti
Disclosure: LOWA provided for my Renegade hiking boots in exchange for writing about my experience. Regardless, everything I have said in this post reflects my honest observations and opinions.