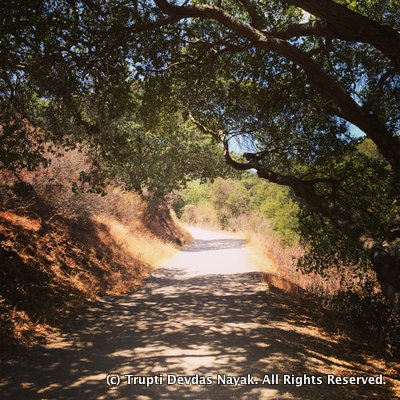 Hiking in Rancho San Antonio
A fine summer day dawned this weekend. We didn't have plans but wanted to be outdoors to enjoy the brilliant sunshine. What better idea than to head to the nearest open space preserve and hike its many trails? Rancho San Antonio Open Space Preserve is very popular for hiking in the Bay Area. We love heading to nearby state parks and open space nature preserves for day trips since that doesn't need as much planning compared to a national park visit or overnight camping.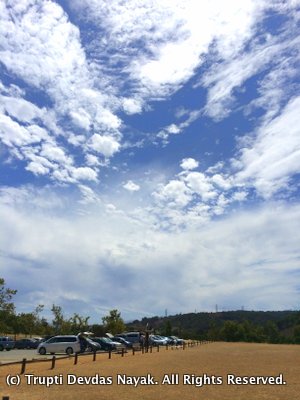 Cloudy skies provide some much needed shade
Even though Sunday was supposed to be in the high 80's, we caught sight of clouds in the sky. That meant some respite from the harsh sun. After parking, we headed out on the Meadow trail that cuts across the field to the start of the trailhead. We chose a trail with plenty of trees since we started hiking late in the afternoon with the sun already high up in the sky.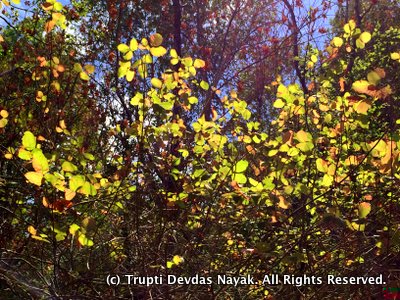 Glorious sunlit leaves along the trail in Rancho San Antonio
We started on Coyote trail that goes towards Deer Hollow Farm and connects to Wildcat Canyon and Upper Wildcat Canyon trails, also looping back to the starting trailhead by connecting with the popular PG&E trail. If you look at the map of Rancho San Antonio here, there are trails to challenge and satisfy all types of hikers, you can make the hike as strenuous or as easygoing as you want.
On the trail in Rancho San Antonio
The trail steadily climbs in the beginning, then flattens out a bit at the top. The Coyote Trail is all mostly downhill towards the Deer Hollow Farm. This is a nice, shaded trail, great for summer hiking. Deer Hollow Farm itself makes a great break for a snack and some rest. It's an operational farm, where families and kids often visit to pet the animals and learn about them. They have picnic benches and restrooms, so after an hour of hiking, you can relax here before starting back on the trail.
Happy amongst the greenery
Hiking at midday in summer can get very hot! We made sure to carry plenty of water and put on sunscreen and hats. We could smell dry grass and almost hear the earth sizzling. Even though there was a cool breeze in the shade, the sun was scorching hot. But nothing like an afternoon spent outdoors, amongst the greenery and blue skies.
A photogenic log of wood
Being outdoors makes one pay close attention to the natural beauty all around. We saw a couple deer grazing by the bushes, plenty of squirrels jumping about, birds flitting from tree branch to branch, and plenty of interesting patterns on the ground as we hiked on the trail. In some areas, the leaves had already started turning red and yellow, as though in preparation for fall season!
Inside a tree trunk in Rancho San Antonio!
Towards the end of our hike, as we were heading back towards the parking lot, we chanced upon this massive tree trunk stump which had a nice neat hole cleared up inside of it. It makes for a fun photo-op! We don't know how or when this tree was felled, and whether it is in this state due to natural causes. But the memory of our weekend hike is summed up with this photo – a fun day spent outdoors amongst nature.
What is your go-to hike whenever you feel like stretching those legs?
Happy Hiking!
~ Trupti