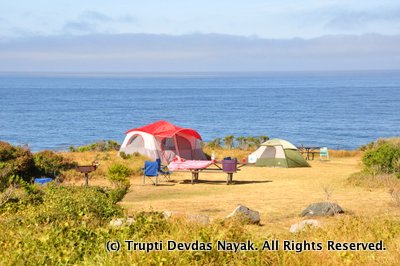 Camping in Big Sur at Kirk Creek campground
Who doesn't love oceanview rooms? Most of us would jump at the idea of a weekend getaway involving relaxing by the beach, being lulled to sleep by the roar of the ocean and waking up to a bright sunny day looking out onto an endless blue horizon. But oceanview rooms don't come cheap. So how about booking yourself into a campsite at Kirk Creek Campground in Big Sur, California?
Driving along CA-1 (Pacific Coast Highway)
Big Sur is world famous for its rugged beauty and dramatic coastline. With twisting roads that wind through redwood groves and hug precipitous cliffs, getting to Big Sur is a road-tripper's delight. Big Sur is a 2-hour drive from the Bay Area. Before getting to Kirk Creek campground, there are several landmarks that are worth a stop-by.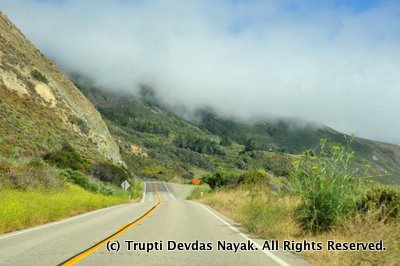 Coastal California is a great road trip destination!
Santa Cruz, Monterey and Carmel make great weekend destinations. Big Sur starts south of these coastal towns. Starting with Garrapata State Park, going past Andrew Molera State Park and Julia Pfeiffer Burns State Park, the scenic route along Pacific Coast Highway (PCH) also known as CA-1 goes past Limekiln State Park and reaches Kirk Creek campground at a bluff overlooking the ocean.
Kirk Creek campground is on a bluff overlooking the ocean
Each of these State Parks themselves make great destinations for day hikes and camping in Big Sur. But what is special about Kirk Creek campground are the views. Located on a bluff overlooking the Pacific, Kirk Creek is a popular campground that gets booked early for summer. Online reservations open up 6 months in advance, so if you haven't snagged a site already, be on the lookout for cancellations or first-come walk-in sites.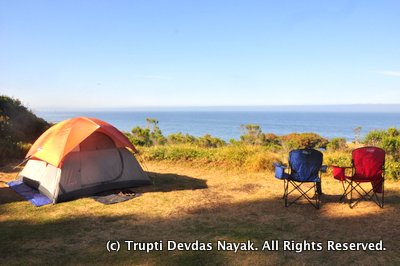 Our camp setup for the night!
Not all the campsites are right next to the ocean, but you can see the Pacific from most of them. We reserved site #007 thanks to researching online. Campsite Photos is an amazing resource to see what your campsite looks like before booking it. Note that Kirk Creek campground is a dry campground, meaning there is no running water and the restrooms are the waterless composting type. You'll also need to carry your own drinking water. This aside, Kirk Creek campground is compact and well-maintained with tidy trash cans nearby and neatly piled up firewood bundles ($8 each). The camp host and park ranger is very friendly and helpful. He even stocks up gallons of drinking water that you can buy for $5 each if you forget to carry your own.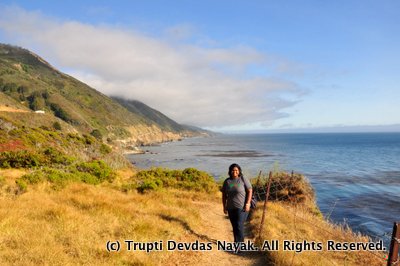 Hiking from Kirk Creek campground to a rocky beach
After setting up camp, we headed out to explore. A short trail goes all the way from the campground down to a rocky beach. Big Sur beaches are mostly inaccessible, so this one was an exception. There were several people on the trail, all looking out onto the horizon to see if they could spot any passing whales. July is indeed whale migration season!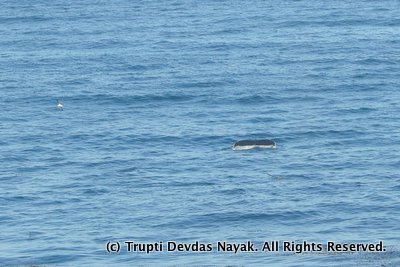 We caught sight of a humpback whale tail flip in the distance!
This time of the year, humpback whales are making their way from Mexico to coastal California. We spotted several sprays from blowholes as the humpbacks came up for breath. We could even see their fins and tail flips as they swam around in the ocean! It was an exciting sight. Whales were frequently sighted, some as often as one every few minutes. Campers who'd been staying at Kirk Creek all week said that there had been a rich anchovy run a few days back and an entire pod of whales had been breaching and cavorting in the ocean, amidst a feeding frenzy.
Warm and toasty campfire
Back at camp, we setup dinner and sat back in our comfortable camp chairs, enjoying the spectacular ocean view. Campfires soon started up all around us, warm crackling fire as the sun descended towards the horizon. Starry nights in Big Sur are hard to come by, since the coastal weather is unpredictable and the fog starts rolling in as early as afternoon. But coastal California sunsets are famously beautiful.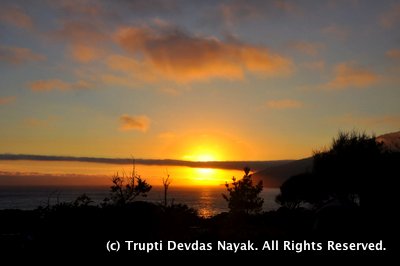 Sunset at Big Sur
Big Sur is known for its magnificent sunsets and the one we witnessed was no less. The sky was painted in shades of gold, red, orange and everything in between. It was a fitting end to a wonderful day of hiking, whale watching, road-tripping and ocean viewing in Big Sur.
Have you been camping in Big Sur? Which was your favorite campground? Let us know in the comments!
Happy Camping!
~ Trupti