Backyard view at Epiphany, Lake Tahoe
Imagine waking up to this view in Lake Tahoe. Summer couldn't have gotten off to a better start! We headed to Lake Tahoe for the July 4th long weekend to stay at Epiphany, a lovely vacation home in Tahoe Keys. With long glorious sunny days ahead, our agenda consisted mainly of relaxing, eating, hiking, lazing on the beach and cooling off in Lake Tahoe.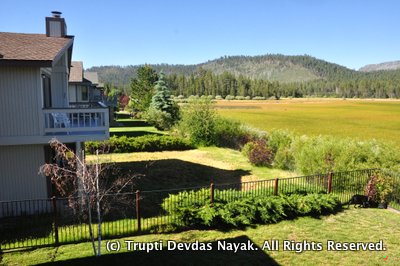 Vacation homes in Tahoe were bustling with activity for the long weekend
Most people think of Lake Tahoe as a great winter destination for skiing and snow activities, but it is a wonderful place to spend summer weekends too. Water activities like kayaking, SUP-ing, swimming, boating and jet-skiing are the best ways to cool off on hot days. With a variety of hiking and biking trails around, there is no dearth of exciting things to do for the active traveler.

Pope Beach, Lake Tahoe
After settling in at our vacation home, we headed out to explore nearby Pope Beach on the shores of Lake Tahoe. As expected, everybody else also had the same idea and were lounging at the beach. The more the merrier! Settling onto our own patch of warm sand, we laid out the beach towels and jumped into the refreshing waters of Lake Tahoe. Nothing spells summer like swimming in the cool lake, looking up at sunny blue skies, floating weightless and free. 

Fireworks over Lake Tahoe for July 4th weekend
We were in for a treat the evening of July 4th. The US Independence Day was celebrated with a magnificent fireworks show over Lake Tahoe! The fireworks were visible from everywhere around the lake and went on for almost 20-30 minutes, with brightly lit up showers in all shapes, designs and colors. What made the fireworks even more magical were their painterly reflections in Lake Tahoe.
Angora Lake
The next afternoon we headed to Angora Lake for a dip. There are two ways to get to Angora Lake. The easier trail is just half mile long and one can hike quickly to Upper Angora Lake after parking at a nearby parking lot. The more strenuous trail is Clark trail, which is a steep hike that goes from Fallen Leaf Lake to Angora Lake.
Sunlit glow between the trees at Tahoe
If you're carrying kayaks, picnic gear, camp chairs etc for a day by the lake, take the easier trail. For more active travelers, the steep climb would provide exhilarating adventure with the jewel-toned Angora Lakes as their prize.
Sunset over Fallen Leaf Lake, Tahoe
Spending summer in Tahoe can be as active or as relaxing as you desire. With plenty of beautiful lakes, sandy beaches, a variety of water activities, a ton of hiking trails and luxurious vacation homes like Epiphany to stay at, Lake Tahoe makes a great summer destination.
Have you been to Tahoe in summer? What did you like best? Let us know in the comments!
Happy Trails!
~ Trupti