Zion National Park in Utah is the perfect winter destination, mainly due to its low elevation, mild temperatures and cloudless skies. When it is freezing and snowbound elsewhere in Utah, Zion provides a pleasant alternative to stretch those legs. The first thought that comes to mind when I think of Zion is majesty. This park is truly magnificent with its soaring sandstone cliffs, ruggedly carved narrow canyons and meandering rivers. Aptly named stately landmarks like Great White Throne and famous hikes like Angel's Landing and Court of the Patriarchs make Zion National Park an evergreen favorite.
The park is incredibly drive-friendly, but it is no fun seeing lofty mountains whiz by from inside the car! Thankfully the park has a variety of trails ranging from gentle walks to strenuous challenging hikes catering to everybody. The popular Pa'rus trail (3.5 miles roundtrip) is a paved path that starts at the Zion Canyon Visitor Center and follows the Virgin river to Canyon Junction. This trail is a great introduction to the stunning landscapes of Zion.
Loving the warm toasty sunshine in winter at Zion National Park, Utah
We hiked the Lower Emerald Pool trail (1.2 miles roundtrip) which is an easy hike with hardly any elevation gain. It leads to beautiful waterfalls and its namesake Lower Emerald Pool. Continuing on the Upper Emerald Pool trail (a further 1 mile roundtrip), you will come to the Upper Emerald Pool which is at the base of imposing rocky cliffs and makes for a superb spot to relax and enjoy views of Zion's marvelous multicolored mountains.
Although most trails at the lower elevations in Zion National Park are accessible, there is snow and ice on some of the trails higher up among the cliffs. It is advisable to check the current weather and trail conditions at the Visitor Center before deciding to do any hikes which involve climbing to high elevations or going deep into canyon country.
Petrified pink sand dunes in Zion National Park, Utah
One of our favorite easy hikes in Zion for winter is the Riverside Walk (2.2 miles roundtrip). This is also a paved trail which starts at the poetically named Temple of Sinawawa and follows the Virgin river to the mouth of Zion's famous Narrows. Indisputably one of Zion's most famous hikes are the Narrows! This is rarely hiked in winter although many brave people still do it wearing wetsuits (the water is freezing cold!). This is a great hike in hot summer, definitely a must-do! The trail is the Virgin river itself, you follow the Riverside Walk to where the paved path ends and the river starts. Most people hike through the ankle-deep or knee-deep river along narrow canyons and go in 3-4 miles through the canyons and back out the same way.
Bighorn sheep grazing at dusk in Zion National Park, Utah
There are plenty of animals and birds to be seen in Zion, both when driving through the park and hiking on the trails. Bighorn sheep and mule deer are commonly spotted in winter, although mammals like mountain lions are a rare sight. You might even get lucky and spot birds of prey like bald eagles, hawks and condors!
Frozen in time – Weeping Rock at Zion National Park, Utah
Weeping Rock is another famous landmark in Zion that can be easily hiked in winter. The short but steep 0.5 mile trail leads to a large cave dripping with natural spring water (hence the name "weeping rock"). In winter, the water freezes into gorgeous icicles of all shapes and sizes. The inner surface of the cave has eroded over time and water gushes out from permeable layers of rock deep within the cliff.
Spectacular Weeping Rock at Zion National Park, Utah
The naturally formed alcove is immense and one can stand underneath it to admire the hanging gardens of lush vegetation as sunlight catches the water sprays in a rainbow of colors. This is one of my favorite spots in Zion. There was nobody else around when we visited this corner of the park and I absolutely adored the icicles. They were frozen in the shape of flowing water, waiting for the warmth of spring to release them so they could gush forth again.
You can see why Checkerboard Mesa gets it's name! Snow fills up the crevices on the mesa surface in winter.
Another of Zion's top landmarks is Checkerboard Mesa. This monolithic mountain's surface is covered with a chessboard like pattern, thus the name. One can hike on the surface of the mesa in summer, but it's probably not a good idea to do so in winter, especially with slick ice and slippery snow covering the mesa. This still makes a great spot to stop at when driving by. We saw several bighorn sheep here when we visited.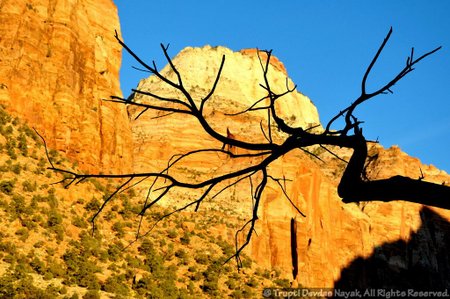 Sunset lights up Zion's cliffs with an unearthly glow against the brilliant azure skies
As the day in Zion comes to a close, the sunset unveils a stunning show to round off a spectacular day. The reddish-browns and orangish-pinks of Zion's famous cliffs and mountains glow brilliantly at dusk. Many of Zion's landmarks are named after grand visions of Temples, Thrones, Cathedrals and Angels, and witnessing a sunset in Zion is enough to make one believe that this is indeed paradise on earth, with a touch of majesty.
If you go: 
How to get to Zion National Park:
The park is approx 3 hour drive northeast from Las Vegas. You can drive from Flagstaff, Arizona or Salt Lake City, Utah, but it's a much longer drive (4.5 hours) to Zion from these cities.  
Easy hikes to do in winter:
– Pa'rus Trail (3.5 miles roundtrip) – Riverside Walk (2.2 miles roundtrip) – Lower Emerald Pool Trail (1.2 miles roundtrip) – Weeping Rock (0.5 mile roundtrip)  
Moderate/Strenuous hikes to do in winter:
– The Narrows (advisable only if wearing a wetsuit. 3-6 miles roundtrip – varies)  
Other must-see landmarks: 
– Great White Throne (accessible by riding the park shuttle) – Cathedral Mountain (accessible by riding the park shuttle) – Checkerboard Mesa (drive-by stop)  
Good to have gear:
To tackle spots of snow/ice and slush on the trails, crampons as add-ons for your hiking shoes are recommended. These provide better traction and grip when you walk over icy/snowy surfaces.
Happy Hiking!
~ Trupti