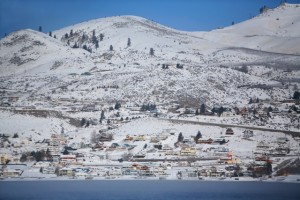 Chelan is best known for its beautiful lake that attracts summer vacationers, but it also has a lot to offer in winter. When there is snow, the hills around the town are great for sledding, snow shoeing, snowmobiling and cross-country skiing. For true cold weather enthusiasts, there are many options for hunting and outdoor recreation.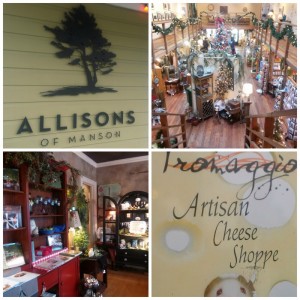 Two friends and I just spent a girls getaway weekend in Chelan and we had a great time shopping (photos of Allison's and Fromaggio Bistro in Manson above) and eating out. Along with the shops in Manson and Chelan, here is a brief description of the spots we visited: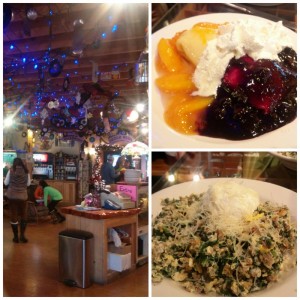 Blueberry Hill in Manson (the town next to Chelan):  This place is really incredible, even in winter when the blueberry bushes are stripped bare. The restaurant was started a couple generations ago and has been a family venture ever since. Apparently, the granddaughter of the original owners spent months going through her grandfather's keepsakes after he died. Instead of tossing the items, she created art from them and it became the decor of the restaurant. It's really fun to go there just for this — many of the tables are made of those old drawers that have lots of tiny compartments, and each one holds a treasure. Looking up, there are chandeliers of elk horns, wrapping paper tubes and eyeglasses. A cupboard holds all of grandmas cosmetics and lotions. Memorabilia goes on and on. The staff is warm and friendly and the food is home cooking at its very best! We had a delicious egg scramble and blintzes! Yummy! They serve breakfast, lunch and dinner. (photos to the right)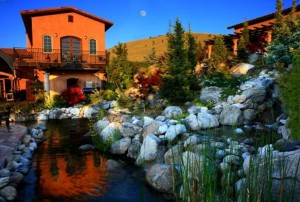 Sorrento's Ristorante at Tsillan Cellars: On a cold winter night, this Italian restaurant is warm and inviting. It has a beautiful wood interior with a river rock fireplace and live piano music. What a perfect romantic evening! It's no wonder they host weddings there year round. The food is fabulous and the wine straight from the vineyards surrounding the restaurant. This photo (left) shows the inner courtyard and pool. We ate tomato bisque and two pasta dishes — chicken marsala and prawns with pesto. Delish!
Local Myth Pizza downtown Chelan: This funky pizza place has THE BEST PIZZA AND SALAD EVER (photo right)!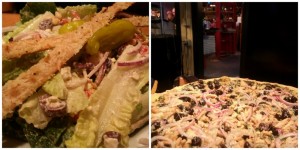 Seriously packed with flavor that will wow your taste buds. And it's healthy — whole wheat thin crust, house-made pesto and organic veggies and chicken.  The Greek salad we split three ways was so so sooooo delicious! I loved every bite and would have gone back if we had more time in town. From the looks of it, Local Myth also has a great selection of wine and beer. The atmosphere has a lot of character — a red door is used as a room partition with bent pizza trays for holding menus, stainless steel colanders work as lamp shades that cast spotted light on the walls — it is a definite spot to check out.
Campbell's Veranda and Pub: One of the oldest resorts in Chelan, Campbell's is located in the heart of town on the edge of the lake. The veranda was closed in a couple years ago to offer more table space with windows that look out over town. Inside of that brightly lit space is a cozy pub-like atmosphere with a fireplace and big-screen televisions for game watching. It's nice to have choices! We had lunch at Campbell's and it was fabulous — I had a chicken ranch burger on a brioche bun (soft and so much better than regular buns) and fries. The fries are those really crispy thin kind (that I love). The waitress was darling and brought us about six different dips to use — the restaurant has about 20 kinds of dressings and dips, all house-made. It was really tasty!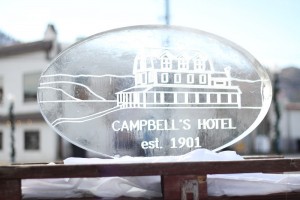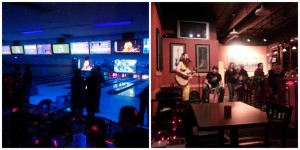 The Vogue … A Liquid Lounge: I didn't think that Chelan would have much of a nightlife, but it does. This place has live music on the weekends and is well supported — as in, packed! They serve wine and other alcohol as well as teas and coffees, along with an array of specialty desserts. It's a fun place to hang out with friends, listen to some live music, and relax (photo left). We really enjoyed it.
Chelan Lanes: Okay, who doesn't like bowling? Chelan Lanes is a darling six-lane bowling alley that was hopping on the Friday night we went there. The photo to the far left shows that it offers moonlight/disco bowling :). Lots of fun, and it's open during the day too. In addition to the lanes, the place has a large restaurant with big-screen televisions. Very family friendly and no yucky smoke smell that bowling alleys often have.
Chelan Resort Suites: We stayed at this resort that has four floors of privately-owned condos. Our unit had two bedrooms and a view of the lake with a beach not far away. There was a hide-a-bed in the living room, so we each had our own sleeping space, two bathrooms, a kitchen and dining area, televisions in each room, and a gas fireplace in the living room. It was nice and cozy and the management was very responsive when we asked for more blankets. I liked the underground parking that kept our car safe from weather. We enjoyed the saltwater swimming pool immensely, as well as the Jacuzzi. Chelan Resort Suites is on the lake on your way into town. It's close to everything and I would stay there again.
Great for just a weekend getaway with family or friends, Chelan hosts an annual Lake Chelan Winterfest on January 10-12 and 17-19. The town all comes out to put on a great party with shops serving beverages and snacks, live music all weekend long, a beach bonfire, polar bear splash, fireworks and incredible ice sculptures like the one shown below.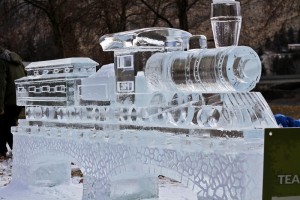 Enjoy!
Elizabeth
Photos taken by Elizabeth Griffin except for ice sculptures, lake view and Sorrento's courtesy of Chelan Chamber of Commerce.
This trip was provided by Chelan Chamber of Commerce members.