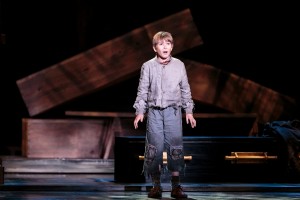 True to it's usual holiday musical schedule, The 5th Avenue Theatre production of Oliver! is absolutely delightful! It is so much fun to see a classic production at this time of year, and Dickens always provides a redemptive conclusion that satisfies.
The cast, which has 48 children in it, is astounding. Oliver Twist is played by Jeffrey Weber and Jack Fleischmann at alternating performances. I saw Fleischmann (pictured above) and he was the personification of a winsome little boy who just wants love.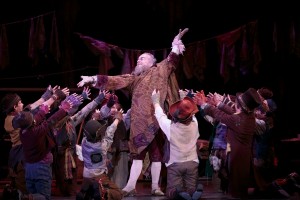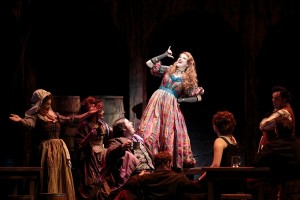 David Pichette, who never fails to delight, is a wonderful Fagin with not a mean bone in his body; and Merideth Kaye Clark portrays a saucy yet vulnerable Nancy.
Lionel Bart's beloved classic hasn't been at 5th Avenue for 20 years. I hadn't seen it since I was a child, but I still remember most of the songs: "Where is Love?", "Who Will Buy?", "I'd Do Anything," and "As Long As He Needs Me" among them.
David Armstrong's direction brings out the energy and joy in a story that really has a lot of tragedy in it. His light-hearted touch makes it doable for kids despite some of the subject matter. I recommend bringing the family.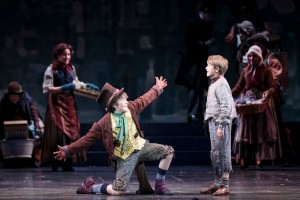 Grayson Smith is marvelous as the Artful Dodger.
Oliver! runs through December 31 with varying performance times. The 5th Avenue Theater is located at  1308 5th Avenue in Seattle. Park on the other side of the block in the Hilton parking lot on 6th (only $6) and take the elevator to the concourse for easy access.
For single tickets (starting at $29) and information, go to www.5thavenue.org or call the Box Office at (206) 625-1900. Tickets may also
be purchased at (888) 5TH-4TIX.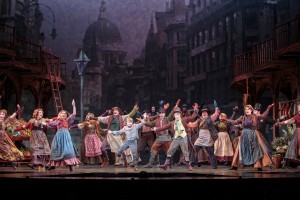 Photos by Mark Kitaoka and Tracy Martin.
Elizabeth Griffin attended Oliver! as a member of the press.