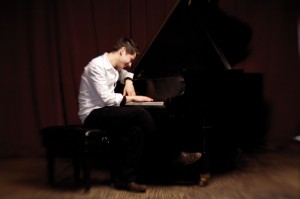 When I heard Eldar Djangirov was coming to town I begged (okay, just asked) Dimitriou's  Jazz Alley for tickets. Had they not graciously given me press passes, I would have gladly paid — and my limit this time was pretty high. I was determined to get a table at one of his December 3 and 4 appearances.
If you Google Eldar and listen for 30 seconds you will know what I'm talking about. To say that the 26-year-old jazz pianist is astonishing is an understatement. He's a genius. The New York Times described him as "a blend of musical intelligence, organizational savvy, enthusiasm and prowess that was all the more impressive for seeming so casual … an ebullient impressionist."
Eldar was born in the former Soviet Union, moved to the United States when he was 10, and quickly rose in the ranks of musical mastery, signing with Sony Masterworks at the age of 17. He has worked with master musicians Dr. Billy Taylor, Michael Brecker, Marian McPartland, Dave Brubeck, Wynton Marsalis, Joshua Redman, Chris Potter, Nicholas Payton, Harvey Mason, Chris Botti, Joe Locke, Ron Carter, Pat Martino, Roy Hargrove and many others. He has appeared at numerous major jazz festivals including Tokyo Jazz Festival, Lionel Hampton Jazz Festival, Java Jazz Festival, Vienna Jazz Festival, Monterey Jazz Festival, North Sea Jazz Festival and San Francisco Jazz Festival, and has toured extensively throughout North America, Europe and Asia.
Eldar's list of accomplishments is long and impressive so I wanted to interview him instead of speaking third-hand. He was out of the country, but his agent said he would answer an email. I turned to my son, Taylor — a music major at CWU who plays jazz piano — because he knows the language. Taylor's questions and Eldar's answers follow.
Q&A with Eldar
Q. Your music is very sophisticated. How have you found yourself reaching listeners who are uneducated in jazz through your music? Do you find your music accessible to the non-jazz crowd?
A. The music I make is a combination of my experiences in life and in musical endeavors. The music is a result and a reflection of those experiences. I've generally found music to be objective. There is an element of phrasing and rhythm which can be undeniably right (or undeniably wrong). There is logic in harmony and melody. If a musician is aware of many subtleties of music, the music will be more informed. If a musician dedicates himself/herself to making sure they have a complete technical command of their instrument and are able to execute ideas effortlessly, it will enrich the music. My music comes from awareness, practice and dedication by default.
Do non-jazz crowds connect with my music? Absolutely! My fans include musicians, music lovers, scientists, clerks, firemen, diplomats, lawyers, doctors, computer programmers, bartenders, chefs, engineers, etc. People recognize good music from all walks of life.
Q. Do you feel a spiritual connection with the music?
A. I live through music and care about the quality of the music. Thus, I spend a lot of time honing the craft. The music is a reflection of my experiences and my personality. I feel about as strong of a spiritual connection to music as breathing air.
Q. What is one thing you feel that you are bringing to the table in the music world that is unique … that makes your music identifiable as you?
A. Things that make my music identifiable include a personal and logical sense of composition, ability to express, accomplished command of the instrument, melodic/harmonic/rhythmic phrasing that is musical and logical, and a recognizable sound on the piano. All these elements are only experienced through actually listening to the music.
Q. What are you trying to say through your music to your listeners, to society and to yourself?
A. I love playing live. If the music creates a positive memory in people's minds, that's great! I love making records and enjoy all aspects of album production. Records are archived long after the performance. Few things make me as happy as making a record that I'm proud of. There is a lot of joy and love that I experience when performing. That energy is always transferred to the audience. I think that ties in to the first question. The audience feels the love, care, and the joy through music. When I really enjoy the performance, I often smile and laugh because the music feels so good. The musicians in the group will also do the same. The audience has a positive experience.
Q. What role does listening play in your trio and how does it affect interaction? Do you have a collective "concept" for your listening habits? How far will you deviate from the tune to follow each other?
A. Listening to each other is important. At its best, playing music with like-minded good musicians is similar to having a conversation with someone you really enjoy spending time with. The musicians will follow a set framework in a composition and interact within it. The framework is the subject, and we have a musical discussion about that subject. There is a lot of joy transferred on stage between the musicians when the music is good.
For more information, visit www.eldarmusic.com. To purchase tickets for Eldar's performance at Dimitriou's Jazz Alley in Seattle, visit www.jazzalley.com.