My husband's side of the family wanted to spend a weekend together. Since we live on two sides of the state of Washington and there are 19 of us, it was no small task to find a place to accommodate everyone. Ideally, we wanted a bedroom for each couple (there are five), and room for nine kids of varying ages. Plus, we wanted someplace easy to get to for everyone.
I've never looked at VRBO (Vacation Rental By Owner) before, but I thought I would give it a try. It really made the search easy! I looked in several regions of the state and ended up choosing a house near Cle Elum. It's proximity to I-90 made it really convenient for our family coming from Spokane as well as those of us on the western side. And, we figured it was more likely to be sunny just east of the mountains.
Well, the sunshine didn't work out, but we did get a great windstorm and even some snow, which for us is always a thrill.
We rented "The Cabin Near Suncadia," a 4,300-square-foot house with six bedrooms and five-and-a-half bathrooms; three floors with two full kitchens and three eating areas; two living rooms with large flat-screen televisions; a recreational room with a pool table, foosball and ping pong; and a hot tub. It was ideal for us because there was so much space we could spread out and play games, watch football on television, visit, cook and eat together, and retreat to private areas when we wanted to. The house is really comfortable and I highly recommend it.
Here are a few photos of the place: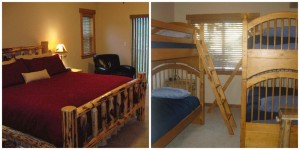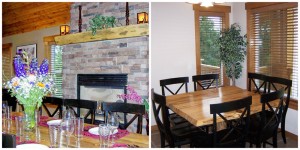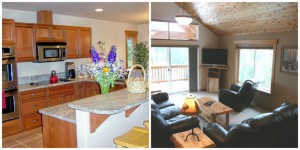 Though the weather kept us inside for the most part, we did enjoy walking in the community the cabin is located in and we went into Roslyn one afternoon where we enjoyed a family-owned and operated candy store, a mini-mall with fun shops that included a tie-dye place, and some antique stores.
For more information, visit www.nearsuncadia.com.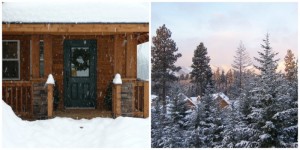 Enjoy!
Elizabeth
All of these photos are courtesy of The Cabin Near Suncadia and can be found on its website.