Today was a day I was looking forward to. I was heading to Salish Lodge for a Spa Day experience and lunch. Oh how I anticipated that "Iced Apple Body Scrub, Mask and Lotion." Especially once I learned that it wasn't really going to be iced.
You see, I know the way a spa feels on one of these foggy Northwest days, and I was looking forward to being warmed to my core. Pampered. Relaxed. Maybe even taking a short nap while someone else did all the work.
But my Spa Day was a fail, and this is why. The engine on my car was about to fall out and I could tell something was really wrong. So I left my car at the repair shop four days ago, sure it would be fixed by the next day. And late yesterday afternoon I finally called to find out that, no way, it won't be done until after my scheduled appointment at Salish.
It's a first-world problem, I know. But still, it was a bit of a tragedy — how often do I get to go to a spa, after all?  Not often enough!
It would have been a complete fail if not for Trader Joe's.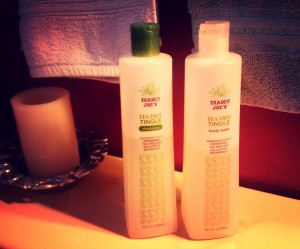 Okay, these two bottles did not make up for a missed day at a spa, but they helped. The new Tea Tree Tingle shampoo and body wash at Trader Joe's became an instant favorite of mine (and the rest of my family, to be honest) from first use. The body wash (and shampoo — they also sell a conditioner) smell fabulous because they have peppermint, tea tree oil and eucalyptus in them. They really do make your skin tingle — waking it up! And they are completely organic with lots of healing properties — tea tree oil is a natural antiseptic. Also, true to Trader Joe's, they only cost $3.99 for a 16-ounce bottle. You certainly can't get that at a spa!
Enjoy your own mini-spa experience everyday with these great products!
Elizabeth
Photo by Elizabeth Griffin who received absolutely no compensation for this post.