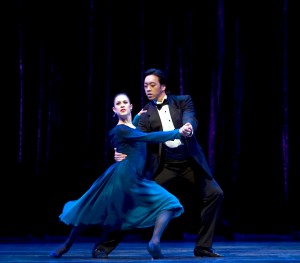 I had the privilege of seeing Twyla Tharp onstage at McCaw Hall last night as she and Peter Boal, PNB's artistic director, discussed her upcoming  Seattle premieres and the audience was given glimpses of what to expect this weekend.
I am terribly jealous of everyone who is attending the Air Twyla productions at PNB — Sept. 27 through Oct. 6. I happen to be booked already, but after seeing the previews I am so disappointed to miss out. Tharp's work is delightful!
Delightful! That is the best word I can use to describe it — the upbeat music, the flirty duos, the mix of classical ballet and jazz steps — it puts a smile on my face as I remember it.
Not only is the 70-something-year-old Tharp a legend, she is quite a character and has a lot of spunk. That comes through in her choreography. You are in for a treat if you are going. And, if you're not, GO!
The production features the world premiere of Waiting at the Station, created on the dancers of PNB; Brief Fling, a PNB premiere; and the return of Nine Sinatra Songs. Special guests include acclaimed New Orleans musician Allen Toussaint — he shared a few songs with us and I could have listened all evening!; and American Ballet Theatre soloist Sascha Radetsky.
Here's the scoop: September 27-28 & October 3-5 at 7:30 pm; September 28 at 2:00 pm; and October 6 at 1:00 pm. Tickets start at $28 and may be purchased by calling 206.441.2424, online at pnb.org, or in person at the PNB Box Office at 301 Mercer Street.
For more information, visit www.pnb.org.
Photos by Angela Sterling.