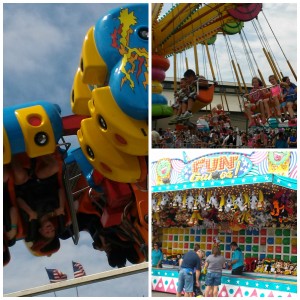 Flipping upside-down and all around until you're laughing so hard you can't stand another minute; throwing darts at wobbly balloons to win an over-sized stuffed bear; eating cotton candy and scones and funnel cake and finishing it all off with a giant coke: The Washington State Fair starts tomorrow and runs through September 22. It's time to talk about state fairs!
I went to the Evergreen State Fair in Monroe this year with a friend for the first time, and it was great. This is why we went: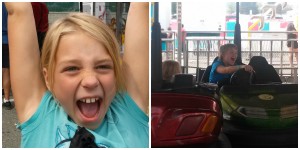 It's all about the kids! And the rides, and the food, and the animals.
The Evergreen was fun, but the Puyallup Fair (now called The Washington State Fair), well, that's the one I grew up going to, the one I got a chameleon pinned to my shirt at in about the fourth grade, the one where I first tasted Fisher's Scones, and the one where I first felt dizzy on a whirling-twirling ride. That's where the memories are for me.
It's a family fair and its huge. You could spend days there looking at livestock and handmade quilts and pickles in jars. Or you can just eat and eat and eat, and then get sick on the rides. And at night, the Washington State Fair has a great line up of concerts every year.
But I never saw pig races at the Washington State Fair, and I did at the Evergreen. That is the benefit of going with someone you haven't gone with before — we all see different things! The pig races were hilarious! Don't miss them if you ever get a chance to see one. They are worth the price of admission
 If you plan to head to the Washington State Fair, here are a few tips for the trip:
go to http://www.thefair.com/deals/ and purchase your tickets ahead of time for the best deals

bring water bottles for everyone in your group
wear sunscreen, even if it's cloudy
dress in layers so your body stays at a comfortable temperature
bring lots of provisions for babies and kids if they are coming too — fruit, diapers, wet wipes, plastic bags, a change of clothes
ride first and eat later — you're stomach will thank you
start early so you come with lots of energy
Have fun!
Elizabeth
All photos by Elizabeth Griffin