My family's official destination was Sacramento, but since it's practically next door to San Francisco we couldn't resist a short stay in the city. It was amazing what we fit in over the course of only 23.5 hours!
After driving at breakneck speed from Seattle to the Bay Area, we arrived in 14.5 hours — even after stopping for more than a few quick breaks and lunch at In-N-Out Burger in Redding.
We splurged and stayed at one of the nicest hotels in San Francisco (and anywhere, in my opinion): The Fairmont on Nob Hill. Our tower room had a view of the city.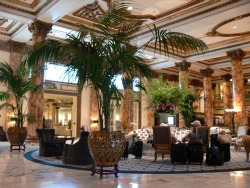 Parking was easy at the Masonic Temple parking garage, less than a block away from the hotel. We chose it because it only costs $30 for 24-hour parking, which is the best deal in SF.
Once settled in our room, we went out to ride the cable cars. The concierge directed us to the Powell & Hyde line that took us to Fisherman's Wharf. It was a thrill to stand and hold on as we soared up and down hills, narrowly missing riders on passing cars and gripping the bar tightly when we whipped around corners. It felt like we were in a movie but twice as fun.
We ate tasty pizza at Cioppino's at Fisherman's Wharf — delicious, thin-crusted, without much tomato sauce but lots of flavor ($15 for a six-piece pie). Then we walked around and soaked up the atmosphere, ending up at Ghirardelli Square where we bought chocolate, of course. From there we rode the cable car back to our hotel, but not before witnessing its manual turning by two operators at the base of the hill. It's charming in our high-tech world to see a mode of transportation that has remained the same since Andrew Smith Hallidie invented it in 1869.
Maybe that's part of the charm of San Francisco — the melding of old and new. We were delighted after only four hours. Read my next blog to find out about the remaining 19.5.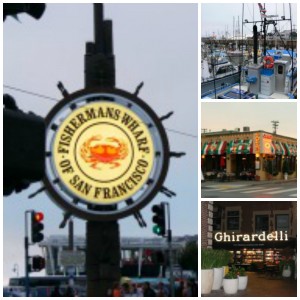 All photos taken by Elizabeth Griffin.