I went to one of my favorite farmers markets a few days ago–the Edmonds Museum Summer Market, which is held every Saturday in July, August and September (except the weekend of Taste of Edmonds) from 9:00 am to 3:00 pm on 5th Street from Main Street (the downtown fountain) north to Bell Street, then east up Bell Street around Centennial Plaza. It offers a wide variety of produce along with meats, cheeses, bakery items, flowers, and all sorts of crafts, jewelry, clothing and home décor vendors.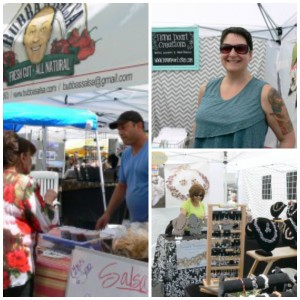 Since I tend to be a spur-of-the-moment person, I often don't plan ahead about what I will need on an adventure. As I approached the market in Edmonds I realized a few things that would have made my time there a bit more enjoyable–although I did have fun anyway. However, I felt inspired to pass along a list of what you should bring when going to an outdoor market, so here goes:
1. A bag to carry all of your goodies home with you–or even several bags–because you are likely to buy a little bit of this and a little bit of that, and carrying all those separate bags and bunches can not only be a hassle, you are more likely to lose something along the way than if the items are all in one or two large bags.
2. Cash. Though many vendors now take credit/debit cards, some do not and cash is still the fastest and easiest way to pay at an outdoor venue.
3. A hat and/or sunscreen. Be sure to wear sun protection, even if you think you are just popping by. A visit to an outdoor market often lasts longer than you think it will.
4. A camera. There are so many great photos opps at these markets, from people to flowers to veggies to whatever your eye catches and wants to record. Farmers markets are great places to record beauty and having a camera with you might make you more aware of it.
5. A notepad and pen. There will be things/places/people you will want to refer back to once you get home from a market–at least there always are for me. A record-keeping device as simple as a pad and pen can help you avoid impulse buying, and most vendors now have websites where you can order online so you have time to think about the item before purchasing.
6. Your cell or smart phone. Especially if you are with someone, this is a great way to keep in touch. Then your companions can spend time looking at what they want to see and you can do the same, and you won't lose track of each other. Plus, if you have a smart phone you can eliminate #4 and #5  from this list because you've got them in  your phone.
7. A sense of adventure. From a vegetable you've never tasted to an arrangement of flowers you never would have thought to combine to a lamp made out of old candlesticks, be ready to see, smell, taste, feel and experience new things when you go to a farmers market. Be adventurous and try something out of the ordinary (many vendors have samples) or gather ideas for your own crafty impulses at home. Your local farmers market is the perfect place to push beyond your usual boundaries and try something new!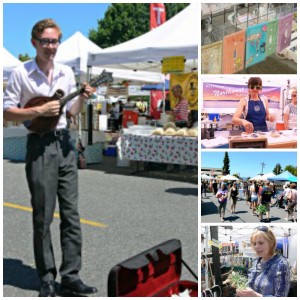 For more information on farmers markets in Snohomish and King County, visit www.pugetsoundfresh.org and www.pugetsoundfresh.org King County.
Enjoy!
Elizabeth
All photos by Elizabeth Griffin.