When I mentioned to a friend that Jay and I were going to Victoria, B.C. he said, "Whatever you do, don't go to The Butchart Gardens. They are such a tourist trap."
I beg to differ. In fact, I remember those gardens from when I was a child, and I have been wanting to go back to them ever since that visit. One of my favorite things about Victoria, and British Columbia for that matter,  is its gardens, and the most impressive of these is the famous Butchart Gardens.
The gardens were originally a limestone quarry owned by the Butchart family. When the limestone pit was exhausted in the early 1900s, the artistic and imaginative Jennie Butchart envisioned making it into a garden. It took years for her vision to become a reality and the small woman worked alongside laborers to bring in topsoil, plant hundreds of trees, bushes and flowers, and create a truly spectacular garden that is known today as the Sunken Garden (shown above).
But this is only part of the 55-acre garden that draws thousands of visitors each year. The Butcharts also created a Japanese Garden, an Italian Garden, and a Rose Garden. Each bend in the curving paths that visitors walk on as they go through the garden brings a new thrill to those who love beauty and nature. Jennie truly had an artist's eye and it is evident everywhere.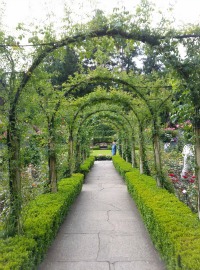 Each subsequent member of the Butchart family who has overseen the gardens has made a unique contribution. A fountain was added by the grandson who was given the gardens on his 21st birthday, and the current director of the gardens put in a carousel for visitors to enjoy.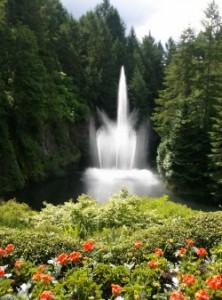 By making a garden out of the quarry, the Butcharts created a beautiful place for people to visit and enjoy. I recommend seeing it when you travel to Victoria. The gardens are open year round, with special displays for each season. During the summer months, visitors can take in nightly concerts, and the garden has a firework show on Saturdays. The schedule for these can be found on the Butchart Gardens website.
The Robert Bateman Centre
Located in the Inner Harbor, The Robert Bateman Centre is another important tribute to nature and art. Bateman is in his 80s and lives on Salt Spring Island, still painting and riding his bike every day. He is passionate about nature, and the center in Victoria is one of his legacies to British Columbia, intended to teach and instill a love for nature in future generations. Right now, the historic CPR Steamship Building houses a lovely gallery of 130 of his paintings — and the view from the top floor where these are on exhibit is great for taking photos of the city and harbor. I highly recommend visiting — many paintings are life-sized and its like standing eye-to-eye with wild and domestic animals and birds. The museum has also paired the bird paintings with their songs in one of several interactive exhibits in the gallery.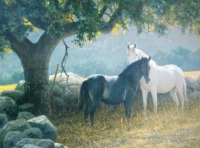 All photos by Elizabeth Griffin.
Getaway courtesy of Tourism Victoria.