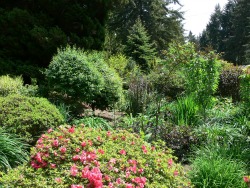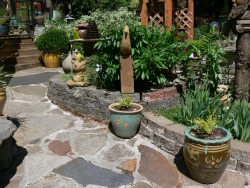 There's nothing like visiting a garden for an afternoon to get away from it all — especially if you don't have to do any of the work it takes to enjoy it!
For those living in the Seattle area, there are several garden tours in June and July that provide inspiration and teach you how to beautify your own yard. Most tours include wine and snacks, music and art, and Master Gardeners to answer all your questions. Besides, gardeners love to share their secrets.
The Secret Gardens of Lake Forest Park garden tour is one of my favorites. It takes place on Saturday, June 15, from 10 a.m. to 4 p.m., and features five gardens for visitors to experience. While the tour is going on, there is a garden sale at the Lake Forest Park Town Center where Ciscoe Morris will broadcast in the morning .
I visited the garden of LFP residents Armand Micheline and Walt Prentiss in order to preview the tour. Their garden is a great one to see for several reasons:
It's a large yard (.6 acre) that feels homey because they have created outdoor rooms with specific plant groupings and seating arrangements.
There is a wide variety of plants in the garden, from native to exotic, and there is absolutely no lawn.
There is plenty of whimsy in the garden by way of statues, arbors and personal touches.
It is a great example of what you can do with varied soils in a yard — according to Micheline the soil ranges from hard clay to sandy to powder.
The yard is a Certified Wildlife Habitat because Micheline and Prentiss only use organic gardening practices and the garden provides food, water and shelter for wildlife.
Visitors will enjoy hearing stories about LFP and the evolution of their garden from Micheline and Prentiss. They are charming hosts, as are all of the homeowners on the garden tours.
In addition the Secret Gardens of Lake Forest Park garden tour, be sure to check out the following tours:
The Beach Blossoms Garden Tour in the neighborhoods of Richmond Beach and Innis Arden, Saturday, June 8, from 11 a.m. to 4 p.m. www.richmondbeachwa.org/gardentour
The Edmonds in Bloom Garden Tour, Sunday, July 21. www.edmondsinbloom.com
All photos are of the garden of Armand Micheline and Walt Prentiss.
All photos by Elizabeth Griffin.