If there's one thing that's true about Seattle right now, it's that its restaurant scene is flourishing. From churning out fantastic chefs to being on the radar of celebrity food personalities who come here with their camera crews to record a segment for their show, Seattle provides plenty of delicious options for anyone with a hungry tummy and an adventurous palate.
For special events, there are places like Canlis and The Book Bindery. Oyster fans will love The Walrus & the Carpenter. Food trucks abound. Traces of the city's Scandinavian background remain (which makes me very happy, being a Norwegian-American food blogger).
But for me, one of my favorite restaurants is located in a sort of nowhere land in the middle of a hill connecting Fremont and Phinney Ridge: Brad's Swingside Cafe. This tiny little Italian restaurant features a menu featuring classics like its signature aglio olio (hint: order it with crab) and lobster thermidor to the list of specials that always feature some sort of intriguing-sounding dishes.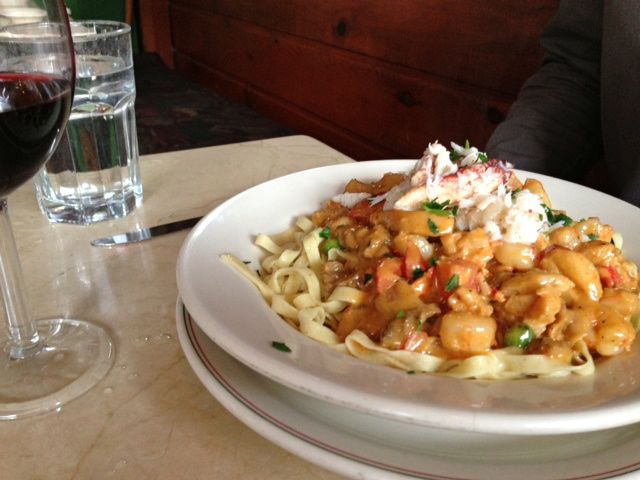 The draw for me is celebratory. Eight years ago, my now-husband took me to this restaurant, upon a friend's recommendation, with a surprise in store for me. I somehow knew he was going to propose that evening–women must have some sense of knowing when it's going to happen–and I waited through the entire dinner, wondering whether my suspicions were correct. Dinner came and went. We left and went up to Queen Anne's Kerry Park and admired the Seattle skyline lit up and illuminated against the dark evening sky. It is there where he proposed.
It took a few years before we started marking our engagement anniversary, but eventually one of us got the idea of returning to celebrate. We do it each spring, often ordering the same thing, and it's always delicious. The place a little off the beaten path, and it's always a treat to visit.