I saw the opening of Jersey Boys last week at Seattle's 5th Avenue Theatre and the show lived up to its reputation. The music is dynamic and lots of fun.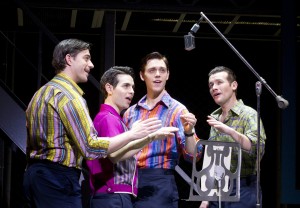 I had no idea that many of the songs I danced to in high school and college were originally performed by Frankie Valli and The Four Seasons. I thought they were old fogies, but their music rocks!
My friend Rhonda and I had to restrain ourselves from singing along, but we didn't hold back too much when it came to dancing! The audience was all swaying a bit with the ballads and otherwise rocking in their seats.
A friend told me to listen to the soundtrack before going to the show, but that wasn't necessary. I knew every word. If you were born after 1980, listen first; otherwise, just trust me and go.
Jersey Boys tells the story of the rise of The Four Seasons and Frankie Valli. I would rate it "R-17" so be aware of that before taking your kids. Members of the group spent some time in jail, were associated with the mob, and there was quite a bit of sex involved. It's interesting to see where those songs originated in real life. The drama was as compelling as the music.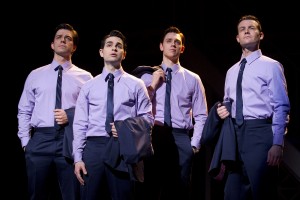 Brad Weinstock plays the part of Frankie Valli and he has the voice for it. Wow – what a range! The very handsome Brandon Andrus plays the quiet bass of the group, Nick Massi. Colby Foytik plays a charming and devious Tommy DeVito. And Seattle native Jason Kappus plays the very talented songwriter of the group, Bob Gaudio. As with all 5th Avenue shows, they are experienced Broadway actors and singers, with many credits to their names.
Jersey Boys plays through May 4 in Seattle. I highly recommend it.
Both photos: (l to r) Brandon Andrus, Brad Weinstock, Jason Kappus and Colby Foytik.
Photo by Joan Marcus.