A couple of years ago, when my family and I visited Cedarbrook Lodge and ate at its award-winning restaurant, Copperleaf, I said it was the best meal I had EVER had in my life. Since then I've questioned myself, but a recent return visit confirmed that Culinary Director Roy Breiman and Executive Chef Mark Bodinet are an amazing team. The food is fresh and inventive. With produce grown on the 18-acre grounds of Cedarbrook Lodge and sourced from local farmers, fishermen and ranches, you cannot get healthier fare, and with the thoughtful combination of ingredients and sauces in each menu item, every meal at Copperleaf Restaurant & Bar is unforgettable. You will savor every bite!
This visit included time with my teenager and our dog, Lily. We stayed in the pampered pooch portion of the lodge, and yes, Lily enjoyed her own meal that was fit for a queen. The pampered pooch section was spotless and smelled wonderful – like it had been scrubbed with orange zest! We had easy access to the wetland paths that surround  the hotel and Lily had her own bed, along with a small bag of goodies upon our arrival.Taylor and I settled in, and I took Lily on a walk. It was one of those perfect early spring days, with the sky a gorgeous blue from horizon to horizon and the air crisp. The grounds at Cedarbrook Lodge have several seating areas for groups to gather and ponds among the Northwest native plants and shrubs. The garden for the restaurant is right there for all to see in raised planter beds.
Cedarbrook Lodge is a perfect getaway for foodies because each of the three lodges have "living rooms" for guests to gather in. These have books, games and televisions, and best of all, snacks! The refrigerator is packed with yogurt and water; the freezer with individual-sized Haagen-Dazs; and the counter has fresh fruit and large canisters
with oversized malt balls and chocolate-coated raisins.
Don't worry! There's also a great workout room in each lodge and acres of land to walk or run on.
We were eagerly anticipating a meal at Copperleaf Restaurant, but Taylor and I had no idea that we were going to be served a six-course tasting menu. Add to that three smaller "tastes just for fun" and paired beverages and we were … well, let's just say we agreed that a meal like this comes along once in a lifetime so we didn't want to waste a single bite. That said, we did not eat every bite, nor could we have. But we did taste everything brought to us from the kitchen and it was incredible.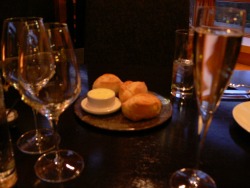 Here is a list of our favorites with a brief description of each:
Ozette Potato Soup – Soup at Copperleaf is an experience! You are served a bowl with a yummy little something in the middle of it – in this case, a black truffle, pickled hedgehog mushrooms and garden thyme. Then your waitress pours the soup into your bowl, covering the yummy little something. It is beautiful! (Taylor's soup was yellow beet soup with the little something in the middle being caramelized onion, golden raisins and verjus. It was a bit sweet for me, but he liked it.)
Oxbow Farm Roasted Parsnips – I prefered this, which Taylor was served, over my poached Wenatchee bosc pears, only because I just loved the savory hazelnuts and White Sturgeon caviar on top. My pears were tasty, but who can resist caviar?
Pleasant View Farms Foie Gras – Made with a crisp outer layer, this was oh-my-so-tender and delicious. It was served atop caramelized (I love carmelized!) endive, banana bread, a slice of banana with a sweet caramel crust, and a drizzle of vanilla sherry vinegar.
Nash Family Farm Young Chicken – Not your ordinary chicken, this was breast wrapped around a pate of sorts within an Alderwood smoked bacon wrapping, served with grilled leeks, butterball potatoes, cervela sausage (housemade), and a delicious mustard sauce.
Anderson Ranch Lamb Saddle – The most tender piece of meat I have ever tasted, several medallions of lamb were served atop braised red cabbage, alongside young turnips and stewed cherries — and the most yummy pommes Dauphine (savory pastry puffs filled with creamy potato).
Bourbon Chocolate Cake – Our favorite of the desserts because, well, it's chocolate! Very dense and delicious, with salted caramel ice cream on the side and toasted pecans. It is worth noting that, while my son generously gave me bites of every course he was served, when this one came, he said, "Mom, I'm just going to tell you right now that I don't want to share even one bite of this ice cream with you." He was not able to finish the cake, however, and I snuck a swipe of the ice cream with my bite of that – smile.
Also worthy of note is the one thing that I dreamed about coming back to Copperleaf Restaurant to have: The Theo's Sipping Chocolate, served with a housemade donut hole. This "cocoa" is made with vanilla-infused cream. Need I say more?
Well, I have to say just a little more. Every course was paired with wine for me – just sips, mind you. The restaurant has a huge selection of local wines from Washington and Oregon, and the sommelier makes delightful choices! She also paired each of Taylor's courses with a mocktail – including really fun tastes like Meyer Lemon Mock-tail, Lemongrass Dry Soda w/poached currants, Vanilla Bean Iced Tea w/black pepper, a homemade Cherry Coke topped with cranberry bitters, an Almond Italian Soda w/ground almond/salt on the rim, and Blood Orange Soda. Somehow he managed to pack it all in, but neither of us could figure out how.
You can easily go to Copperleaf Restaurant for just a meal – it's located at 18525 36th Avenue South, just south of the Seatac Airport exit on I-5 – but I recommend spending the night. After a meal like this, or even one of more modest proportions, a pleasant stroll to a lovely suite is much more agreeable than driving home.
Lodging and meals were complimentary of Cedarbrook Lodge.