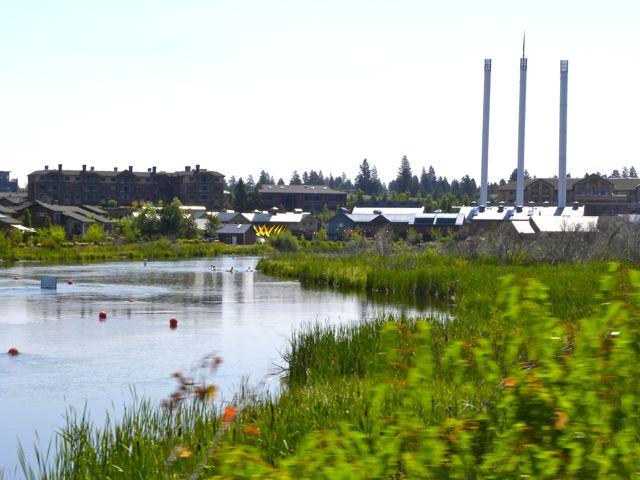 There's nothing like a long weekend sometimes to make you feel like you've escaped the rat race and gotten out of the daily grind. Sometimes all it takes is three days out of the normal schedule to feel like you've taken a true vacation. Bend, Oregon, is a good six or so hours from Seattle, depending on traffic and the number of stops you make along the way. To some, Bend is all about the outdoors–fishing, outdoor sports, snow. For my recent getaway, my mission was to discover the beer.
I arrived at Sunriver Resort, about 20 minutes south of Bend, a couple of hours before dinner–an amazing feat considering my party consisted of two couples with infants traveling in the same vehicle. Sarah and I settled in at the resort with the boys while our husbands set out to do a little market research–also known as tracking down some of the local beer.
Upon their return, we sat back with our beverages and watched the wildlife just yards away from our rooms while the sun set.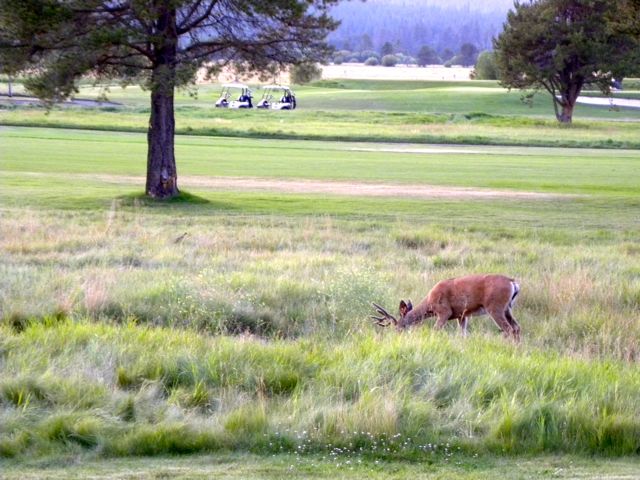 The next morning, we reconvened and set out for a full day of brewery tours and beer tastings, beginning at 10 Barrel Brewing Company Pub for lunch. While I hate to play into the gender stereotypes that say women are supposed to prefer wine to beer, I'll be honest and say I used to fall into that camp. That's been changing lately, however, as I've been discovering a range of styles and breweries, so I was excited to taste the full range of what 10 Barrel produces and ordered the sampler. With 10 tastings, including their award-winning S1NIST0R Black Ale and Apocalypse IPA, I was able to get a taste of what their beers are all about, while enjoying steak nachos and a caprese salad.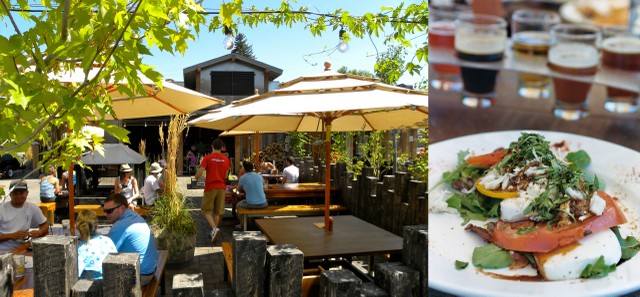 Next we headed to Crux Fermentation Project, one of the area's newest craft breweries. While the babies napped in their front carriers, the four of us adults sat down with co-owner Larry Sidor, former brewmaster of Deschutes Brewery. Sidor introduced us to the mission behind the brewery, which opened in June, and ran us through a sampling of the beers before showing us the facilities.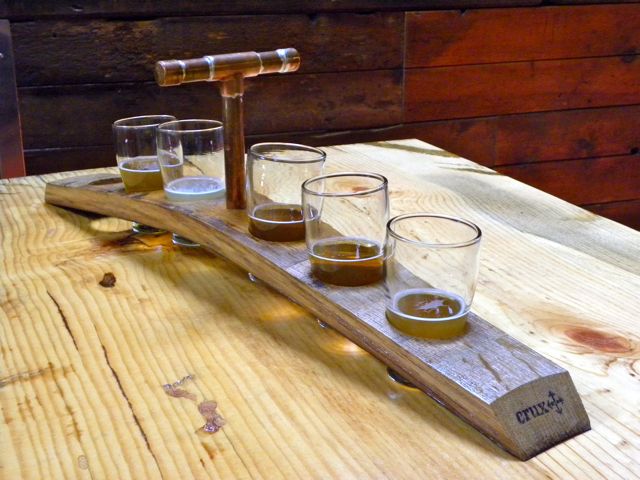 When your traveling companions are a couple of homebrewers and you bring them along to your meeting with someone like Sidor, you can be sure that everyone is going to geek out on beer. Then when you say goodbye to your host, you're going to order more beer and enjoy it on the patio in the hot Bend sun.You're going to enjoy it so much and stay so long, in fact, that you might end up late for your tour at Deschutes, the brewery that perhaps best signifies the Bend brewing culture.
Established in 1988, Deschutes is the oldest and one of the most established breweries in Bend. Though only 24 years old, it's the granddaddy in a town of breweries just starting up or beginning to make their mark.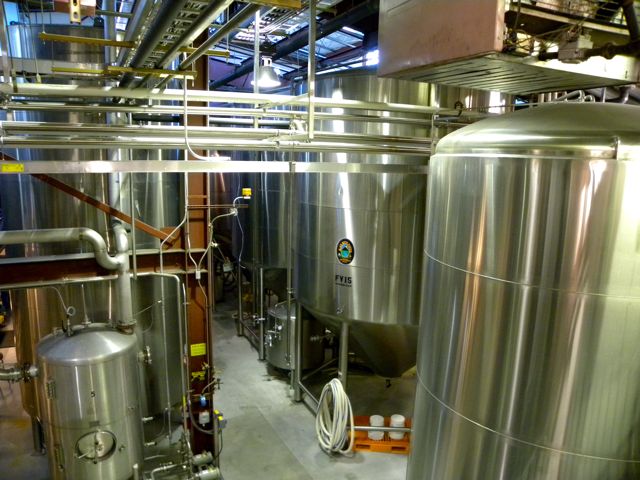 Experiencing Deschutes is a must on a beer-focused trip to Bend, and there are a couple of ways to do it: Visit the brewery–which overlooks the Deschutes River–for a tour and tasting, or have dinner at the Deschutes Brewery Pub in downtown Bend. We did both, and headed straight from the tour to dinner, arriving just in time to catch the last of the day's sunlight while waiting outside for a table in the bustling pub.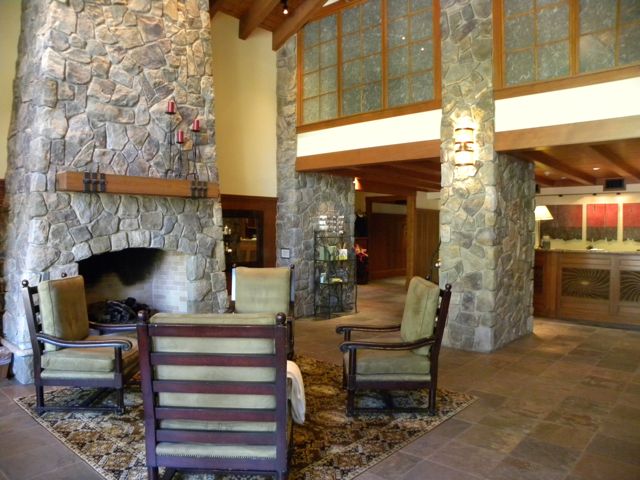 The next morning, the men watched the babies while Sarah and I took a walk through the Sunriver Resort grounds to get to the Sage Springs spa for a massage, a relaxing contrast to the packed schedule of our beer-tasting weekend. After a quick shower, we headed to out to the edge of town to meet Chad Kennedy, the guy behind the up-and-coming Worthy Brewing Company, set to open at the end of the year. After spending some time in the trailer hearing about Kennedy's vision, we donned hardhats, grabbed our cameras, and set out for a tour of the construction site.
Worthy's facilities are located on the end of town, on the edge of the Badlands Wilderness Area, and are one of the first things visitors driving west on Highway 20 see upon arriving in Bend. Kennedy aspires to make some of the worthiest beers in the land, hence the name. The state-of-the-art green facilities are emblazoned with a large steel "W." It's slated for an official opening later this year.
After a stop at GoodLife Brewing and Boneyard Beer, the latter of which had run out of beer for the day, we stopped in at Broken Top Bottle Shop and Ale Café for beers and a snack before heading back to Sunriver for dinner.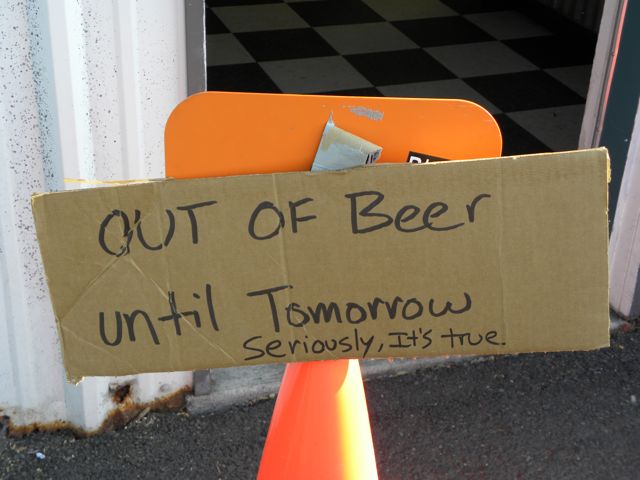 There's something about a full day's worth of plans that makes it nice to sit back and relax as the day winds to a close. At Sunriver Brewing Company, our host escorted us through the packed dining room to the patio, where we took our seats in a relatively quiet corner where we were able to unwind for a while.
Having just opened in July, Sunriver's staff was still establishing what would be their ultimate lineup of beers, but had several available in the meantime, along with what appeared to be a solid clientele. The crowd at the restaurant never seemed to thin throughout our lengthy stay.
The next day we fueled up at breakfast at Meadows at the Lodge at Sunriver Resort before stopping back at Boneyard for a tasting and then making the trek back home to Seattle. Having heard rave reviews from someone back home, we weren't going to miss out on a chance to taste Boneyard's beer, and it's a good thing we gave it a second chance. Their IPA was one of the highlights of the weekend, and for someone like me who is slowly but surely learning to appreciate IPA's, theirs is one I will remember.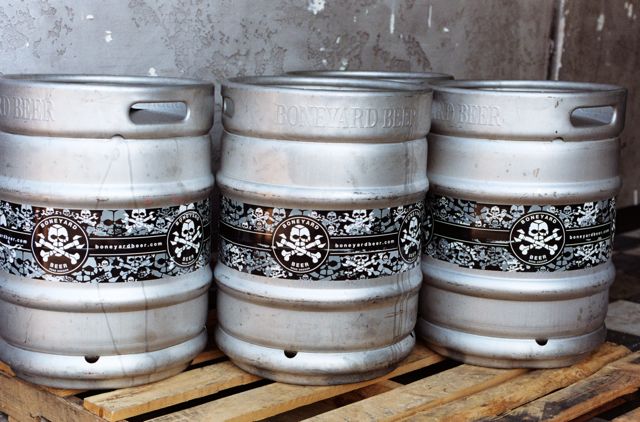 As you've discovered about me from my recent series on Walla Walla, visiting Washington wine country has historically been my typical Northwest getaway. However, after this trip to Bend, I can say with confidence that I'm ready to branch out even more and discover more of the great beers that the region has to offer. What are your favorite Northwest breweries? Drop me a note or leave a comment–I'd love to hear your recommendations!
Full disclosure: The Central Oregon Visitors Association sent me to Oregon to discover the beers. Accommodations, activities, and meals were hosted.