I love yoga, I love being on the water, and I love Seattle in the glorious shining summertime. I love finding combinations of all of my favorite things in one activity. Paddle Board Yoga is the way to get out on the water and get your yoga on. I had no idea what I had been missing and now I am hooked for certain as long as the good weather lasts. Say good-bye to overheated, sweaty yoga studios, paddle out into the open water, stretch up into the sunshine, watch birds fly over head, and flow gentle movements with the rippling wakes.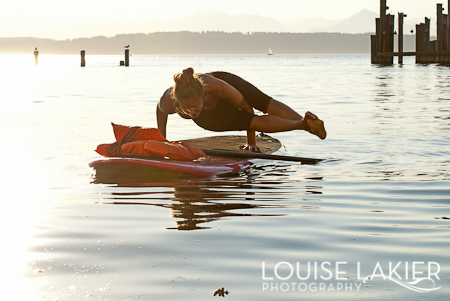 Paddle Boarding itself is a beautiful thing, all that stands between you and the water is your board, and you are standing on it. With steady arm movements you move without moving. It feels like true immersion into the fresh air and the scenery.
I took a yoga class with Lori along with a group of women. (I returned for a sunset shoot with Hasna.) We paddled out into the water and congregated along a tie line attached to an anchored boat. We peeled off our layers and tucked them under ropes on our boards as we heated up in the sun. Lori led us through a warmup and a flow. Another level of balance made for a more challenging practice. Instead of focusing on a spot on the wall or the floor to find balance, I found myself getting lost in the scenery, watching the waves undulate or the clouds float overhead.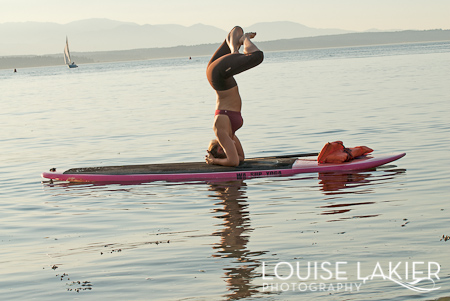 Paddle Board Yoga will challenge your practice and invite you to combine two wonderful ways to put some zen into your lifestyle. I hope to be joining these lovely ladies for more yoga on the water before this season comes to a close at the end of the month.
Visit WASUP Yoga's Website here. And check back for spots to open up if it looks full. Paddle Boards are for rent here all year round!