Photo by Antoinette Douglas-Hall ©2010
I first met Antoinette on a trip to Ethiopia in November of 2010. We were a group of photojournalists with the common goal of using the power of photography to support  a cause. I had just finished a photography program at the Rocky Mountain School of Photography and I was determined to use my camera as a tool for documenting life in other cultures to promote awareness and understanding. It was an amazing, eye opening experience, I personally learned so much about a condition I had never heard about, Obstetrics Fistula. Poverty, lack of education, and access to medical care pose the greatest challenges to eradication.
The trip centered on and around the work of the Hamlin Hospital in Addis Ababa where Dr. Catherine Hamlin and her late husband made it their life's work to provide medical and long term care for the women. To participate in this life altering journey, each photojournalist was asked to submit a proposal for a story and agree to share what they had learned with their community once they returned. There were 10 photojournalists on this SalaamGarage trip:  David Goldman, Jonathan Hanson, Antoinette Douglas-Hall, Kristie McLean, Sara Forrest, Veronica Gray, Sarah Henderson, Ponzi Black, Myself and two trip leaders, Maggie Soladay & Amanda Koster.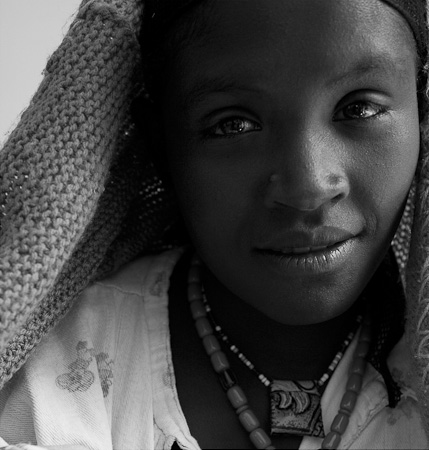 Photo by Antoinette Douglas-Hall ©2010
Antoinette Douglas-Hall lives in San Francisco with her husband David. I interviewed Antoinette about her experience traveling with an organization that focuses on creating opportunities for people with skills and passion to travel with a purpose.
LL: What is your main focus of photography and how would you define your 'style'?
AD: My main focus is community and family.
LL: How did you hear about SalaamGarage? And did you select SalaamGarage primarily because you were traveling and participating in a cause?
AD: I heard about SalaamGarage through Maggie Soladay a producer I have worked with a few times in NY. She was always hardworking and I remember she was sometimes working on what seemed like exotic trips.  What I did not know was that Maggie was working with SalaamGarage and working on trips to take photographers, writers and film makers to NGOs all over the world.
I took this trip to Ethiopia as there was an opportunity to provide support to the Hamlin hospital, a hospital helping women with Obstetric Fistula.  This condition can condemn women to life of urine and fecal incontinence and in turn ostracism and Hamlin is and a welcoming place that offers help. Hamlin also aims to eradicate Fistula by training midwives and giving them the access, skills and tools to help the women in their communities.
LL: Had you heard of Obstetrics Fistula before going on this journey?
AD: I had never heard of Obstetrics Fistula before Maggie told me about this trip.
LL: What compelled you to chose a vacation that went beyond donating a portion of your fees/visiting an NGO, was project based and essentially a trip that included extensive work and continued commitment upon your return?
AD: For me this was not a vacation but a chance to use my photography to directly help make change for some women who are unfortunate enough to have developed Obstetric Fistula.  I did get to meet and experience and see a wonderful country.  Most of the images I had seen from Ethiopia were when the country was going through a severe drought.  On this trip I had a chance to experience the great food, people and take in the history. I also raised a large % of the expenses needed to participate in this trip and it was the support of my family and friends that made it possible for me to go.
LL: Do you travel more often solo or with company? And when you travel solo, is it work related?
AD: I travel solo or not depending on the purpose of my trip. I traveled solo for photo trips to Ethiopia and India. It is exciting traveling to and arriving in a new continent alone.  Without your peers or family for support you absorb the new circumstances more intensely, and I would say more directly. Most of my solo travel has been work related but I have also traveled to Trinidad, to visit family.  I have made this trip many times with my family and alone the trip becomes a new adventure for me.
LL: How do you think the images you brought back and the stories will help with the elimination of Obstetrics Fistula?
AD: I think the main part is that more people now know about Obstetric Fistula and with each person that hears about this condition comes an opportunity for another person to lend their support. Also we can continue to share these images to raise awareness and funds to help eradicate.
Photo by Antoinette Douglas-Hall©2010
Antoinette created a blog about her Ethiopia trip. Her stories can be viewed here.
Antoinette will be exhibiting her work with Sara Forrest, David Goldman, Maggie Soladay, David Hanson, Veronica Gray and Kristie McLean at the FotoCare Gallery in NYC. The opening is today 9.12.12 and the show will be up for the next two weeks. If you are in the New York area these poignant, sometimes heart wrenching and sometimes hopeful stories are not to be missed.
If you can't make the show, the following links will provide you with some of the examples of the work and the projects that will be displayed:
Sara Forest, David Goldman, Kristie McLean, Antoinette Douglas-Hall, & Jonathan Hanson