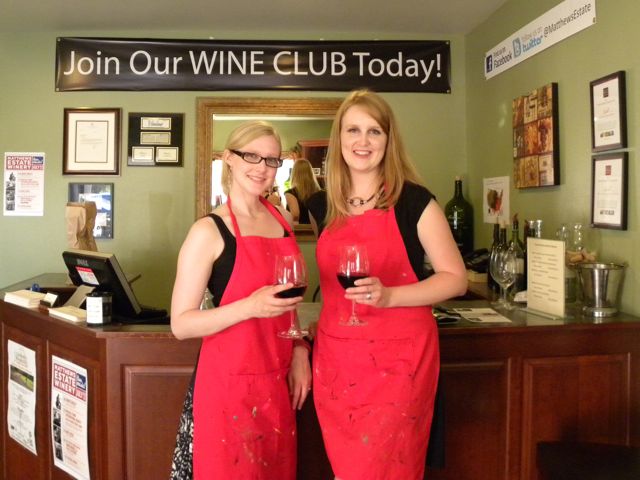 Let me tell you a little about my friend Sarah. That's her, on the left, as we celebrated her birthday last week at a Corks and Canvas painting class at Matthews Estate winery in Woodinville. A Bay Area native, Sarah is now just as "Northwest" as Northwest can be. Despite a near obsession with tea, fine china, and the more elegant things in life, she'll surprise you with her enthusiasm for the outdoors and her ease at swapping her Anthropologie and vintage-inspired wardrobe for hiking gear.
I met Sarah back in college, when we were both studying journalism. As the university experience goes, however, we lost touch and went our separate ways, Sarah getting a pretty awesome writing gig documenting one of Seattle's high-end neighborhoods and I pursuing my dreams as a television journalist. A few years back Sarah and I reconnected at a writers meeting and have since become fast friends.
It's not every day that you meet someone who, like you, had a subscription to Cat Fancy magazine as a child, or who swoons after the same laptop bag as you or is delighted by the perfect macaron. When you meet someone like this, you keep each other around. (And then you introduce your husbands to each other and encourage them to start home-brewing together, which means you share even more in common.)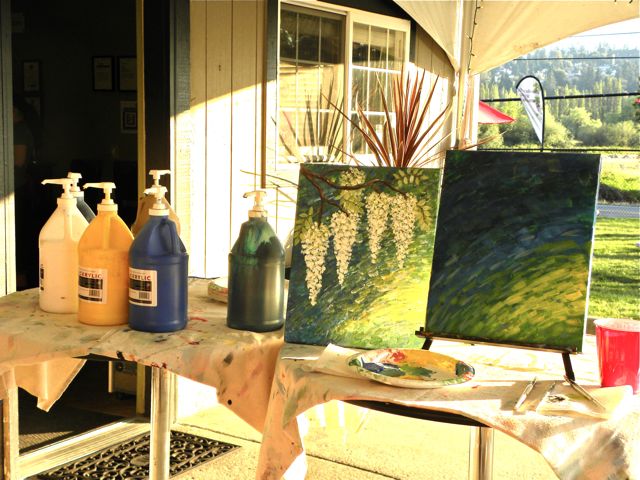 Sarah has this amazing way about her. A true optimist, she sees the world as it should, or maybe could, be–not blindly, I must note, but with a refreshing perspective. She dreams big, not letting the what-if's that tend to come with adulthood get in the way. In that regard, she'd probably make a great entrepreneur. But instead she's an artist. Actually, let me take that back. She is an entrepreneur–because she is an artist, most specifically a writer.
Fast forward to 2012, we're both still writing. It's the thing that helps us keep our identities individual and our creative juices flowing in the early stages of motherhood, since we're both stay-at-home moms. We each had babies last year, about two months apart, and have discovered firsthand how all-consuming–but glorious–it is to be a mother.
These days, our former weekly writing sessions–usually spent at a bakery or a hotel lobby bar–have given way to walks and play dates; it's not often that we're able to hang out without some serious baby-wrangling! But when it came to celebrating Sarah's 30th birthday this month, we left the boys back at home with the dads and went out in true Sarah-and-Daytona style; we donned our cutest clothes that we didn't mind potentially getting ruined by paint, and set out to Woodinville for a painting class.
Corks and Canvas Events combine two of Sarah's favorite things: painting and wine. I had first heard about them some months ago while visiting Matthews Estate, and I knew that Sarah would love to attend. So I let her pick the painting she'd like to create–she chose the White Wisteria being taught on July 26–and I signed us up.
Getting to Woodinville from Seattle by 6 p.m. on a weeknight is virtually an impossible task for us. But we managed to get to Matthews Estate before painting started at 6:45, and with plenty of time to do a quick wine tasting and get a glass of wine and a plate of appetizers to enjoy while painting. We sat down at our blank canvases and spent the next couple of hours being guided by the instructor as we laid down first a yellow wash to cover the white canvas, and then a gradated green-and-blue background to simulate rippling water.
Sarah has always maintained her composure and cheery attitude, even in the most frantic, sleep-deprived days of early motherhood. Yet, being a fellow mother myself, I know we all need a break sometimes. And so, when the brush hit the canvas and Sarah was making the first strokes, I watched whatever stress that may have been part of her day melt away as she smiled and commented on how freeing it was to paint.
I felt the same thing happen to me as well. I don't think I had picked up a paintbrush since 2004, during a short-lived attempt at starting a new hobby. At first, transitioning from painting the abstract background to forming the branches, petals, and then leaves was intimidating, but the instructor pointed out that as children we were natural artists, not being afraid to lay down a brush stroke and form a work of art. That little piece of painting wisdom freed me from the need to paint the perfect wisteria, and as I dabbed dots of white and blue with enthusiasm, I too experienced the freeing effects of painting.
Having painted the edges of our canvases with quick-drying black acrylic paint as the event drew to a close, Sarah and I carefully put our paintings on the back floor of my car and drove home, reflecting on a relaxing evening spent with wine and paint and good company. We talked about a desire to work these events into the monthly budget. I think we're both hooked.
In the past when I'd think about what Sarah will be like in the years to come, I pictured a woman sitting in her quaint writing studio, penning mystery novels and thrillers à la Jessica Fletcher (yes, Sarah is a Murder She Wrote fan). But now I think that image is only partly correct. She'll still be writing novels, fortified by Assam and Earl Grey tea, but her easel, which used to stand in her living room, will have made its way out from storage. When she's dreaming up new scenes and stories, she'll be painting, with a glass of wine in one hand and a paintbrush in another, letting herself dream and plot while she paints her interpretations of the beauty around her.
Happy 30th birthday, Sarah. I'm truly blessed to have you as my friend.