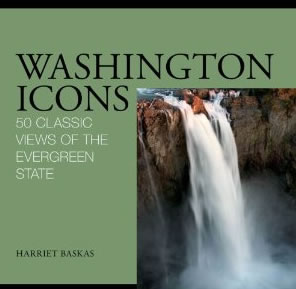 Washington Icons: 50 Classic Views of the Evergreen State by Harriet Baskas is an A-Z (well A-Y) listing of the best of Washington State. Harriet seems to cover a little bit of everything, from the truly iconic (the Space Needle) to the truly bizarre (geoduck) and then tosses in some surprises (like the Down Jacket).
The down jacket? Yup. Seems Eddie Bauer designed the first one after nearly freezing to death during a fishing outing on the Olympic Peninsula in 1935. Didn't know that, didja?
Harriet's got a talent for discovering the most interesting of factoids. It's no wonder, she IS the author of Washington Curiosities and Oregon Curiosities. Here are couple of other little-known favorites that are highlighted:
* The Liberty Orchards factory produces more than 2 million pounds of aplets and cotlets each year. Originally developed to make use of a surplus of apples, this has become a popular (though I'm personally not sure why) treat and souvenir from the Evergreen State.
* As of 2008, there have been more than 450 Bigfoot/Yeti/Sasquatch sightings in Washington State. It's against the law to kill one of these endangered creatures and as Harriet points out, "it seems to be working." (As a personal side note, I actually SAW the shriveled remains of a yeti in Bhutan found in the 1600's.)
* Long Beach is the home to Jake the Alligator Man. You can visit the mummified remains of this half man/half amphibian at Marsh's Free Museum.
I don't want to give away the ending but there's much more in this coffee table book that would make the perfect gift for both your in-state and out-of-state friends.
And, if you'd like to read more of Harriet's writings, you can find her at Stuck at the Airport.
Travel Well!